Alton Papers
Miss Bell's Fountains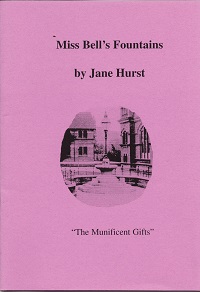 Miss Bell's Fountains - the munificent gifts
Author: Jane Hurst
Publication date: 2002
Cost: £2.00 (+p&p if ordering by post)
Where to buy: Curtis Museum or by post - see How to Order page.
The plaque on the fountain in Butts Road in Alton reads:
'THIS PLAQUE COMMEMORATES
THE REFURBISHMENT OF THIS FOUNTAIN
AND THE GARDEN AREA TO MARK THE
GOLDEN JUBILEE OF
HER MAJESTY QUEEN ELIZABETH II
AND WAS UNVEILED BY
COUNCILLOR J.F.SMITH,
TOWN MAYOR OF ALTON
3RD JUNE 2002'.
This book was written to tell the story of Alton's two fountains and published to coincide with the Queen's Jubilee.
The story began in 1872 when Miss Eliza Bell of Borovere Cottage applied to the Alton Local Board asking them to help light the lamp at the bottom of Borovere Lane on Butts Road. At that time she was paying for it herself. She appears not to have had a reply to her request.
Five years later, Miss Eliza let the Chairman of the Board know that she wished to present a public drinking fountain, with a lamp at the top, to the town. Over the next couple of years, no decision could be made as to where to place the fountain so Eliza decides to erect it on land of her own land - in its present situation. She then ordered a second fountain.
It was the promised arrival of this second item that prompts Henry Hall, the brewer, to offer land called Crown Close as a site for the new fountain and some public buildings. It was fitting that the latter were designed by Charles Edward Barry, the grandson of Sir Charles Barry who had designed the fountain.
The book then goes on to follow the history of Miss Eliza Bell's two 'munificent gifts' over the next 120 years.