Ash-cum-Ridley Parish Council
About Us
ARE YOUR INTERESTED IN YOUR COMMUNITY?
A vacancy has arisen for a Parish Councillor to represent the
North West Ward of New Ash Green.
Applications are being sought from eligible* people suitably qualified to serve.
INFORMATION
The Parish Council is involved in most local matters: planning, highways and footpaths. Support for local services and organisations, environmental, crime and quality of life issues. It is responsible for the management of Ash Green Sports Centre and the Ash Burial Ground. It is consulted over local matters and tries to put forward the local point of view. Parish Council meetings are held on the third Thursday evening of every month.
APPLICATIONS
Those persons interested in becoming a Parish Councillor should request further information from the Parish Clerk, Parish Office, Ash-cum-Ridley Parish Council, Ash Green Sports Centre, Ash Road, New Ash Green, Kent, DA3 8JZ Telephone 01474 702760 email: info@acrpc.org.uk
*ELIGIBILITY
Subject to the rules on disqualification, a person is qualified if they are a British subject, a Commonwealth citizen or a Euro national, are over 18 and an elector of the parish.
In addition they will qualify if:-
During the whole of the 12 months before the day on which they are nominated have resided in the parish or within three miles of it, or
have occupied any land as owner or tenant or premises in the parish, or
have had their principal or only place of work there.
APPLICATIONS SHOULD BE RECEIVED NO LATER THAN NOON ON WEDNESDAY 13 DECEMBER 2017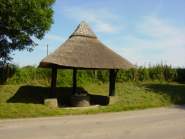 The parish of Ash-cum-Ridley encompasses four distinct communities:
Ash, Hodsoll Street, New Ash Green and Ridley.
Ash, Hodsoll Street and Ridley are small ancient settlements, whereas New Ash Green is a larger village that provides some of the facilities more usually found in a small town.
What does the Parish Council do?
Manages Ash Green Sports Centre
Administers and maintains Ash Burial Ground
Manages Northfield jointly with Hartley Parish Council
Liaison Sevenoaks District Council on Planning issues and local services.
Provision of Youth Groups
Provision of a Lunch Club for the over 60's
Chairs the New Ash Green Focus Group and Barnfield Park Liaison Group
Maintains Ash War Memorial and Bowdler's Well, Ridley
Gives small grants.