Home
Birchington-on-Sea Bowls Club (Affiliated to Bowls England KCBA, EKBA & IOT League) Tennis Courts (Affiliated to LTA & Kent Tennis)
The Pavilion
Beach Avenue
Birchington-on-Sea
Kent
CT7 9JS
Bowls Club Tel (01843) 841086 April to September only
Club Contact, via website or Pam Goodwin 07813430524


Please get in touch with us by using the Contact Form
Birchington-on-Sea Bowls Club situated in Thanet was established in 1961.The Green and Clubhouse is situated in Beach Avenue, Birchington. There is a large car park, and two tennis courts with markings for Netball, Basketball and 5 a side/Walking Football.
The Bowls club membership has BE level 2 & 3 coaching sessions and are open to the public (when the clubhouse is open April to September to give access and collect fees).
Our clubhouse is accessible via a ramp and steps and our toilet facilities have been up graded including the installation of a new disabled toilet. It has a modern kitchen with a hygiene rating of 5, and a licensed bar which is open during matches. The green has steps and handrails at all corners and we have a portable ramp for wheelchair access and a portable step ramp to assist those who need help to step down onto the green. Having secured a new 21 year lease you can be sure of this recreation facility into the mid 2030's.
We welcome members of all ages ethnicity, gender and abilities. We offer FULL and JUNIOR membership for those who want to play in our booked fixtures and SOCIAL membership for those wanting to learn the game before committing to full membership. Many just want to support the club, join in the social activities we run during the winter months and enjoy the friendly and peaceful (sometimes!) atmosphere that surrounds the game of bowls and our bowling green.
The tennis courts have a new all weather acrylic surface with markings for other sports as detailed above together with a permanent pitch divider which allows for two separate sports to be played simultaneously. We offer tennis membership at ADULT, FAMILY and JUNIOR level. Fees are shown on the related page. The courts can be hired by any group on a pre-booked basis and these activities include Walking Football, Netball for Fun, Basketball or any event that requires a safe enclosed space.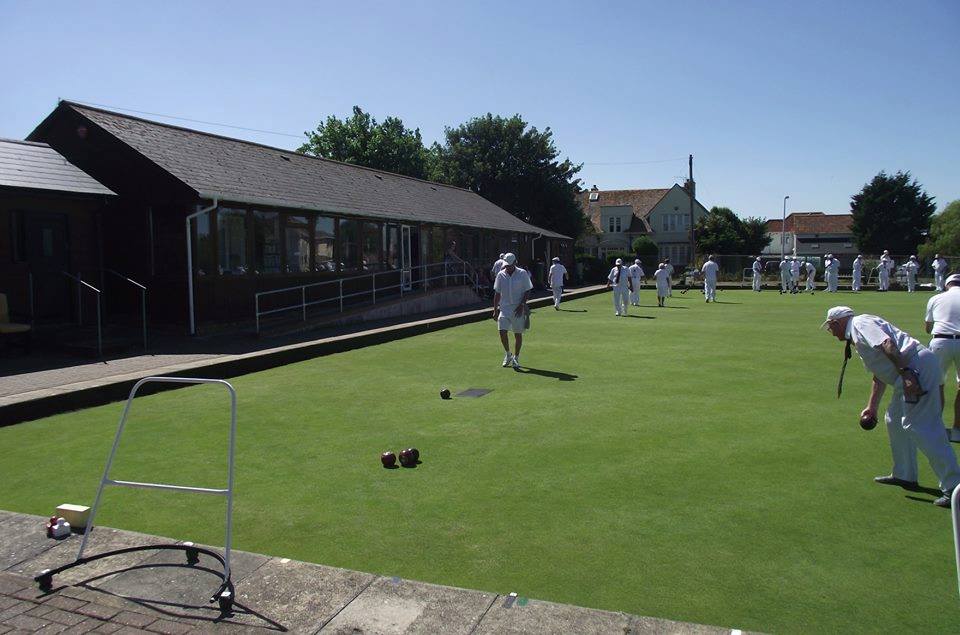 New members are always welcome so come along and enjoy the gentle game of bowls which costs a lot less than golf, will keep you fit and will make you a lot of new friends.
The club plays over 100 matches each season. This includes both away and home fixtures. Many of these matches are against local teams but we also have a number of teams who regularly visit us from North Kent and the outskirts of London. The majority of the friendly games are mixed matches that take place in the afternoons. Fixture list
For the more competitive minded we take part in the Men's and the Ladies Isle of Thanet Leagues plus the Ladies Heron League. These are triples matches, the Men's taking place in the evenings during May - August. The Ladies matches are usually in the afternoons. We also participate in the the Catherine Wheeler League, East Kent League, both mixed triples leagues, playing as far away as Ashford.
Team selection sheets are posted in the Men's and Ladies' changing rooms and all Full and Junior members are entitled to enter their names for consideration for selection for any of the games.
Club Roll ups on a Monday afternoon are informal friendly gatherings for full and social members. Here is a chance to meet fellow bowlers, have a relaxing game or even try out some new woods or bowling actions!
Friday Night is Fun Night and welcomes any SOCIAL members who want to learn the game taking place June-August. This is a fun night - plenty of banter and for those who to wish to stay and relax after the game our licensed bar is often open.
Club Competitions take place during the season with the Finals taking place in September. These are open to Full and Junior members.
We also have two recently resurfaced Tennis courts which are open all the year round. Our annual tennis membership is renewable on 1st October each year - £15 for juniors, £60 for adults and £120 for a family of 2 adults and up to 3 children under the age of 18. This includes SOCIAL membership for the Adults meaning they can use the Bar and join in any of our winter Social activities plus they can play Bowls for a small fee any morning or on Monday afternoon or Friday Fun Night.
For further information or an application for please use the Contact Form