Clee St Margaret
Commoners` Association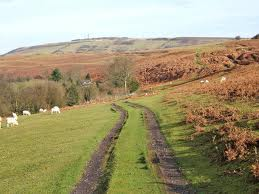 Clee Liberty Common and the Clee St Margaret Commoners' Association
Clee Liberty Common comprises 540 acres of grazing land lying between the village of Clee St Margaret and Clee Burf, the lower of the two summits of Brown Clee. The common was originally part of the manorial waste of Clee St Margaret, and in the early part of the 20th century it was gifted to the Parish Meeting by the Lord of the Manor, James Thursby-Pelham. Prior to this there was significant quarrying and mining activity on Clee Liberty, and indeed the mineral rights to the Hill are still retained to this day by Mr Thursby-Pelham's heirs.
Clee Liberty remains a working common. There are approximately 40 properties with Rights of Common attached to them. In total there are rights to graze several thousand sheep and a small number of horses and cattle. The size of the common, being in effect one large field of 540 acres with difficult and, in some places, hazardous terrain, makes it impractical for graziers to use it for small numbers of animals, hence it is mostly used by two major graziers who between them hold the majority of the grazing rights.
In addition to its primary role as a working common, Clee Liberty is Open Access land and is known for its scenic views. Nordy Bank, an iron-age hill fort, is situated on the lower slopes of the Common. Over and above its status as Open Access land, Clee Liberty is criss-crossed by footpaths and bridleways, and ramblers and dog-walkers have in fact always been welcome (with the caveat that dogs need to be kept under control at all times, of course, and in fact on leads during the lambing season).
Up to the mid-1960s, Clee Liberty was managed informally by a loose association of the major graziers and the leading lights of the Parish Meeting. In 1968, Clee St Margaret Commoners' Association was formed, and the Association Committee was able to take a more organised approach. There were some practical difficulties for the Parish Meeting in exercising its ownership of Clee Liberty, since a Parish Meeting cannot technically own any assets and has to do so via trustees. This problem was overcome by the formation of the Parish Council in 2002, and now the Parish Council, as the legal owners of the Common, can more easily carry out management of the Common and delegate much of the maintenance of the Common to the Commoners' Association.
To date the primary management activity has been to control bracken. Methods have included cutting (now out of favour), aerial spraying (expensive and only cost-effective on heavily-infested areas), crushing (more effective than cutting), and weed-wiping.