'To Honour Our Heroes'
To honour the Fallen from Collingham and Brough during this centenary year, Jerome Wright and Ed Daykin undertook to visit every grave or memorial of those buried or remembered on the Western Front. They also left individual cards at each memorial for any visitors to take. The visitor can then follow the link on the card and read the soldier's profile on our website. The card idea came when Jerome and his brother Stef participated in the We're Here Because We're Here event in 2014.
Jerome presented a talk about the experience in Collingham Memorial Hall on October 3rd 2018 hosted by Collingham and District Local History Society. Collingham resident Pat Pennington also gave a short account of her visit to Gallipoli where a family member, Pte. Michael Edmonds Colton (1894 -1915) is remembered. She also left cards on the grave of Captain Percival Browne of South Collingham (killed in action Aug 9th 1915) who is buried there.
On October 10th, Helena Pielichaty visited the grave of 2nd Lt. Montague Browne who died of wounds during the Easter Uprising in Dublin in 1916.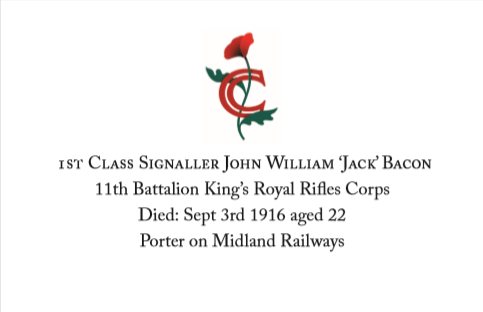 Feedback from the cards left at the graves and memorials:
June 6th 2018: 'I wanted to let you know that when visiting Cambrai on 6th May 2018, I found one of your cards at the grave of Private Belton Oldham in CAMBRAI EAST MILITARY CEMETERY. I enjoyed reading the further detail on the website link taken from the card I picked up.' - John Curry
June 17th 2018: 'Hello, I was visiting the memorial and British cemetery at Arras today. I have to admit that it was rather by hazard because when I planned my travel to Arras I had no idea that the town had played a role in WW I (and II). It isn't the first memorial I was visiting so far, I also visited places around Verdun. Well, you wanted me to leave a message any my opinion. First of all memorials like these make me shiver. And I think that's what they should And I appreciate your idea. I don't want to say "It's a good idea" because it might sound too harmless while talking about wars. It keeps alive the fallen soldiers, gives them a history and a family. And I think that it gets more and more important to remember the horrors of war. Sincerely Ingo' - Ingo Kronenberger
June 18th 2018:
'Hello, I'm currently living in Ypres and working as a centenary intern with the Commonwealth War Graves Commission in Flanders, mostly at Tyne Cot Cemetery.While being out here I've noticed several of the cards you've left for soldiers commemorated at Tyne Cot, Bedford House and Divisional Collecting Post Cemetery. As i am from East Markham just a small drive down the A1 from you, these caught my attention so i took a look at your webpage and your project sounds really interesting! It's good to see that you guys came out to the salient, and i send my apologies that i missed you! I'm out here until the start of August, is there anything i could do to help your project? - Will Parkinson
August 2018: Dear Parish Clerk, I was delighted to discover the 'Collingham in the Great War' notice and personal card on the grave of my Great Uncle, Arthur Wynne Williams, at the CWGC's Hangard Communal cemetery when I visited it on 8th August, 100 years to the day after his death. I noted from the cemetery's visitors' book that Jerome Wright and Edward Daykin from Collingham placed them there during their own earlier visit and I would be grateful if you could pass this email to them as I would like to get in touch as I have a lot of information about Arthur which might be of interest. Although I live in Surrey I have visited Collingham and seen Arthur's name on your memorial - and, indeed, have a copy of the Unveiling and Dedication Order of Service from 30th November 1919. Many thanks and best wishes, Mr Robert Crawley
September 30th 2018:
Bonjour, Nous habitons Templeux-le-Guérard, dans la Somme, en France. Aujourd'hui, en nous promenant, nous avons marché jusqu'au cimetière militaire, et avons trouvé, sur la tombe du Captain Thomas Hugh Corbett Wooley, des cartes nous invitant à visiter ce site, et à nous souvenir. Nous sommes touchés de votre démarche, qui nous a permis d'expliquer mieux encore les événements de la Grande Guerre à notre fils de 7 ans. Nous vous remercions de ces traces d'histoire, qui revit grâce à vous. Bien cordialement, Marion et Fabien Sauvé.
Translation:
Hello, we live in Templeux-le-Guerard, on the Somme in France. Today on our walk we visited the military cemetery and found the grave of Captain Thomas Hugh Woolley, and the cards left as a souvenir. We are touched by your approach, which has allowed us to better explain the events of the Great War to our 7-year-old son. We thank you for these mementos of history, which lives again thanks to you. Sincerely, Marion and Fabien Sauvé.
October 28th 2018:
'We recently visited Northeastern France from our home in Texas tracing the footsteps of two of our relatives killed in WWI--Pvt. Robert Dowd KIA outside Soissons on July 18, 2018 and Pvt Homer R. Armstrong of the 36th Division of the American Expeditionary Force KIA outside St. Etienne a Arnes on October 8, 1918. During a visit to Soissons, we stopped to visit the memorial to the British war dead. We were very touched to find the wreath left by Collingham Parish in honor of Cpl George Henry Clayton of the 1st Sherwood Foresters. It was comforting to know that 100 years after the end of the war, the men who gave everything in service to their countries have not been forgotten by their families and the nations they served. We remember Cpl Clayton and Privates Dowd and Armstrong, we pray that they rest in peace and we give thanks for the enduring friendship and alliance of the British and American people.'
- Bill & Sharon Neary, Coppell, Texas USA
1st November 2018
'I am emailing after picking up one of your cards on the grave of Lance Corporal Henry (Harry) Wright on Saturday morning 27/10. This is the third time my family and I have visited the cemetery as my Great Uncle, Lance Corporal George Henry Glover, is buried there too. He was 22 when he died on 2 August 1918 with the King's Own Yorkshire Regiment. I am very touched by your website and all the hard work that has gone in to acknowledge the sacrifices made by all these young men and women. As a parent of four young adults (23-18) it is frightening to imagine the pain and suffering for all concerned a 100 years ago. I have another Great Uncle who has his name encrypted at Theipval. I still have to visit with my mother, as it her wish to go, she promised her mother (his sister) that she would. My husband and children have already been there. She has Norman's final letter home to my Grandmother, which is very very moving. Thank you for directing me through the card to your website and in doing so making this small contribution.' - Sarah Smallwood