The Belgian Refugees
On August 4th 1914, Germany invaded Belgium, terrorizing the people of the towns and villages they passed through en route to France. This created a mass exodus of Belgians fleeing for safety. In all, 250,000 Belgians found safe passage to Britain.
In London, the War Refugees Committee put out a nationwide appeal for help with accommodating this sudden influx. Newark's Mayoress Mrs Annie Kew set up her Belgian Home Committee and on October 14th the first contingent of refugees arrived.
Collingham volunteered to help and at least three families settled here temporarily. A Belgian Refugee Fund was set up by Rev. Albert Maxwell of South Church and Canon Gould of North Church to help pay for food, clothing and medical care.
Everyone rallied round, with villagers donating furniture and bedding and shopkeepers such as George Willis (7 High Street) offering three loaves a week and farmer Joseph Gibson supplying a daily pint of milk.
Below: Extract from The Newark Advertiser 31st Oct 1914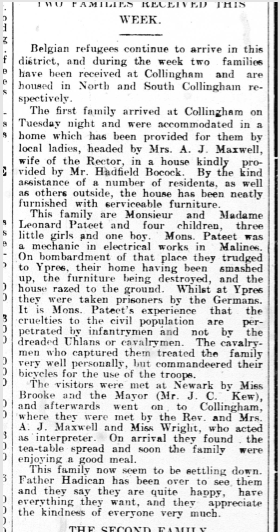 A century later, in August 2014, Mrs Ann Broad Davies of Chester contacted Collingham and District Local History Society to ask if they'd be interested in her story. She was the daughter of one of the Belgian refugees, Elodie Tanghe (1905-1954). The Tanghes were from Keiem near Ostend. Their mother, Ludovica, fled to England with children Laura (1898-1984) Jules (1900-1918) Julia (1901-2001) Gustaaf Aimable (1904-1977) Elodie and Robert (1907-1940s). They were taken in by Hadfield (1864-1941) and Harriett Bocock (1851-1923) of Lime Tree Farm who found them an empty agricultural labourer's cottage.The Bocock's daughter, Annie Lois (1882- , and her husband, butcher Arthur Hoe (1870 - 1928), took Elodie under their wing. When Mme. Tanghe and her children were re-housed in Lincoln, Elodie stayed behind with the Hoes. She grew up in the village, moving away when she trained as a nurse, first in Macclesfield and then Manchester. In 1934 she married Cyril Gregory of Altringham; their daughter Ann was their only child. However, Elodie always kept in touch with her natural family, who returned to Belgium after the war.
The novelty of hosting the Belgian families soon wore off in some quarters as the Parish Newsletters show. This reflected a change in attitude generally and by the end of the war it was made clear the refugees were expected to return to Belgium. Read more here.
All photographs c/o Mrs Ann Broad Davies, who died in 2015. South Collingham Parish Newsletters Ref EC/B47 held by Collingham and District Local History Society Archive. Image of Annie Kew c/o 'Unsung Heroines' Exhibition Spotlight Gallery, Newark March-April 2018
Click on the images below to enlarge.