Information & Support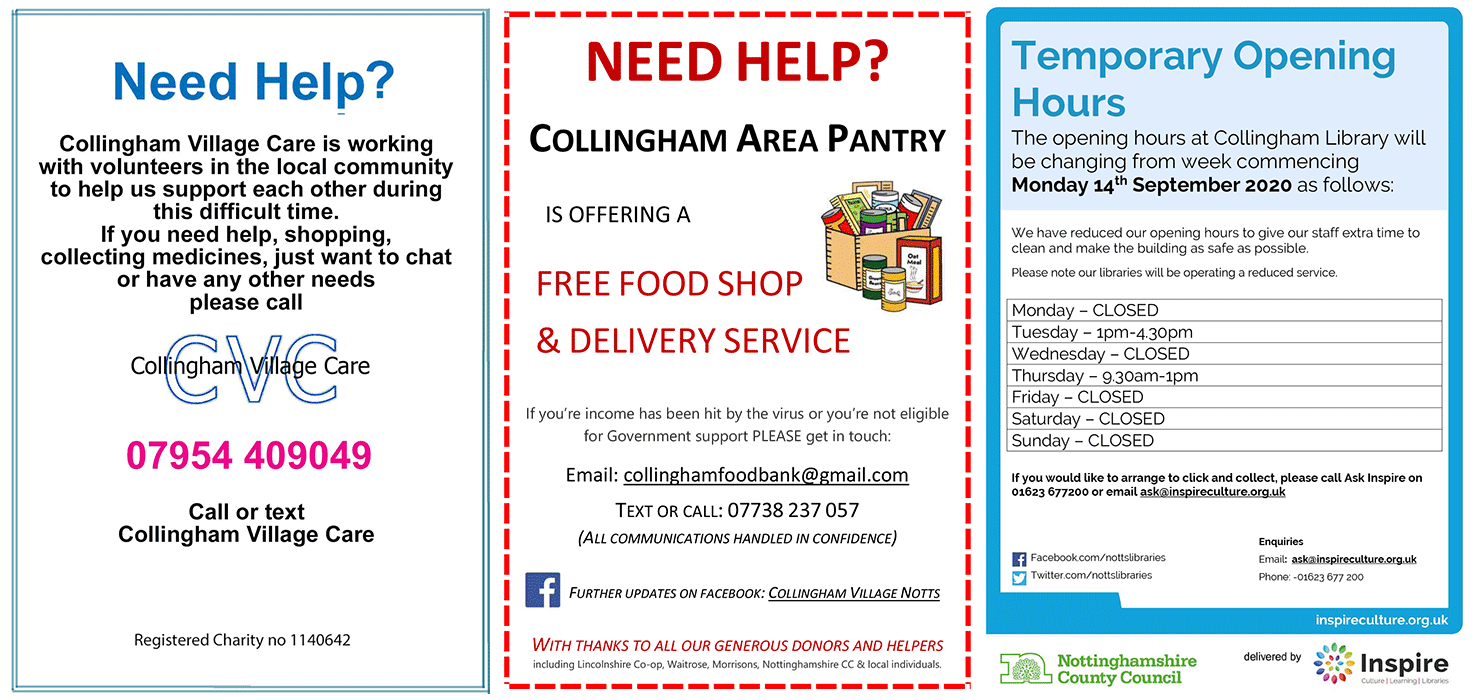 Welcome to the Covid-19 Support Page
This page is intended to consolidate information about the support available to businesses and individuals during the Covid-19 pandemic, and provide quick link to more detailed information about accessing that support. All information is as published by its providers, and is not verified in any way by the publishers of this website; be aware at all times of your cyber-security, national advice on which can be found here.
The links are classified below by the various sources of this support, namely:
Local Initiatives
Mental Health Care
Newark & Sherwood District Council
Nottinghamshire County Council
D2N2 Local Enterprise Council
Chambers of Commerce
Central Government and the NHS
The World Health Organisation
Other Organisations
If you have information/contact details you would like to add to this page, please notify us here; many thanks.
And remember, it is the responsibility of every enterprise or club to perform a risk assessment in relation to Covid-19, taking note of the general guidance here, and the specific Government pandemic advice to be found here.
Local Initiatives
"Community Conversations"
Collingham and its neighbouring villages and settlements enjoys a rich mixture clubs, organisations and activities, details of which can be found on this website here.
During the Covid-19 pandemic, these have been provided with a weekly opportunity to attend online virtual meetings, at which the latest state-of-play locally gets discussed, and organisational representatives outline initiatives they have underway to assist the local community. Links to these initiatives are provided below.
Everyone in the local community is welcome to participate in, and make contributions to, these weekly online get-togethers; if you are not currently on the e-mail list for the meetings, please register your interest here. The meetings are held using the Zoom virtual-meetings platform, which can be accessed via the following links:
Recordings of these conversations are available here:
Local Support Organisations
Collingham Rural Advice Centre - contact via collinghamadvice@gmail.com or ring 01636 893241
Collingham Befriending Service - contact Cheryl on 01636 674521
Collingham Methodist Church - contact Revd. peter.bates857@yahoo.com
Collingham Assistance - see flyer at the top of this page
Collingham Food Pantry - see flyer at the top of this page
Collingham Tennis Club - see download link at foot of page
Mental Health-care
NHS - Survival Guide for young adults written by young adults
Mental Health Support - see download at foot of page
Personal Security
National Fraud Alert - download link at foot of page
Newark & Sherwood District Council
Advice for Residents & Businesses - see attachment below
Nottinghamshire County Council
Health Protection Regulations 2020 - See download below
Update Bulletins:
Amenities Updates:

Library opening hours - Attachment below
D2N2 Local Enterprise Partnership
Chambers of Commerce
Central Government & the NHS
Government Guidance

Protect Yourself & Others
Applying for a Test
Health & Well-being
Travel
Employment & Money
Working Safely
Businesses

Additional Self-Employed Support
The World Health Organisation (WHO)
​Other Organisations
Attachments (as referenced above)