Women's Roles

There is no doubt that women's lives were changed forever by the war. For the first time, they were able to prove they were more than 'useless ornaments' as they filled the vital roles in the workplace men had vacated.
Key areas they were used were:
Agriculture (Women's Land Army)
Medical (in military hospitals, VAD units, convalescence homes)
Munitions
Each of these topics is covered in a separate pdf (below). Simply click on the link to find out more.
It should be pointed out that women had been in employment long before the war – the Nottingham lacemaking industries had a predominantly female workforce - as did the northern textile mills, for example. However, these industries were notoriously exploitative with women earning minimum wages (less than £1 a week) for long hours in 'sweated labour' conditions. What the war did, for those working in munitions factories at least, was recognise the need for childcare provision and many munitions factories had staffed nurseries attached to them.
Closer to home, trade directories show that local women had been running businesses in their own right since at least the mid-nineteenth century. Women listed as farmers included Elizabeth Hopkinson of Girton Charlotte Chaster of South Collingham, and Ann Cook at Danethorpe (Lascelles and Hagar's Directory 1848). There were women shopkeepers and publicans as well as those holding the more traditional roles as school mistresses, dressmakers and milliners.
The 1916 directory shows Mrs Fanny Crossland running the King's Head, Miss Annie Gibson as postmistress (a post inherited from her aunt, Mrs Louisa Weston) Miss Alice Holmes as Registrar of Births & Deaths, Sarah Norwell had her pie shop, Mrs Sims the chemist's shop (81 High St) and Mrs Mary Ann White (1862-1953) farmed in North Collingham. This is in addition to the many committees women served on; Miss Constance Woolley was on the school board for the Girls & Infants' School & Brough School for example.
Although the Women's Land Army would play a significant role in keeping food production going during the war, it was no novelty to see women like May Bocock ploughing in her father's fields on Trent Lane or farmer's wife Jane Liley unloading sacks of carrots down at the station.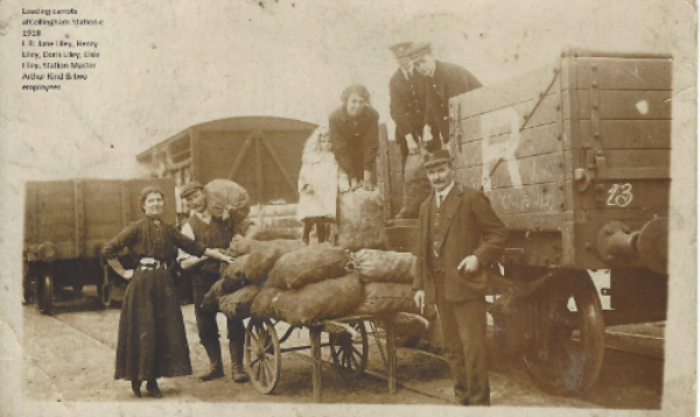 Dr Catherine L Smith: Collingham's First Woman Doctor
Dr Catherine Love Smith MB ChB shared the Collingham practice with Dr Frank Broadbent from 1900 to 1916. Born in 1872 in Irvine, Ayrshire, Scotland, she graduated from Queen Margaret's College, University of Glasgow, in 1899 – one of the first cohort of female doctors to do so. During her time in the area she was deputy medical officer for Newark and Lincoln Union & lecturer on ambulance to Kesteven and Notts County Councils.
After Dr Broadbent's death in March 1915 (see Home Front - 'Key Figures' page) she took on the role of medical officer until January 1916 when she resigned and left the area. In May 1917 she took up the position of Medical Inspector of Schools and Medical Officer of School Clinic at Ashford, Kent. Dr Smith died at her sister's home in Stratford upon Avon in 1919, aged 47[1].
The Suffrage Movement
Living in a village didn't mean Collingham folk were unaware of political movements and the call for women's suffrage was very much a hot topic. Janice Leam, a Newark-educated historian, has discovered that Canon Gould, (Vicar of North Collingham) and founder of the Mutual Improvement Society, hosted a debate in 1909 where the motion was: "That the suffrage be granted to women on an equality with men." The guest speaker was Miss Dowson. There were several 'Miss Dowsons' all from the same notable Nottingham family. The speaker at Collingham could have been Miss Helena 'Nellie' Dowson (1866-1964), secretary of the Nottingham Branch of the National Union of Women's Suffrage Societies, who 'played havoc with the rules of debate' by speaking well over the allotted time slot. Other 'Miss Dowsons' were sister-in-laws Hilda Dowson and Maud Dowson, shown in the picture below currently on display at the Newark Civil War Centre 'Shaking the Foundations' Exhibition.
In March 1914, the Public Hall was the venue for a larger gathering on the same subject. Presided over by the liberal-minded Dr Frank Broadbent, the panel consisted of Collingham's Mrs Edith Brooks[1] (see Home Front Page - Key Figures & Working Parties) Winthorpe's Miss Josephine Gilstrap and two guest speakers: suffragists Miss Meynell and Mrs H Beevor.
Mrs Brooks's closing speech revealed her privileged background[2] somewhat by saying people in Collingham were 'fairly comfortable and happy.' 'They had certain things to put up with, but most of them were happily married and did not have to compete in the commercial world.' The Collingham women working 54-hour shifts at Ransome and Marles before returning home to their 4-roomed tied cottages on Cabbage Row may have begged to differ. Mrs Brooks redeemed herself acknowledging that 'Miss Meynell had shown them that it did not matter whether they in Collingham wanted the vote or not, it was on behalf of the working women in other parts that they should support the demand.'[3]
[1] Ironically Mrs Brooks is referred to as Mrs WN Brooks – William Nathaniel – her husband's initials – throughout the newspaper report. Using the woman's husband's name was common practice until the 1960s.
[2] Edith Brooks was the daughter of John Wigram, raised in The Manor, privately educated and married to a land agent. In 1911 her address was 'Brooklands' a ten roomed house on Low Street.
[3] Newark Advertiser report March 4th 1914 via Janice Leam
[1] With grateful thanks to Janice Leam, who is currently writing a book on The Suffrage Movement in Newark, for sharing this information.