connaughtbowlsclub
Breckland B Team 2016-17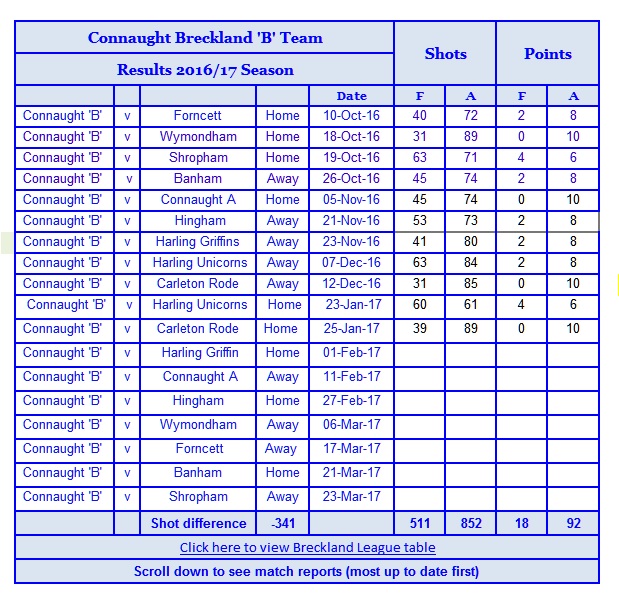 Breckland B Team
CONNAUGHT B V BANHAM
Connaught B beat Banham at home on Tuesday 21st March 9-1 and 66-55
Mat 1 Alison Rush, David Flatt and Mick Utting won 17-15 against W.Hoggan
Mat 2 Alan Marshall, Malcolm Southgate and Joan Knox won 15-10 against P.Bertram
Mat 1 John Winup, Jim Squire and Peter King drew 14-14 with B.Francis
Mat 2 Graham Benefer, Pat Benefer and Mike Minshull won 20-16 against J.Delaney
On Mat 1 Connaught were 0-2 down after the first 2 ends but then scored a 4 and accumulated steadily after that until leading 15-5 after 12 ends. As previously said in these columns that period is often the trigger point for Connaught 'B' losing the plot and so it happened. 1, 3 and 3 were dropped, just 15-12 up and game on. Relief came with 2 x 1 and a lead of 17-12 going in to the last end. "Surely we cannot lose this now", thought Connaught onlookers. How mistaken they were as the home triple did their level best to drop 6 shots. Alison drew reasonably well but Banham took the jack through and well to one side to hold 2. David Flatt sent two woods off and Banham drew in to hold 4. Mick Utting sent his first wood off and Banham drew in to hold 5. With his last wood Mick did regain nerve to draw in well to save 3 shots. Will Hoggan could not take out Mick's wood and stay for 6. All this drama overshadowed what had been a good Connaught display and particular praise to Alison for having a fine match at lead; she conquered those nerves and sustained smooth delivery to draw excellently throughout. David had a good middle spell and Mick played well against a useful opposing skip
On Mat 2 Joyce Goodey for Banham was the only player not to feature in the Connaught internal leagues, with both Val Hambling and Peggy Herbert being regular players. The result was a close and good-humoured contest between two sets of well-matched players. Alan is still settling down after his stroke but it is heartening to see him back to competitive play - he could not quite match Val Hambling but played very steadily. The 2s and skips were cancelling each other out and the score reached 8-8 after 14 ends, 4 x 1 and 2 x 2 to Connaught and 8 x 1 to Banham. Connaught managed a crucial 3 on end 15 but Banham countered with a 2 - 11=10. 1 to Connaught and 12-10 after 17 ends. In a tense last end Malcolm and Joan drew well to close out the match. Particular praise again to Joan Knox who repeated the fine form shown at Forncett
On Mat 1 Connaught scored 4 on end 4 to lead 7-1 but Banham, skipped by the mercurial Jim Delaney (also a regular in Connaught's leagues), came back well to reduce the lead to 11-10 after 12 ends. 2 and 3 to Connaught eased the pressure and a 4 on end 16 took the lead to 20-11. Some twitches, however, when Banham scored 4 themselves to reduce the lead to 20-15 i.e. the same comfortable margin for Mick Utting & Co. No drama this time as Connaught bowled tight to drop just a single shot. Pat and Graham remain quite new to short mat bowls and this is their first league season. Both are blessed with sound technique drummed in by outdoor coaching from Geoff Randle and by long mat experience. Both bowled well enough but admitted to feeling the pressure in the confined space of the short mat. Mike Minshull has improved dramatically at short mat from being a one-time crown green bowler! He had a fine match throughout and bowled some superb woods under pressure
Mat 2 after the break saw a good match in which Connaught won just 8 ends to Banham's 10 but managed to bowl tightly throughout for a draw. Bill Francis was skipping for Banham and is having a fine season culminating in winning the singles at Hingham on Sunday in the Dennis Moore competition. He beat Chris Mann en route to winning the competition. Connaught knew they had to win up front to give Peter any chance against the best player on either side. They managed to do this but not by a huge margin. John Winup had a good game at lead and Jim, especially when bowling on his backhand, is a positive player. Bill Francis usually was down when the skips bowled and he saved or won the end on many occasions. Peter expressed some disappointment at his own play but he was up against it. He also bowled some fine woods under pressure
A competitive but good-natured contest between sides who know each other well and a good result for a happy Connaught team who have done enough not to finish bottom irrespective of what happens at Shropham on Thursday
CONNAUGHT 'B' v CARLETON RODE
Connaught 'B' lost at home against Carleton Rode on Wednesday 25 January by 39-89 and 0-10
Mat 1 David Flatt, Malcolm Southgate and Pat Benefer lost 9-27 against R Davidson
Mat 2 Mike Minshull, John Winup and Peter Hambling lost 14-19 against N Davidson
Mat 1 Peter King, Jim squire and Alison Rush lost 12-15 against G Mobbs
Mat 2 Joan Knox, Joyce Hazell and Ann Bayes lost 4-28 against T Newby
On Mat 1 before the break Connaught fielded a reasonably strong triple which on paper seemed to have a chance. At 5-1 up after four ends and just 7-8 down after nine ends Connaught had kept things reasonably tight but sadly the wheels came well and truly off in the second half with just one end won in a shots deficit of 2-19. A 4, 4 and 3 losing sequence on the last three ends almost had debacle about it. The Connaught players' view was that the opposition played better and better as the match went on; nothing that they, the home players, tried to do came off
On Mat 2 Connaught had a good start, 5-0 up after two ends and still 9-5 up after nine ends. A 4 and 2 losing sequence put them behind for the first time but a 3 on end 12 gave them the lead again at 12-11. 2, 1 and 4 were then dropped and Connaught were 12-18 down after fifteen ends. A no-score end, 2 to Connaught and 1 to Carleton saw out a tightly-fought match. Peter Hambling at lead and John Winup at 2 were up against two very competent lady players in P Rush and A Bond and this battle was a good one. Peter at times was short with his first wood but otherwise played well and John had a very steady game. They perhaps shaded it - not by much and not by enough to give Mike sufficient advantage against a player of Neil Davidson's class. That being said Mike held up very well and bowled several great woods under pressure
On Mat 1 after the break Connaught went 0-7 down after six very tight ends but got a 5 on end 7 to change the match. Connaught in fact took the lead at 10-9 after eleven ends and continued to dig in well against opposition concentrating hard and determined not to lose. Connaught went into the last end 12-14 down but were holding a good 2 thanks to a magnificent backhand from Jim. However, Graham Mobbs at skip for Carleton Rode rose to the occasion with a superb running backhand to put the jack into the ditch to a waiting chalker. Peter just missed with two good attempts to put a Connaught chalker in the ditch. Connaught won just six ends but scored 5 on one of them while containing Carleton Rode to 9 x 1 and 3 x 2. Heartening to report that Alison had a good game at lead after some inconsistent play of late, she had recognised her delivery problems and put them right; she also conquered her nerves. Peter and Jim always play well together and as in the match at Carleton Rode played very positively
Sadly for Connaught the match on Mat 2 became a non-contest as the Connaught triple which had lost 5-28 at Carleton Rode faced Terry and Karl Newby once more and simply had neither the skill not the power to overcome players of that experience and ability. Joan again showed fighting spirit and bowled some brave woods under extreme pressure
A similar result and pattern to the match at Carleton Rode, Connaught played very well on two mats but just failed to clinch a win and simply were out-bowled on the other two
CONNAUGHT 'B 'v HARLING UNICORN
Connaught 'B' lost at home against Harling Unicorn on Monday 23 January by 60-61 and 4-6
Mat 1 David Flatt, Malcolm Southgate and Pat Benefer won 24-9 against M Baker
Mat 2 Joan Knox, Alison Rush and Graham Benefer lost 11-18 against M Tarrant
Mat 1 Roy Taylor, Steve Barclay and Moira Eades lost 12-22 against R Braham
Mat 2 Mike Minshull, John Winup and Joyce Hazell won 13-12 against M Cunningham
On Mat 1 before the break Connaught had a very steady start by winning the first six ends and leading 10-0. The came calamity and a dropped 5 followed by a dropped 3 to reduce the lead to 10-8 after eight ends. "We've been here before" was the reaction, if we are honest, of the more seasoned and cynical of Connaught 'B' watchers. They were mistaken, however, Because the home triple won 9 of the final 10 ends while scoring 14 to 1. The key was in very solid leading by Pat, good back-up by Malcolm and a calm and assured display at skip by David
On Mat 2 Connaught had a 2 and 4 start to lead 6-0 but won only three ends after that in a low-scoring match of just 1s and 2s. Connaught kept it so tight on account of a gutsy display by Joan who saved time and again. Her display was especially laudable because she was facing a very capable skip in M Tarrant. The up-front play on both sides was not of the highest quality but overall Harling were steadier at lead and 2 and this accounted for their win.
On Mat 1 after the break Connaught had the worst of starts by dropping 6 on the first end. If you are going to drop 6, yes, do it on the first end but preferably don't do it at all! Added to that a 5 was dropped on end 11. Thus half the Harling shots were scored on two ends. Putting those to one side, which in the real world you cannot, Connaught won the rest of the contest (16 ends in all) by 12-11! Roger Braham at skip for Harling did have a tremendous match, firstly against Roy and after a change against Steve, and he undoubtedly secured and/or saved a considerable number of shots. Probably a bit more up-front steadiness by Connaught would have led to a narrower margin
Mat 2 after the break saw a good contest between two well-matched triples who bowled in a similar drawing style. 2 up after the opening two ends Connaught never lost the lead after that but could never pull away - 12-6 up after thirteen ends, with a 3 on end 13, was the furthest they got. At that point Harling responded with a 1 and a 3 to close the gap again. 1 to Connaught and then a crucial 2 to Harling on end 17, where both skips bowled tremendous woods but the Harling skip's was the last wood. With the match next door over, the triples went into the last end with Connaught leading 13-12 but with Harling 1 shot up overall. Thus Connaught had to win the end, by 1 shot to draw overall and by 2 shots or more to win overall. Mike had the last shot with two Harling woods and one Connaught wood touching the jack. There was no clear way in but with instructions "to go for it" he tried a fire. He missed and a no-score end resulted. In this match against a competent triple all three Connaught players had excellent games
So near and yet so far and that elusive win did not come about for Connaught 'B'. The team tried hard but faced a much-improved side bolstered this year by switch from Watton of the two Brahams (Daphne was just a spectator which shows the depth of squad). Connaught are still searching for their best combinations but with so many people available Malcolm, as did John Winup before him, has a difficult task between the ruthless and the accommodating. The mature view is that it is good to see so many prepared to turn out for the club in a losing side, but a win would be uplifting!
CONNAUGHT 'B v CARLETON RODE
Connaught 'B' lost at Carleton Rode on Monday 12 December by 31-85 and 0-10
Mat 1 Roy Taylor, Malcolm Southgate and Marianne Liles lost 10-21 against R Davidson
Mat 2 Peter King, Jim Squire and Alison Rush lost 12-13 against N Davidson
Mat 1 Joan Knox, Joyce Hazell and Ann Bayes lost 5-28 against T Newby
Mat 2 Mike Minshull, John Winup and Peter Hambling lost 4-23 against G Mobbs
On Mat 1 Connaught made a fist of it and were just 4-8 down after 9 ends. After that they could not contain a competent triple which had the edge up front and a skip in Russell Davidson who seems to get better and better with age! Marianne and Malcolm tried hard and Roy played extremely well to win or cut down. Russell made a huge difference to the final score with his ability to use weight accurately
On Mat 2 Peter King's triple matched Neil Davidson's triple all the way in by far the closest contest of ther evening. Carleton Rode edged the early ends and Connaught were 2-7 down after 7 ends. A 3 on end 8 pulled Connaught back and they traded blow for blow after that. 11-13 down after 17 ends Connaught scored 1 but just failed to snatch what would have been a well-earned draw. For Connaught Alison had her usual mix but generally dug in. Jim Squire found the mat to his liking, found the line and played boldly to good effect. Peter rolled back the years in a superb display, perhaps spurred by facing Neil. Neil was able to save enough to pull his side through
On Mat 1 Joan Knox's triple made a good start to contain at 2-3 after 5 ends but then the floodgates opened. Connaught won just three more ends as Carleton Rode confident triple scored heavily. All the Connaught players tried and Joan had some good shots but sadly the class factor showed
On Mat 2 Connaught looked to have a solid triple on paper but they won just 4 ends, all by a single shot, in an emphatic defeat. They conceded 1 x 4 and 1 x 3 but otherwise contained quite well against a very accurate triple. At lead Peter found the right weight but was often wideish on line. John tried hard but was under pressure and not at his best although generally accurate. Similarly Mike was under even greater pressure and also bowled well to save. The opposition played better and better and invariably were that inch or two closer against players who did not buckle but felt the heat
Not a good end to the halfway point as Connaught 'B' lost their 9th match on the trot. One of those seasons so far in which blocks are not settled, for a variety of reasons, and in which players seem to have lost confidence
CONNAUGHT 'B' v HARLING GRIFFIN
Connaught 'B' lost at Harling Griffin on Wednesday 23 November by 41-80 and 0-10
Mat 1 Joan Knox, Joyce Hazell and Ann Bayes lost 13-16 against G Cody
Mat 2 Mike Minshull, Moira Eades and Pat Benefer lost 13-20 against S Easter
Mat 1 Peter King, Alison Rush and Peter Hambling lost 10-19 against J Hayman
Mat 2 Malcolm Southgate, John Winup and Michael Marlow lost 4-26 against G Palframan
On Mat 1 Joan Knox's triple again put up a spirited display to go down narrowly. With Ann Bayes again showing useful form at lead and Joyce usually thereabouts, Joan played very positively. With only 1s and 2s being scored Connaught edged ahead to lead 11-8 after 14 ends but then dropped a 2 and crucially a 4 to go 11=14 down. 2 to Connaught and 2 to Harling completed the match. A very good effort
On Mat 2 with all three players not finding weight and line Connaught went 1-11 down after 5 ends. The ship was steadied a bit but the deficit remained the same at 6-16 down after 11 ends and then 2 more were dropped. A 4 to Connaught on end 13 improved the scoreboard and the end result was respectable. Mike Minshull once he head found the mat had a good game at skip[
After the interval on Mat 1 Connaught were well in the game at 8-10 down after 10 ends but Harling applied more pressure to get up front advantage. Connaught still had a chance at 10-13 down after 14 ends but Harling won the last four ends by 6-0. For Connaught Peter King with a good mix of shots had a fine match at skip
Mat 2 was a disaster for Connaught with all three players having miserable games against opposition in fine form and becoming more and more confident as they saw there was nothing coming at them. In those circumstances the losing side rarely has any luck and the rub of the green went against them as well. Not a good night for three experienced players who really have to look hard at themselves
Another defeat for Connaught 'B' at a venue which is not easy for visiting sides and against a side which is strengthening year on year
CONNAUGHT 'B' v HINGHAM
Connaught 'B' lost at Hingham on Monday 21 November by 58-73 and 2-8
Mat 1 Steve Barclay, Alison Rush and Pat Benefer lost 11-24 against G Wilcox
Mat 2 Mike Minshull, Jim Squire and Moira Eades won 17-8 against G Herbert
Mat 1 Joan Knox, Joyce Hazell and Anne Bayes lost 12-22 against K Thomas
Mat 2 Malcolm Southgate, John Winup and Peter Hambling lost 18-19 against J Higgs
On Mat 1 Connaught dropped 3, 2 and 3 on the first three ends and thereafter were in catch-up mode. They recovered to 6-13 after 9 ends and battled well enough second half but continued to drop big ends. All told Connaught dropped 1 x 4 and 4 x 3, 16 shots in 5 ends, and that lack of tightness will not win matches. Perversely, Steve Barclay had a very good game at skip and without this the deficit could have been much bigger. Pat found the conditions difficult but did enough on most ends to show how well she has adapted to league bowls. Alison also found things difficult - some good shots but a little inconsistent. The Hingham lead and 2 did play well and this made the difference
On Mat 2 The Connaught triple concentrated well throughout for a well-deserved win in a tight match. Connaught scored 5 x 2 and 7 x 1 while containing the opposition to 2 x 2 and 4 x 1 - this shows the tightness of the match. The match see-sawed at the start but Connaught edged ahead to lead 8-5 after 9 ends and then after 12 ends the margin was reduced to 9-8. At this point Connaught 'B' triples often crack but not on this occasion. The last six ends were won by an aggregate of 8-0. Moira led very steadily for the entire match and the win owed much to her. Likewise Jim played with great determination and his positive style paid dividends on many ends. Mike Minshull had an excellent game at skip and bowled some excellent drawing woods under pressure. On a learning curve this season Mike has come to terms with the game on this evidence
On Mat 1 a new and all-female triple, with Joan Knox playing her first match of the season and given the responsibility of skipping. Facing possibly Hingham's strongest triple on paper the Connaught players put up a spirited display. They led 6-4 after seven ends but then dropped 4, 3 and 3 to go 6-14 down. They fought back well and pulled up to 12-16 after 16 ends before dropping 2 and 4 to give Hingham a rather flattering margin. Connaught conceded 2 x 4 and 2 x 3, 14 shots in 4 ends, in a match which rather mirrored the opening match on Mat 1. Problems of technique led to occasional lack of steadiness and the Hingham players were able to capitalise. Like Steve Barclay earlier Joan had a very good match at skip - she has a good eye and keeps her nerve. On several ends she either got shot or saved well when quite a few shots down
On Mat 2 there was a very dramatic match which was tight for the first half at which point, aided by a 3 on end 8, Connaught led 8-4. The game then opened up with a vengeance. 2 x 2 to Hingham, 5 to Connaught, 3 x 3 to Hingham, 2 and 3 to Connaught and then a final 2 to Hingham for a 1-shot win. However, the general pattern of the game remained the same. Peter Hambling and John Winup were having fine drawing games and giving Connaught the up front advantage for the majority of ends. Malcolm was facing an in-form John Higgs, the best skip on either side, and it was all a question of whether the advantage would prove sufficient. By a fraction it did not. The last end was cruel for Connaught, who held well but John kept his nerve and chanced his arm to turn 3 down into 2 up. Malcolm played some fine shots on his backhand side, especially at pace, but found the swing on the forehand side hard to master
Another defeat for Connaught 'B' but there were some promising signs. A side which has Roy Taylor, Graham Benefer and Peter King to come in, plus David Flatt and Mick Utting when they are well enough, is surely capable of a win or two. However, players must increase the concentration levels to lose that fragility which in turn leads to disaster ends. The old technical issues also keep surfacing eg not using the foot mat space to aid delivery in swinging conditions
CONNAUGHT 'B' v CONNAUGHT 'A'
Connaught 'B' lost at home against Connaught 'A' on Saturday 5 November by 45-75 and 0-10
Mat 1 Mike Minshull, Graham Benefer and Peter Hambling lost 13-19 against Bob Oatway, Sylvia Parsons and Diana Adcock
Mat 2 Steve Barclay, Alison Rush and Pat Benefer lost 11-13 against Owen Secker, Derek Liles and Bill Adcock
Mat 1 Roy Taylor, Moira Eades and Ann Bayes lost 12-19 against Sheila Bragg, Joe Li-Rocchi and David Quadling
Mat 2 Malcolm Southgate, John Winup and Michael Marlow lost 9-24 against Lee Fallows, Jack Marshall and Elaine Oatway
On Mat 1 the 'B' triple, with Peter Hambling rediscovering form and Graham Benefer drawing superbly at lead, played very well to lead 10-8 after 13 closely-fought ends. The wheels then came off with a dropped 5 on end 14 followed by losing ends of 2, 1 and 3. A 3 on the last end was of scant consolation but pulled the score up a bit to better reflect the game
On Mat 2 a similar match ensued with the 'B' triple leading 10-9 after 15 ends before dropping 4 shots over the next two ends. A single shot was scored on the last end. For the 'B' triple Pat Benefer played very well at lead and Steve Barclay had a good game at skip. As usual Alison mixed the very good with the bad ends
On Mat 1 after the break the 'B' triple played well to lead 8-4 after 6 ends against an 'A' triple not finding it up front. After 13 ends the score was level at 12-12 but 4 x 1 and 1 x 3 were conceded over the last 5 ends. On paper it seemed that the 'B' players would struggle up front but until those closing stages they held their own. Happily Ann is finding her feet in league bowls after a shaky start and Moira bowled steadily and even did well on her unfavoured forehand side. Roy had a really good game against Sheila Bragg and proved once more that he is a very determined competitor
Mat 2 after the break saw the only match in which the 'B' players were hammered. At 5-6 down after 7 ends they were hanging on well enough but could not sustain the effort. Michael at lead, who has been ill, perhaps should not have played and after the opening ends Elaine Oatway had something of a free ride and bowled well under little pressure. At 2 John Winup was always under pressure but managed his usual steady game. He just about shared it with Jack Marshall but could give Malcolm little. Lee Fallows was in supreme form, a class or two above, and Malcolm although not faltering could do little against him. 12 of the 24 shots conceded were lost on three ends - no excuse but evidence that generally the match was tight. This match finished 6 ends behind Mat 1 and for all present, waiting for the post-match socialising, this seemed over the top. The head reading and debate between Jack and Lee simply was over-elaborate
Everything went very well afterwards with players and spectators well-looked after by Connaught 'B' as the home side. Thank you to Sandra for sorting out the food brought by the 'B' players. No victory this year for Connaught 'B' but the usual mix of either losing heavily or of fading in the finishing straight. There are some promising signs that the newer players, such as the Benefers and Roy Taylor, are becoming the strength of the side. However, more experienced players must be more consistent if the side is to overcome the loss of players from last year's squad
CONNAUGHT 'B' v BANHAM
Connaught 'B' lost 45-74 and 2-8 away to Banham on Wednesday 16 October
Mat 1 Malcolm Southgate, John Winup and Michael Marlow won 14-12 against P Bertram
Mat 2 Peter King, Jim Squire and Moira Eades Lost 9-23 against J Williamson
Mat 3 David Flatt, Alison Rush and Pat Benefer lost 8-17 against B Francis
Mat 4 Mike Minshull, Steve Barclay and Ann Bayes lost 14-22 against J Delaney
On Mat 1 Connaught won just 8 ends against 10 but conceded only 8 x 1 and 2 x 2 while managing to notch up 2 x 3 among their winning ends. The match was very tight throughout. For Connaught Michael bowled very solidly, often getting touchers and usually in or about the head. John Winup had one of his best games finding the mat suited his drawing style. He needed to be on form because Ronnie Dunning at 2 for Banham continues to defy the years. The net result was that the Banham skip, Peggy Bertram, was usually under some pressure. She responded very well by saving numerous shots and winning some ends against the odds. Malcolm bowled very steadily his response and contributed to the Connaught's disciplined play in a good win
On Mat 2 Connaught led 6-5 after 6 ends but could not sustain the effort, losing the next 8 ends and going 6-21 down after 14 ends. There was no recovery from that as the match petered out. Moira played doggedly at lead but Peter and Jim found themselves facing experienced players who had a wider range of shot in the conditions
On Mat 3 Connaught managed to keep things reasonably tight by conceding just 1 x 3 in a match in which otherwise only 1s and 2s were conceded. Despite this tightness Connaught lost 7 of the first 9 ends to go 2-10 down. The second half was lost by just 6-7 but Connaught did not have the armoury to overcome that opening deficit against three very steady players. A plus point was Pat Benefer's play at lead where she remained accurate throughout in her first away match; she commented afterwards on the pressure of the game as Banham were still able to nudge good woods out. Alison and David both tried hard but both are players who can struggle a bit with weight on faster mats. Nevertheless this was a good team effort
On Mat 4 Connaught had a bad start to drop 5 on the first end and 2 on the second end. However, they fought back well to level at 8-8 after 8 ends. The, in a spell rather similar to that on Mat 2, Connaught collapsed to lose 5 ends on the trot and go 8-20 down after 13 ends. Connaught then steadied and finished on a high with 4 on the last end. Mike and Steve swapped positions at some point, with Steve generally having a useful match. 8 ends were won by Connaught in this match but the triple needed to bowl more tightly over longer periods to have any chance of a win.
This result was perhaps predictable for a Connaught side dealing with the departure, for different reasons, of Alan and Jack Marshall, Dave and Di Quadling, and Gordon Wilcox. Added to that Banham, who sometimes struggle to raise a side, are strong opponents on their own mats. They have at least two very skilful skips and the others are competent. At lead and 2 even their more inexperienced players are simply that bit steadier than their Connaught equivalents. Connaught 'B' must soldier on and find light at the end of the tunnel! Best wishes to David Flatt (at time of doing this report we learn that he has been rushed into hospital with appendicitis. Operated on and doing fine. Being selfish, another regular out of the side! At least Connaught have players around and will never play short)
CONNAUGHT 'B' v SHROPHAM
Connaught 'B' lost at home against Shropham on Wednesday 19 October by 63-71 and 4-6
Mat 1 Steve Barclay, John Winup and Graham Benefer lost 6-22 against M Godbold
Mat 2 David Flatt, Mike Minshull and Ann Bayes lost 13-24 against N Newbury
Mat 1 Peter King, Malcolm Southgate and Alison Rush won 21-13 against R Dawson
Mat 2 Roy Taylor, Joyce Hazell and Pat Benefer won 23-12 against R Broad
Mat 1 was a disaster for Connaught. Things started badly when it was realised that Peter King had not turned up. A frantic telephone call established that he had forgotten all about the match. A last second change of skips was arranged and Steve Barclay, primed to play 2nd session, was drafted in. The fluster did not help the Connaught players but did not excuse what followed. Three players sould find little individual or collective form against a Shropham triple which played with more and more confidence as they realised there was little to beat. Graham and John certainly left the previous evening's form against Wymondham on the other mat and Steve simply could not hack it on the night. Graham and John swapped but to little avail and as often happens in this sort of match the rub of the green (or mat) went to the winning side
Mat 2 was almost as bad for the home side with positional changes trying to plug the upfront gap. All three players had a go at lead and the optimum was reached in the latter stages with David at lead and Mike at skip. A deficit of 6-20 after 12 ends was reduced to 13-24. One feels sorry for Ann who is having a steep learning curve and is patently nervous. The dwelling on Connaught failures must not detract from good Shropham play and as on Mat 1 the visitors became increasingly confident as they realised they had the beating of the home side. Nolan Newbury, well known to Connaught on the green, is now much more acclimatised to short mat and his basic bowling skills came to the fore. Ambidextrous, he flummoxed Connaught with the ability to change from right hand to left with no detrimental effect.
Mat 1 after the break saw Peter King, who at least rushed to turn up after the phone call, skipping instead of Steve Barclay as planned. Connaught just had the edge throughout esxcept for one wobbly period. Connaught were 16-7 up after 12 ends but then dropped 1, 3 and 2 to give Shropham real hope. Happily the home triple kept it together to score 3, 1 and 1 over the last three ends. The quality of leading was again a determinant factor for Connaught. Alison had some very reasonable spells but also spells when she lost it totally. Malcolm had a very reasonable game but Peter was out of sorts and at a guess affected by the rushing around. In all honesty this was not a quality match as Shropham only occasionally played to the conditions but at least the Connaught triple found a way of competing and winning
Mat 2 saw Connaught's best performance of the evening with an excellent start against a triple which could not adjust to the conditions. Connaught went 19-1 up after 10 ends and with Peter King 13-6 up at the same stage had recovered 25 shots from the 27-shot deficit at half way. Roy's triple did not crack in any way but could not sustain that high-scoring start as the visiting triple settled to win the second half of the match. All three Connaught players could be pleased with themselves. Pat at lead maintained a good level of performance and often her drawing was excellent; technically she is a soundly-coached player in bowling basics and is adapting quickly from green and long mats. She likes the short mat game and is concentrating on it this winter season. Joyce also drew well throughout and is happy at being relieved of skipping duties; she has little power at 2 but will do a good job with the ability to get woods in the head. Roy Taylor had an excellent match and over the first 12 ends no skip in the club could have done better. He then had to plug gaps as Shropham started to win up front but maintained his tremendous concentration levels to ensure that his triple won their match
Congratulations to Shropham on their first ever win in the Breckland League. We perhaps did not congratulate them as we should but it was a strange sort of evening and a touch surprisingly some of their players left early and did not witness the moment of victory. For Connaught 'B' the season is starting to implode and changes must come. John Winup and Malcolm Southgate had agreed before the match that Malcolm would take over as captain to try to give a change of direction and the Shropham result confirmed the timing! John will continue to play and will give Malcolm 100%. Here is not the place for a full analysis of the problems with the side but chief among them is that generally (there are exceptions) leads are playing very badly and with faulty techniques and putting 2s and skips under extreme pressure. There are several very useful players in the club in the internal leagues who could help a lot by committing to external league play
CONNAUGHT 'B' v WYMONDHAM
Connaught 'B' lost at home against Wymondham on Tuesday 18 October by 31-89 and 0-10
Mat 1 Steve Barclay, Malcolm Southgate and Peter Hambling lost 4-27 against C Mann
Mat 2 Joyce Hazell, Mike Minshull and Moira Eades lost 3-33 against J Sparham
Mat 1 David Flatt, Roy Taylor and Pat Benefer lost 12-13 against M Barker
Mat 2 Peter King, John Winup and Graham Benefer lost 12-16 against J Pye
On Mat 1 Steve Barclay's triple could achieve little up front against more accurate players on the night and Steve was left with the impossible task of trying to retrieve things against Chris Mann
On Mat 2 the outcome was even worse. With Pat Saunders as accurate as ever at lead and new player, John Jefferey, at 2 proving very competent it only needed John Sparham at skip to shore things up! Little can be said. Mike Minshull, at 2 or later at lead, fought bravely but one felt for Joyce and Moira who were just outgunned
Connaught pre-match had identified the post-break match on Mat 1 as one where they had a reasonable chance and so it proved. Connaught managed 3 on the first end but after that it was just 1s and 2s throughout. There were never many shots in it. Connaught edged to 11-10 after 14 ends but then dropped 3 x 1. The home side scored 1 on the last end but fell 1 short in a good contest. Both Pat and Roy, in their first Breckland League game, concentrated very hard and their techniques, honed on the green and on long mats, stood up well to this level of short mat. David, also esentially an outdoor player, bowled some excellent woods but found Melvyn Barker in very good form. Melvyn sometimes has struggled at Connaught but on the night he was that difference for Wymondham
Mat 2 saw another match of high quality. Connaught led 12-9 after 16 ends but then dropped 2 and 5. Even these dropped shots owed more to good opposition play than to laxness by the home players. Graham against Billie Barker was a good match. A technically sound outdoor player but in his first Breckland League game against an experienced short mat bowler. It is fair to say that Graham shaded it. John Winup and Brian Saunders had a tremendous scrap at 2 with both in very good form. Very little in it, Peter King always had woods in or near the head and this helped him to hold his own with Jack Pye; also Peter King usually can raise his game against his old club. He played very well. Wymondham still had too much firepower on the last 2 ends against a desperately disappointed home triple
Not an unexpected defeat. The opening matches almost reached the embarrassing stage and it was a relief for the home side to salvage some pride after the interval. Also it was heartening that three new players performed well in the two close games (and David Flatt is still quite new to this form of the game).
CONNAUGHT 'B' v FORNCETT
Connaught 'B' lost at home against Forncett on Monday 10 October by 40-72 and 2-8
Mat 1 Steve Barclay, Malcolm Southgate and Alison Rush won 18-14 against M Boulter
Mat 2 David Flatt, John Winup and Ann Bayes lost 10-14 against T Ottewell
Mat 1 Joyce Hazell, Mike Minshull and Moira Eades lost 6-23 against R Humphreys
Mat 2 Peter King, Jim Squire and Peter Hambling lost 6-22 against P Lock
On Mat 1 Steve Barclay was 0-7 down after 6 ends at which point Malcolm and Alison swapped positions. This gave more stability up front and Connaught edged their way back to be just 8-9 down after 13 ends. Connaught then dropped 5 to be 8-14 down but 2 x 3 and 2 x 2 over the last 4 ends gave the home triple what was a surprise win. Plaudits go Steve personally who had an outstanding game whether saving shots when down or in winning the end
On Mat 2 Ann struggled at lead early on (probably nerves in her first match) and swapped with John after 5 ends when Connaught were 0-5 down. With Forncett playing well the swap did not have an immediate effect and the home players were 3-11 down after 11 ends. A good spell then brought them up to 10-11 after 16 ends but 2 and 1 were then dropped. The Connaught triple always was under pressure with John and David always desperate to "get something in". Against a player like Tony Ottewell, in excellent form, the effort was a bit too much
On Mat 1 after the break Joyce Hazell's triple was never in it against the breezy Humphreys family triple. To match them and then wear them down players have to concentrate and keep things tight and Connaught technically were just not up to it on the night
On Mat 2 a similar tale and score ensued. Mike Smail is now one of the best leads on the circuit and he played superlatively. His wife, Jan, proved a very steady player at 2 and this meant that Connaught got no change at all up front. Against another competent player in Peter Lock, Peter King could do little to retrieve the position
Forncett at full strength can be a useful side and they simply were too strong for a Connaught team which lacked the steel and frankly the ability to make a game of it
On Mat 4 Connaught had a bad start to drop 5 on the first end and 2 on the second end. However, they fought back well to level at 8-8 after 8 ends. Then, in a spell rather similar to that on Mat 2, Connaught collapsed to lose 5 ends on the trot and go 8-20 down after 13 ends. Connaught then steadied and finished on a high with 4 on the last end. Mike and Steve swapped positions at some point, with Steve generally having a useful match. 8 ends were won by Connaught in this match but the triple needed to bowl more tightly over longer periods to have any chance of a win.
This result was perhaps predictable for a Connaught side dealing with the departure, for different reasons, of Alan and Jack Marshall, Dave and Di Quadling, and Gordon Wilcox. Added to that Banham, who sometimes struggle to raise a side are strong opponents on their own mats. They have at least two very skilful skips and the others are competent. At lead and 2 even their more inexperienced players are simply that bit steadier than their Connaught equivalents. Connaught 'B' must soldier on and find light at the end of the tunnel! Best wishes to David Flatt (at time of doing this report we learn that he has been rushed into hospital with appendicitis. Operated on and doing fine. Being selfish, another regular out of the side! At least Connaught has players around and will never play short)