connaughtbowlsclub
EBA A Team 2017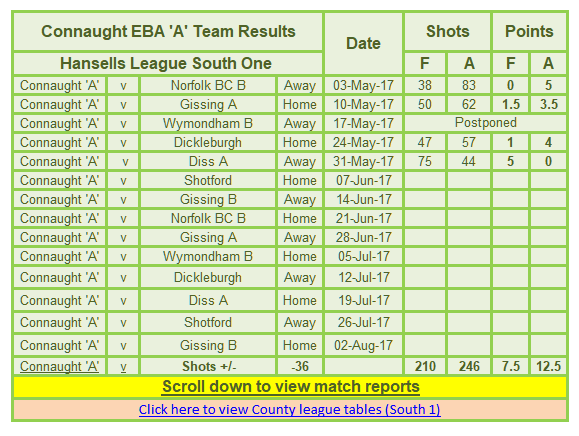 OD EBA A Team 2017
CONNAUGHT A v DISS A
Connaught won 5-0 and 75-44 away at Diss on 31 May.
RINK 3 G Li-Rocchi, G Benefer, D Flatt and O Secker won 29-13 against K Baker.
RINK 4 D Liles, S Barclay, R Taylor and M Utting won 22-17 against F Feaveryear.
RINK 5 .McDonald, R Harrison, K Ramsbottom and M Parsons won 24-13 against M Howard.
On Rink 3 Owen Secker's block went into an early lead and sustained the pressure throughout the match. At 21-13 after 19 ends the score seemed comfortable and a 7 on end 20 finally nailed it.
On Rink 4 Mick Utting's block dropped behind at the start but then won 9 of the next 10 ends to go 18-4 ahead. At 21-9 after 16 ends things looked rosy, but never underestimate Connaught for drama. A late wobble saw Mick going into the
final end only 4 shots up, but nerves held and he ran out 22-17.
On Rink 5 Mike Parsons' block had a tough match and did well to keep pace with Diss and go ahead 12-7 after 10 ends. At 17-13 after 18 ends the match was still finely balanced but a 3 and a 4 on ends 19 and 20 saw them home comfortably.
This 5-0 win at Diss put the ability of the Connaught team into a better perspective, following 3 successive losses.
CONNAUGHT A v DICKLEBURGH
Connaught lost at home to Dickleburgh on 24 May by 1-4 and 47-57
RINK 3 P McDonald, K.Ramsbottom, M Watson and M Parsons won 19-13 against A Green.
RINK 4 Liles, S Barclay, R Taylor and M Utting lost 11-21 to P Wright.
RINK 5 R Harrison, G Benefer, G Li-Rocchi and O Secker lost 17-23 to E Rawthorne.
On Rink 3 Mike Parsons' block were always ahead after a flying start. They reached 19-7 after 15 ends and although losing the last 6 ends, managed to contain the opposition to 1 shot per end.
On Rink 4 Mick Utting's block struggled to stay with Dickleburgh and were 6-19 down after 16 ends. A slight recovery towards the end showed a touch of their normal form.
On Rink 5 Owen Secker's block played well and looked comfortable at 16-12 after 15 ends. Unfortunately, a dropped 5 on end 18 turned the game around and they never recovered, going down 17-23.
This match stressed the importance of the end game. After 15 ends, Connaught were 4 shots up overall and seemingly heading for a 4-1 win. A total of 14 shots dropped on the last 6 ends turned that into a 1-4 loss.
CONNAUGHT A v GISSING A
Connaught lost at home to Gissing on 10 May by 1½- 3½ and 50-62
RINK 3 S Barclay, K Ramsbottom, R Taylor and M Utting drew 18-18 with E Fairweather, I Allen, R Cornwall and M Coe.
RINK 4 P Macdonald, R Oatway, M Watson and M Parsons won 18-11 against D Last, M Jolly, G Forster and P Forster.
RINK 5 W Adcock, G li-Rocchi, O Secker and D Flatt lost 14-33 to S White, G Rodgers, J Harrison and S Thompson.
On rink 3 Mick Utting's block won only 8 ends but managed to get a very good draw. This was due to the fact that they contained Gissing to single or double shots on losing ends. The match was 8-8 after 8 ends, 13-13 after 15 ends and 14-18 after 19 ends. Mick did well to get 4 shots on the last 2 ends, for the draw.
On rink 4 Mike Parsons' block were behind for the first 7 ends but then managed to get ahead. From then on, they stayed in front in a close game and pulled away over the last few ends to finish 18-11.
On rink 5 David Flatt's block dropped 6 on the first end and were 0-27 down after 11 ends. They finally got on the scoreboard on end 12 and from then on, played well to finish 14-33 with a 5 on end 21.
Well done Mick Utting and Mike Parsons' blocks for gaining 1½ points against Gissing A. This is always a difficult fixture and Connaught can be well satisfied with the overall result.
CONNAUGHT A v NORFOLK BOWLS CLUB
Connaught A lost away to Norfolk Bowls Club B on 3-5-17 by 0-5 and 38-83
RINK 1 P McDonald, R Oatway, M Watson and M Parsons lost 11-27 to A Johnson, J Leslie, K Brooks and C Wells.
RINK 2 D Liles, S Barclay, R Taylor and M Utting lost 16-28 to C West, M Ollis, C Knights and C Willgress.
RINK 3 G Benefer, G Li-Rocchi, D Flatt and O Secker lost 11-28 to K Whitehead, A Morter, S Wells and C Boon.
On Rink 1 Mike Parsons' block went 0-6 down after 5 ends but held their own over the next 9 ends, getting to 9-16. Their opponents proved too strong for the remaining ends but Mike will be satisfied with the overall performance of his block
On Rink 2 MIck Utting's block played well and were in contention at 13-16 after 14 ends. As is often the case however, the constant pressure from strong opposition finally told and Mick finished on a very respectable 16-28
On Rink 3 Owen Secker's block kept in touch with NBC and were only 8-12 down after 12 ends. They lost the next 7 ends and finished down 11-28.
This first match of the season, away at NBC, was always going to be difficult. Not only have NBC won the league for the last two seasons, they are considerably stronger this year with 3 of their members moving down from the 'A' team. The score line 0-5 and 38-83 fairly reflected the difference in strength of the two teams. On the positive side, all 3 Connaught blocks battled hard on a cold, dull evening and remained competitive for a good part of the match. The four members of the squad who have moved up from the 'B' team, Graham Benefer, Roy Taylor, Joe Li-Rocchi and Mark Watson all settled in well and were not daunted by the higher level of bowls.