connaughtbowlsclub
EBA B Team 2017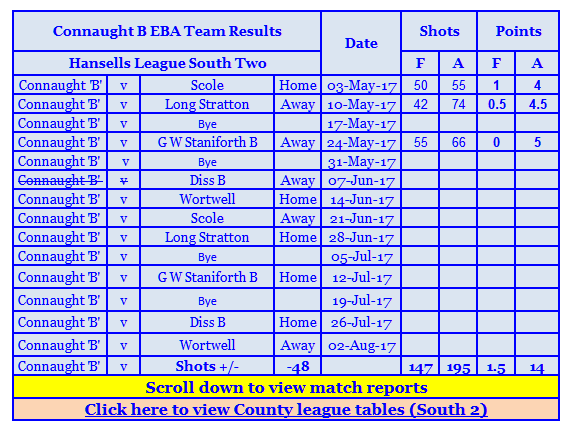 OD EBA B Team 2017

CONNAUGHT V G W STANIFORTH
Date: - Wednesday 24th May 2017 against G.W. Staniforth
Venue: - Away
Result: - Lost 0 - 5 Shots 55 - 66
Rink 4 David Quadling, Richard Adcock, Mike Minshull, John Winup v L. Robinson
After making changes from our previous game, John's rink came very close to winning but 11 shots against 1 in 3 ends towards the end of the game proved very costly Lost 18 - 22
Rink 5 Phil Wilson, Brian Matthews, Colin Barton, John Overton v D. Kay
Just as rink 4 we had a costly six ends towards the end of the game. Losing 8 shots to 1. Despite John Overton playing very well again at skip and picking up 4 shots on the last end, they just fell short, but once again the team came close but not quite close enough. Lost 19 – 21
Rink 6 Mike Marlow, George Sheridan, Barry Westwood, Terry Shoebridge v R. Beatty.
With a completely different team Terry's rink were very disappointing and the score after 12 ends told the story. After winning the first end, we won only 2 of the next 11 ends resulting in the score being 21 – 3 down after 12 ends. But we dug in and kept trying and won 8 of the final 9 ends to finish on the losing end by just 5 shots. A very good finish to the game but not good enough in the first half.
A real game of two halves. Once again, overall, the performance was not quite good enough. The 5 – 0 scoreline tells the story. We do need to improve, but at the moment we are struggling. Score 18 – 23.
CONNAUGHT v LONG STRATON
Date Wednesday 10th May 2017 away against Long Stratton
Venue: - Away
Result: Lost ½ - 4 ½ Shots 42 - 74
Rink 2 David Quadling, Barry Westwood, Richard Adcock, Terry Shoebridge v R. Harvey
We started very slowly but one or two good or lucky woods kept us in the game early on. The opposition No 3, playing with multi-coloured woods, had a brilliant game and actually got better as the game went on. Despite playing well we tailed off at the end, losing by 9 shots 12 – 21
Rink 3 Mike Marlow, George Sheridan, Mike Minshull, John Winup v R. Webster
We started well going 4 – 0 up early on but by half way we were 11 – 8 down. It looked like we were holding our own against strong opposition, but a poor second half of the game was the reason for the final score. In John's own words very disappointing and not good enough. Lost 12 – 35
Rink 4 Phil Wilson, Barry Osborne, Colin Barton, John Overton v D. Baker
A tight game from start to finish end in probably the right result. Despite going six shots behind after 13 ends we managed to finish strongly. We won 6 of the final 8 ends culminating in a 3 on the last end to draw the game. Another very good game at skip by John Overton saw us draw the game. Score 18 – 18.
CONNAUGHT V SCOLE
Connaught lost at home to Scole on Wednesday 3rd May 2017 by 50-55 and1-4
Rink 1: David Quadling, Barry Westwood, Richard Adcock, Terry Shoebridge lost 17 – 21 against D. Aldous
Rink 2: Phil Wilson, Brian Matthews, Colin Barton, John Overton list 16-18 against R. Frostick
Rink 3: Mike Marlow, George Sheridan, Mike Minshull, John Winup won 17 – 16 against G. Vernon
Against a strong Scole team it was always going to be difficult to get anything from the game. To get as close to them as we did was a creditable performance and we probably deserved more. A lack of recognised back end bowlers at this level showed and I personally had a problem with my back which meant I struggled to reach the head far too often.
Hopefully things will improve for me personally and for the team overall and if we continue to play as we did then we could have a reasonably good season.
A big thank you to Steve and his team who prepare the green. After last season's problems they have produced an excellent playing surface which as the season goes on will no doubt improve even more.