connaughtbowlsclub
South Norfolk League 2016-17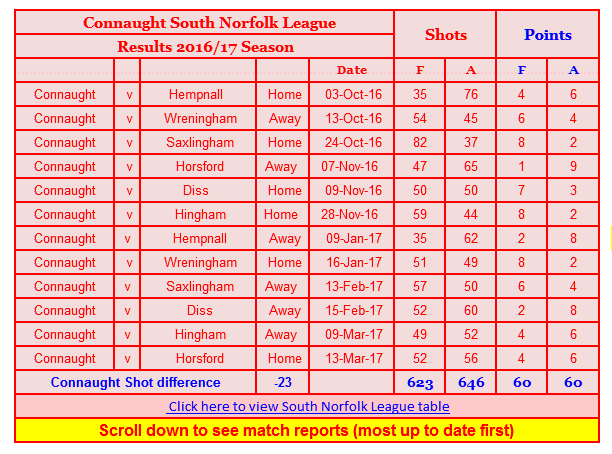 SM South Norfolk League 2016-17
CONNAUGHT V HORSFORD
Connaught lost at home to Horsford on 13-March 2017 by 52-56 and 4-6
Rink 1 Dave Quadling, David Flatt and Sheila Bragg won 10-8 against D Gaskin, D Davitt and V Webster
Rink 2 Mike Smail, Malcolm Southgate and Mike Minshull lost 10-17 to L Frank, R Dix and R Frank 10 - 17
Rink 1 Di Quadling, Carolina Li-Rocchi and Jo Li-Rocchi won 18-15 against M Kemp, M Dale and P Fox
Rink 2 Brenda Cox, Alison Rush and Owen Secker lost 14-16 to A Drumee, S Fox and C Woodhouse

CONNAUGHT v HINGHAM
Connaught lost away to Hingham on the 9th March by 49-52 and 4-6
Rink 1 Mike Parsons, Malcolm Southgate and Mike Minshull won15-10 against C Powell, J Chapman and G Tweed
Rink 2 Diane Quadling, Carolina Li-Rocchi and Jo Li-Rocchi won 13-10 against P Chapman, J Hunter and M Hunter
Rink 1 Mike Smail, Sylvia Parsons and Owen Secker lost 13-17 to W Townsend, K P Groombridge and J Higgs
Rink 2 Michael Marlow, David Quadling and David Flatt lost 8-15 to W Tweed, C Harris and K Thomas
CONNAUGHT v SAXLINGHAM
Connaught won at Saxlingham on 13 Feb 17 by 57-50 and 6-4
Rink 1 Brenda Cox, Alison Rush and Owen Secker lost 13-15 to D Beamish, M Beamish and J Torbitt
Rink 2 Mike Smail, Malcolm Southgate and Mike Minshull lost 10-11 to P Merle, D Linford and S Hook
Rink 1 Carolina Li-Rocchi, David Flatt and Jo Li-Rocchi won 16-10 against R Frond, M McClusky and P Cooke
Rink 2 Diane Quadling, Dave Quadling and Sheila Bragg won 18-14 against J Torbitt, D Linford and A Banham
CONNAUGHT V DISS
Connaught lost away to Diss on 15 February by 52-60 and 2-8
Rink 1 Brenda Cox, Alison Rush and David Flatt lost 11-15 to J Davidson. J Skeat and K Buck
Rink 2 Di Quadling, Jack Marshall and Jo Li-Rocchi won 20-10 against C Smith, G Coleman and B Francis
Rink 1 Mike Smail, Malcolm Southgate and Mike Minshull lost 10-19to M Taylor, A Bird and T Newby
CONNAUGHT V WRENINGHAM
Connaught B won away at Wreningham on 16th January 51-49 and 8-2hg
Rink 1 Mike Smail, Malcolm Southgate, and Sylvia Parsons lost 5-16 to Chris Musk, Ty Musk and D Bunn
Rink 2. Michael Marlow, Alison Rush and David Flatt won 16-14 against P Howard, R Kidd and K Bunn
Rink 1 Brenda Cox, Di Quadling and Owen Secker won 15-9 against. G Kidd, C Moore and G Atter
Rink 2 Dave Quadling, Mike Parsons and Sheila Bragg won 15-10 against M Reynolds, M Reynolds and G Adcock
SM South Norfolk League 2016-17
CONNAUGHT v HEMPNALL
Connaught lost away to Hempnall on the 9th January 2017 by 35-62 shots and 2-8 points
Rink 1 B Cox, M Parsons and S Bragg lost 5-20 to A Jones, R Parker and N Davidson
Rink 2 Di Quadling, M Southgate and M Minshull won 14 -3 L against Crowe, B Choden and R Cranston
Rink 1 A Rush, Dave Quadling and Owen Secker lost 6-16 against B Smith, L Cranston and P Baker
Rink 2 C Li Rocchi, S Parsons and J Li Rocchi 10 13 C Stevenson M Pearce Harrowing
CONNAUGHT V HINGHAM
Connaught won against Hingham on the 28 Nov 2016 by 59-44 and 8-2
Rink 1 Mike Smail, Malcolm Southgate and Mike Minshull won 18-7 against C Short, T Curry Smith and E Herbert
Rink 2 Di Quadling, Mike Parsons and Sheila Bragg won 13-12 against W Townsend, K Thomas andJ Higgs
Rink 1 Dave Quadling, Sylvia Parsons and Jo Li-Rocchi won 19-11 against J Capell, J Hunter and M Hunter
Rink 2 Brenda Cox, Alison Rush and Owen Secker lost 9-14 to W Tweed, G Tweed and P Groombridge
Alison
CONNAUGHT v DISS
Connaught won at home to Diss on 9/11/16 drawing 50-50 on shots but won 7-3 on points
Rink 1 Brenda Cox, Alison Rush and Owen Secker won 15- 14 against Colin Smith, J Skeat and K Buck
Rink 2 Dave Quadling, Mike Parsons and Sheila Bragg won 11-8 against A Buckingham, G Coleman and B Francis
Rink 1 Diane Quadling, Jack Marshall and Sylvia Parsons lost 11-17 to M Taylor, A Biddulph and T Newby
Rink 2 Mike Smail, Jo Li-Rocchi and Mike Minshull won 13-11 against P Rush, A Bond and T
CONNAUGHT v HORSFORD
Connaught lost away to Horsford on 7/11/2016 by 47-65 and 1-9
Rink 3 Carolina Li-Rocchi, Diane Quadling lost 12-18 to R Hart, Jo Turner and M Tuttle
Rink 4 Mike Smail, Mike Parsons and Mike Minshull lost 11-13 to B Jermy, D Foster and R Francis
Rink 3 Michael Marlow, Alison Rush and Jo L- Rocchi lost 10-20 to D Gaskin, M Dale and V Webster
Rink 4 Dave Quadling, Sylvia Parsons and Owen Secker drew 14-14 with J Proctor, R Dix and P Fox
CONNAUGHT -V- SAXLINGHAM
Connaught won against Saxlingham on 18th Oct By 82-37 and 8-2 (rearranged from 24th October)
Rink 1 Mike Smail, Malcolm Southgate and Mike Minshull won 19-13 against P Cook, M Razell
Rink 2 Carolina Li-Rocchi, Peter Hambling and David Flatt lost 11-12 to P Meal, M Hobbs and G Briggs
Rink 1 Brenda Cox, Alison Rush and Owen Secker won 30-5 against N Banham, M McClusky and A Banham
Rink 2 Di Quadling, Jo L-Rocchi and Sheila Bragg won 22-7 against A Payne, D Linford and G Payne
CONNAUGHT V WRENINGHAM
Connaught won away against Wreningham on 13th October by 54-45 and 6-4
Rink 1 Mike Marlow, Di Quadling and David Flatt won 14-9 against C Musk, C Moore and D Bunn
Rink 2 Mike Parsons, Mike Smail and Mike Minshull won 21-7 against P Howard, R Kidd and T Musk
Rink 1 Jack Marshall, Sylvia Parsons and Malcolm Southgate lost 12-16 to G Kidd, S Sayers and K Bunn
Rink 2 Dave Quadling, Alison Rush and Owen Secker lost 7-13 to M Reynolds, M Reynolds and G Adcock
Difficult Mats so I was very pleased to come out with a win.
CONNAUGHT -V- HEMPNALL
Connaught lost at home against Hempnall on Monday the 3rd October by 35-76 and 4-6
Rink 1 Peter Hambling, Sylvia Parsons and Jo Li-Rocchi won 12-11 against L Cranston, Joan Cann and Paul Baker
Rink 2 Brenda Cox, Alison Rush and Owen Secker lost 4-23 to Alan Jones, R Cranston and Roger Parker
Rink1 Carolina Li-Rocchi, David Flatt and Sheila Bragg won 17-14 against Colin Stevenson, Mike Pearce and Jack Pye
Rink 2 Mike Minshull, Malcolm Southgate and Mike Parsons lost 2-28 to Kerry Greenacre, Bernie Cudden and Neil Davidson
I was very impressed with Sheila's block who played well against an England skip.
Jo's block had a tight game but managed to come out within a win
Unfortunately the other blocks tried their best but were completely out bowled.
4-6 Against Hempnall was a good result
Alison.