connaughtbowlsclub
Upper Waveney League 2017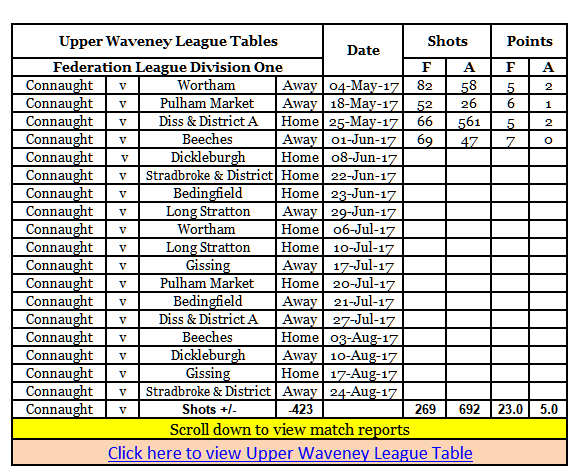 CONNAUGHT v BEECHES
Connaught won at Beeches on Thursday 1 June by 69-47 and 7-0
Rink 3 David Flatt, John Winup and Jon Horslen won 15-10 against A Broughton
Rink 4 Sheila Bragg, Ken Ramsbottom and Graham Benefer won 16-10 against K Day
Rink 5 Geoff Randle, Mike Minshull and Steve Barclay won 17-16 against R Roberts
Rink 6 Roy Taylor, Kevin Noble and Paul McDonald won 21-11 against D Douglas
On Rink 3 Connaught had a 2 and 3 start and never lost the lead after that although they could never extend the lead against a stubborn triple which bowled tightly. In fact the game developed into a battle between the leads and 2s in a series of very close ends and Jon Horslen and John Winup just about secured enough advantage for David Flatt to hold off an experienced and canny skip. Jon Horslen undoubtedly had his best game in Connaught colours and showed that lead is probably his best position
Rink 4 provided a very similar game with an almost identical winning score by the visitors. Connaught did manage a 4 on end 8 and this was important to the outcome in a match seeing only 1s and 2s on the other ends. A good digging in effort by Connaught against another useful triple and all three Connaught players can be pleased with their performance
Rink 5 provided a totally different type of game and indeed one which became quite extraordinary. Connaught could do nothing at the start against accurate play and were 0-11 down after 6 ends and 1-15 down after 8 ends. At this point Geoff swapped positions with Mike and the game changed dramatically. Firstly Steve did find his best form at lead and this made a huge difference. Secondly Geoff with his straighter-bowling woods had more room at 2 to get into the head and thirdly Mike at skip could use his swinging woods to consolidate. Connaught won 9 of the last 10 ends, dropping only a single shot on end 14. At that point they were still down, by 11-16, but a 1, 3, 1 and 1 finish saw them home to a remarkable win
Rink 6 saw a strong-looking Connaught triple struggling a bit in a match which was very tight first half (8-7 to Connaught) and after 11 ends Connaught led by just 9-8. Connaught then scored 5 on end 12 and 5 on end 14 to take a 19-10 lead. 2 x 1 to each side over the last 4 ends as the match reverted to type. Again a good performance by all the Connaught players against competent players. Indeed one of the Beeches players was heard to say afterwards "we were up against a useful triple tonight".
After 9 ends on all four rinks Connaught were 26-33 down, being annihilated on Rink 5 and in tough battles on the others. The team is resilient and played well on all rinks to come through second half. Commiserations to Beeches who rightly will think they deserved a bit more from the match. They played well against a side which at present is in good form (long may it last!). Congratulations to Beeches on the green which bowled very well and thank you to Beeches for their hospitality in those lovely surroundings
CONNAUGHT v DISS 'A'
Connaught won at home against Diss 'A' on Thursday 25 May by 66-51 and 5-2
Rink 2 Roy Taylor, Mike Minshull and Paul McDonald lost 10-15 against P Alderton
Rink 3 Mick Utting, Sheila Bragg and Graham Benefer win 26-6 against R Frostick
Rink 4 Geoff Randle, Jon Horslen and Peter Hambling won 18-13 against I Dunnett
Rink 5 Kevin Noble, Mark Watson and Derek Liles lost 12-17 against E Feaveraryear
Rink 2 saw a very close contest throughout, with only 1s and 2s being scored except on end 6 when Diss managed a 4 to put Connaught 3-6 down. That end proved crucial in the overall context. Connaught did pull up to 9-9 after 12 ends but then went down 1-6 in a tense battle over the final 6 ends. Paul McDonald beat himself up afterwards but, although coming second to Phyllis Earrye a seasoned lead who found the green unerringly as the match went on, was never far away. Mike Minshull, in excellent form of late, found the accurate David Harrison just that more attuned to the right pace and line. He still had some very good woods. Roy Taylor again had a good game against a useful skip but usually was under pressure to save. His change with Mike later on helped to stabilise things. A good effort
Rink 3 saw the Connaught players combine very well to secure a big win which ensured Connaught had 3 points for overall shots. After dropping 2 on the first end Connaught scored 4 and 2 before dropping 1 to be 6-3 up. Connaught then won every end from 5 to 15 inclusive before dropping 3 on end 16. A 1 and 3 finish gave them the 26-6 win. Graham Benefer is becoming a huge comfort at lead, be it in a 4 or a triple, because he either secures the advantage or is very close with all his woods. Sheila, opposing an old adversary in Angela Bailey, was in one of her killer moods and had an excellent match on the draw or with a bit of running. Mick did what he does, usually in or near the head and rarely short, but has added a bit of drawing caution to his game. He still gave Sheila kittens on occasion. Diss did not play badly, and as Mick said afterwards the rub of the green always went Connaught's way. Often the case when a side is winning by some margin
On Rink 4 Connaught always had the edge without quite getting away. Good and steady play by all three saw the home side edge ahead to a lead of 13-4 after 10 ends. Two shots were dropped on end 11 and 1 regained on end 12 for a 14-6 lead. Spectators were reasonably comfortable. Then the Randle/Hambling propensity for drama, to which Jon Horslen is making his own contribution, came to the fore. A 1 and 3 x 2 were dropped on successive ends and the lead was reduced to 14-13 after 16 ends. Game on, but Connaught came through a nervous final two ends with a 1 and a 3 for a 5-shot win. The Diss players were no mugs and by changing playing positions and sometimes mat position managed to get to Connaught a little up front and upset their rhythm. Geoff played very steadily once more and importantly is enjoying his bowls in the side
On Rink 5 one feared for Connaught a little when seeing Errol Feaveraryear and Aaron Stimpson in the Diss ranks. By and large Connaught do not have players as good individually and simply must dig in against them. Keep it tight and do not go for glory. Connaught achieved this by winning 9 of the 18 ends and just about staying in touch. The home side won 6 of the first 9 ends but dropped 4s on ends 6 and 8 helped put them 8-9 down This became 8-15 after 13 ends before Connaught came back to take the last 5 ends by 4-2. All the Connaught players did well, with Derek a very steady lead, Mark always consistent and level-headed and Kevin now into the swing of things and playing confidently. The game swung on small margins with Connaught holding a good 5 on two ends but with Errol producing superb draws to take shot
This was a good evening's bowling and gave Connaught a rare win against Diss 'A'. Diss were short of four good players playing in EBA county competitions but still fielded a useful-looking side. Connaught were missing David Flatt and Bob Oatway but had Steve Barclay, Ken Ramsbottom and John Winup in reserve; in their much of a muchness squad these 5 players would neither have strengthened nor weakened the side fielded. You play who you play and it is all on the night. Diss publicly and one to one praised the green and this was pleasing. A good night socially, with food, raffle and bar all going well
CONNAUGHT v PULHAM MARKET
Connaught won at Pulham Market on Thursday 18 May by 53-26 and 6-1 in a match reduced to 12 ends on account of rain
Rink 1 Mick Utting, Steve Barclay and Derek Liles won 13-5 against D Burns
Rink 2 Kevin Noble, Mark Watson and George Sheridan lost 7-8 against A Thomson
Rink 4 Geoff Randle, Mike Minshull and Paul McDonald won 17-4 against P Brown
Rink 5 Sheila Bragg, Bob Oatway and Graham Benefer won 16-9 against R Browne
On Rink 1 the Connaught triple won just 7 ends against 5 but built up a useful shots margin by dint of very tight play. After dropping 1 on ends 1 Connaught then scored 5 followed by 3 x 1 for a useful 8-1 lead after 5 ends. The game became more even after that but the Connaught players maintained concentration. Well done to all three
Rink 2 saw a very close contest throughout as Connaught were contained to 7 x 1 but dropped 1 x 2 and 1 x 3 as well as 3 x 1. George Sheridan was a bit too narrow at times as lead but usually was "up" and held his own. Mark Watson had his usual very solid game at 2 and bowled some excellent controlled weight woods on a narrow line. Kevin Noble was facing probably the most talented player on either side in Alex Thompson who saved his side time and time again and who said afterwards that he had found form for the first time this season. Kevin by no means played badly and in a full-length match Alex might not have maintained his level. But he certainly did the damage over 12 ends
On Rink 4 Connaught had a heavy-scoring finish to win 17-4 in a match which saw them win a succession of single shot ends to lead by just 9-1 after 9 ends. The final 3 ends saw the dam breached by both sides. Connaught were the steadier unit throughout. Paul McDonald expressed dissatisfaction with his own game but to the observer he was not far off line and importantly rarely bowled short. Both Mike Minshull and Geoff Randle had splendid games. Mike drew consistently whatever the length required and has that priceless knack of being able to adjust after a bad wood. His captain had expressed concern to Geoff Randle that he was not playing enough matches but for the second time this week Geoff had the answer! Line and pace were excellent and as ever he led his triple enthusiastically
On Rink 5 Sheila Bragg's triple had a blistering start to lead 14-1 after 5 ends. The drier conditions at this stage suited the Connaught players who all found length and line very well. As the rain became heavier Pulham applied themselves well with some heavy woods for a 2, 1 and 3 winning sequence. The last four ends saw each side score 2 x 1. Again all the Connaught players had good games and concentrated hard.
The non-playing Connaught captain had a better evening than anybody as he watched the game from the luxury of the clubhouse doorway! The conditions at the outset were grey and drab and the forecast was not good. Agreement was reached to get 12 ends in come what may but to take a final decision on length of match before the 12 ends were reached. In the event the decision was an easy one and welcomed by all 24 players as the rain became steadily heavier. There was also a good green to protect. A useful win for Connaught who pleased their captain by digging in and concentrating hard from the start in a match likely to be curtailed! Thank you to Pulham for their hospitality in their always-welcoming clubhouse
CONNAUGHT v BEDINGFIELD
The match against Bedingfield, scheduled to take place on Thursday 11 May had to be re-arranged as Bedingfield were unable to raise a side. The match will now take place on Friday 23 June 6.45pm
CONNAUGHT v LONG STRATTON
The match scheduled to take place on Thursday 27 April did not take place as Long Stratton, through a misunderstanding, turned up to play on Tuesday 25 April. The match has been re-arranged for Monday 10 July
CONNAUGHT v WORTHAM
Connaught won at Wortham on Thursday 4 May by 82-58 and 5-2
Rink 2 David Flatt (skip), Bob Oatway (2) and Derek Liles (lead) won 35-7 against J Bromley
Rink 3 Roy Taylor, Mark Watson and John Winup lost 11-16 against R Pursehouse
Rink 4 Sheila Bragg, Jon Horslen and Peter Hambling won 24-13 against S Wilby
Rink 5 Mick Utting, Steve Barclay and Paul McDonald lost 12-22 against D Frost
On Rink 2 David Flatt's triple had a huge win, losing just 4 ends and scoring 5 on end 7, 4 on end 11 and 7 on end 13. It was one of those games in which a strong-looking Connaught triple struck top form and, on their own admission, had all the luck going on top of that. It often happens that everything works when you are winning well. That being said the Connaught players had to perform and they did that very well with a mix of accurate drawing and pace when necessary
On Rink 3 there was a very different type of match, always close and usually with very tight heads. Connaught won just 6 of the ends against Wortham's 12 but contained their opponents to 9 x 1, 2 x 2 and 1 x 3. After 13 ends Connaught were leading 11-9 (6 ends against 7) but then dropped a 3 on end 14 and 4 x 1 on the remaining ends. All these five concluding ends were very tightly-fought and not a question of Connaught buckling. John Winup and Mark Watson had solid games for Connaught throughout but their opponents, while more wayward, often managed that killer wood. Richard Pursehouse, for Wortham, is one of the more competent skips on the circuit. We knew what we were up against on end 2. Connaught held a tight 5, all within 6-18 inches from the jack, but Richard threaded through one forehand and one backhand to take an unlikely 2. To his credit Roy stuck to it well and bowled some super woods on his own account
On Rink 4 Sheila Bragg's triple were in a match which for much of the match was very similar to that on Rink 2. Tightly-fought and nothing in it, with the score a near symmetry of 13-13 after 13 ends. Then Connaught took control by winning the last 5 ends and scoring 11 shots in the process. For Connaught Peter Hambling was another steady lead and Jon Horslen at 2 showed up well in his first match for the club and on a green where he had first learnt the game. Sheila had shown up well at practice and was in good form on the night. Skipping in Geoff Randle's absence she has caused another selection headache! Wortham battled hard but the impression was that they were forced into a running wood game especially in that finish
On Rink 5 Connaught faced a bit of a blitzkrieg at the start and went 1-13 down after 7 ends including a dropped 5 on end 5. A recovery then took place and a 3 on end 8 followed by a 4 on end 11 helped take the score to 10-15 after 11 ends. That was as close as it got because Wortham scored 7-2 over the last 7 ends. The Connaught players lost to a stronger home triple on the night but did well to rally in playing their part in the overall shots win
The evening was cold but thankfully dry. Credit to both teams for turning up well on time, enabling a 6.30 start and a full 18 ends. Wortham had twice done the double over Connaught and the visitors were pleased to get this first win against them. Over the first 9 ends the aggregate score was just 38-35 to Connaught but second half swelled to 44-23 in a strong finish. Wortham obviously have worked very hard on their green and are to be congratulated on it. Like
Connaught they missed out on a match last week but this was an enjoyable start for both teams