2014
April
Welcome to the first news of 2014. After a lot of hard work, by many members, we started the year with the usual pre season Coffee Morning (raising over £500).
12th Our opening Game resulted as Vice President 104 and President 115 much the same as last year. Followed by pie and peas.
13th An open day to encourage new bowlers proved successful, with 18 visitors attending.
14th Monday night aggregates got under way with 30 players competing.
16th 30 Members took part in the first Wednesday Jumbles, with Andrew Denwood taking 1st place.
18th 8 teams marked the opening of the men's Friday night triples league.
19th George Goode Trophy, first round played, with 17 pairs entered another increase on the last 2 years.
26th Clem Chester Trophy 1st Round played, 14pairs entered, down on last year.
27th We visited Lazonby for our 1st friendly of the season, unfortunately Croft Lost 44 to 76.
29th WCMTL, Croft "A" 7 Croft "B" 2, same result as last year
May
3rd Rose Bowl started with 30 entries, (4 less than last year).
4th 17 members entered the start of the "Croft Cup" ( 5 more than last year)
5th A 4 man team competed in "Roland Starkie" competition
6th WCMTL, A Team lost to Egremont 4-5, B Team beat Whitehaven A 5-4
8th Ladies friendly against Aspatria resulted in a win for Croft 48-32
10th Friendly away against Linton, Croft won 104-86
11th A home friendly with Port Carlisle was another victory for Croft 117-80
12th Croft entertained Norfolk Gents County team but lost 131 to 104
13th WCMTL, Croft A lost to Whitehaven A 0-9, Croft B won against Seascale A 6-3
15th Croft men 67 HVPs 87
17th Green Champion competition started with 18 men and 6 ladies entered. Both down on last year
18th Friendly Fitz Park 79 Croft 123 (1st leg) away.
20th WCMTL, Croft A 5 v Cleator Moor 4 , Croft B lost to Maryport 4-5
22nd Friendly Croft 84 Wigton 67.
24th Jackson Little Cup, singles, started with 20 entries
25th A successful Croft Mixed Triples Tournament was held was held despite almost an hours delay due to a heavy downpour. This year we had a full entry of 24 and 2 reserve teams from Croft.
27th WCMTL,Croft A beat Aspatria 5-4, Croft B lost to Workington A 2-7
29th Friendly against Seascale, resulted in a win for Croft 108 to 90
31st G&E Benson Trophy started with 21 entries, 1 more than last year
June
1st Croft Hosted the County Under 25 competition, once again a successful day.
3rd WCMTL Knockout Cup. Croft A beat Maryport 6 - 2. Croft B lost to Harris Park 2-7. Croft Hosted Men's County Singles ,Rnd 2
4th Croft hosted Rnd 2 of the men's County Pairs
5th Croft Ladies friendly at home against Linton resulted in Croft losing 63-75
7th Croft hosted the friendly with West End but lost 42-57
8th Croft entry into Wigton's Top9 resulted in their best score ever
10th WCMTL. A Team lost to Workington A 2-7, B Team game against Egremont was postponed.
14th Ladies v Gents 1st round won by Ladies ( with assistance!) 89-73
15th Keith Buckly Trophy, won by J Sewell, B Sutton, & E Grisedale with G Borwick, N Highton & M Sutton runners up.
16th Ladies friendly resulted in a win for Fitz Park 52-47
17th WCMTL. A Team lost to Workington B 0-9, B Team beat Cleator Moor A 5-4.
21st A very successful Midsummer Coffee Morning was followed by the Presidents Cup Tournament & was won by G Borwick, E Williamson & T Edmondson with A Sloan, F Dixon & M Sutton runners up.
24th Croft hosted 2nd rnd & ¼ final of the Ladies County Triples Competition. WCMTL. A Team v Seascale Postponed, B Team lost to Harris Park 2-7.
27th Cumbria v Nothumbria NT County game held at Croft
28th Bert Kitching Trophy won by R Forster,E Williamson & D Rae with D Biggadike, E Alexander & M Sutton runners up.
29th Friendly against Seaton at home, Croft lost 93-95
July
1st
WCMTL KO cup."A" lost to Workington "A" 4-5, 'B' lost to Egremont in a previously cancelled match
5th & 6th Maurice Graham Trophy played over 2 days , John Sewell won with Bobby Forster Runner up.
7th Friendly Croft v Probus , Croft lost 61 – 59.
8th WCMTL "A" 4 Seasale "B" 5, "B" 2 Workington "B"7
9th & 10th The town pairs competition was won by Cliff Eastwood and Peter Holmes, with John Sewell and John Abram runners up.
12th Friendly against Bedale resulted in a win for Croft 99 - 81
13th Les Partridge Trophy took place with D.Alexander, J.Denwood & R.Davison winning and G.Borwick, M.Minshaw & E.Grisedale runners up
15th WCMTL "A"4 Maryport 5, "B" 0 Frizington 9
17th Ladies Austin Wren was won by Edna Alexander with Jean Barwise runner up
20th Friendly against Fitz Park 84 Croft 106, Croft retain the Duerden Trophy by 66 shots on aggregate.
22nd WCMTL "A" No Game."B" 6 v Aspatria 3
26th & 27th A very enjoyable Finals weekend see separate sheet or web site for results
29th WCMTL "A" 2, Seascale "A" 7, "B" no game
31st Audrey Greenslade Ladies Trophy won by E.Rae with B.Sutton runner up
Croft Bowling Club Finals Weekend - 26th and 27th July 2014
| Competition | Format | Finalists | Winners |
| --- | --- | --- | --- |
| Gents Green Championship | 4 Woods, 21 Up | R. Foster v T. Dixon | R. Foster |
| Ladies Green Championship | 4 Woods, 21 Up | L. Abram v R. Davison | L. Abram |
| George Goode Trophy | 3 Woods, 18 ends | J & P Cowan v S Emmerson & J. Sewell | S Emmerson & J. Sewell |
| Jackson Little Cup | 4 Woods, Best of 3 sets of 7 ends | A, Hunter v S. Dixon | S. Dixon |
| Croft Cup | 4 Woods, 21 Up | J. Abram v A. Short | A. Short |
| Clem Chester Trophy | 2 woods, 21 ends | J & L Abram v S. Dixon & J. Sewell | J & L Abram |
| Rose Bowl | 3 woods, 18 ends | A. Short & L. Abram vs J. Barwise & J. Lapraik | J. Barwise & J. Lapraik |
| G. & E. Benson Trophy | 2,3,4 woods, 3x7 ends | | L. Abram |
August
31st July Audrey Greenslade Trophy amendment to result, Should be 1st E.Rae and E.Lowrey with
P Cowan runner up
2nd 36 entered Tom Starkie trophy, won by J.Cowan, E.Rae & M. Roberts with A.Donaldson, S.Dixon & J.Lapraik runners up
3rd Friendly with Wetheral resulted in a win for Wetheral 127 to 87
5th WCMTL Croft "A" beat Seaton 5-4 "B" No Game
7th Friendly against Harris Park away with Croft winning 110-106
9th
Celebration Trophy won by T.Dixon & D.Rae with D.Barwise, S.Roberts & J.Barwise runners up
10th Friendly against Stanwix at home – Croft lost 103-100
12th WCMTL Croft "A" lost to Whitehaven "B" 7-2, Croft "B" v Seascale "B" rained off
14th Croft Ladies beat Harris Park Ladies 71-33
16th Croft Triples Tournament won by R.Forster, S.Roberts & J.Storey with L.Abram, B.Storey & M.Roberts runners up
17th The Ladies Triples Tournament had to be abandoned due to heavy rain.
19th WCMTL Croft "A" lost to Frizington 7-2, Croft "B" beat Whitehaven "B" 5-4.
20th Friendly against Whitehaven away. Croft won 124 -80
24th A mens team entered the West Cumbria Top Nine at Workington
26th WCMTL. Croft "A" 7 Harris Park 2, Croft"B" 2 Seaton 7
29th to 31st A very enjoyable tour to Stirling with mixed weather first 2 days ending in beautiful sunshine on Sunday ,Results; Dunblane 94 Croft 88, Causeway Head 86 Croft 101 & Bridge of Allan 110 Croft 70.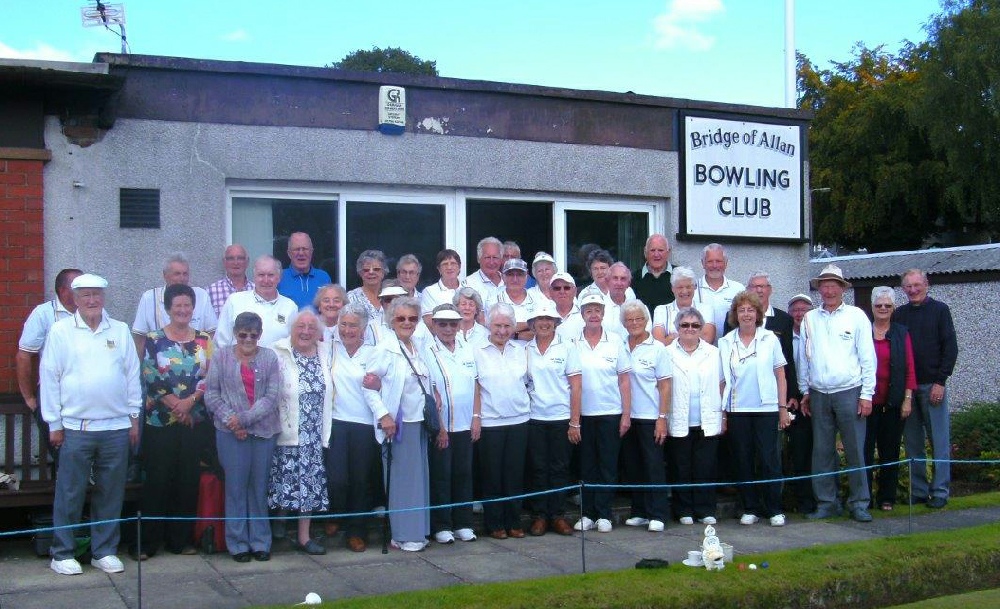 Croft Stirling Tour Summary - 29th, 30th and 31st August 2014
This year there were 43 souls on the tour,35 of whom were bowlers.
As there were road works in town, the coach picked us up in Wakefield Road car park at 8.30am and off we went.
After a brief comfort stop we arrived in Dunblane at noon, lunched in the town then on to the bowling club. The rain that had persisted most of the way up miraculously stopped while we played 17 ends, then started again as soon as we finished. How's that for organisation then?
The hosts were very friendly ,and we played 6 rinks against Dunblane, and 1 rink against 2 Croft teams which wasn't ideal, but it gave a few more of us a game. As we only counted the scores on 6 rinks, we lost by 6 shots.(scores at the end).After tea & biscuits we headed off to our hotel in Stirling.
The Premier Inn, Stirling, proved to be a new facility, and was situated just over the bridge from the town centre. The hotel itself was very clean and comfortable, and the restaurant next door provided good breakfasts and other meals.
Saturday was a better day weather wise, so after lunchtime we headed off to our second venue which was Causewayhead, very near the Wallace Monument.6 rinks played 17 ends in exceedingly good spirits,(pardon the pun!) and we actually won the match. It was a good afternoon with excellent company, followed by a small buffet, which was very welcome.
On Sunday, the impromptu trip to the Wallace Monument was marred because the bus couldn't get to the car park. Anyway, everyone boarded the bus at the hotel at 1.00pm and we got to Bridge of Allan in good time for our match.
The weather was brilliant, but unfortunately the result wasn't. The company was very sociable, and the club provided a lovely buffet to send us on our way home. The highlight of the match was that Bobby was our only winner, which meant he didn't manage a full set of wooden spoons.
5.45pm saw us setting off to Cockermouth and we arrived back at 8.45
I'm sure you will all have good memories of this tour, and I think most of us would like to return here sometime in the future. Also I would like to thank you all for your co-operation in making the tour so pleasant.
September
3rd Croft ladies played Aspatria Ladies away and lost by 3 shots 42 – 45.
6th The second leg of the Ladies v Gents was won by the Gents 95-64 with the Gents winning on aggregate 168-153
7th The 1st Keith Davison Memorial Competition, playing to West Cumberland rules resulted in a win for L.Abram, E.Alexander & P.Holmes, 2nd R.Forster, S.Lapraik & F.Dixon 3rd J.Cowan, M.Minshaw & E.Lowrey
9th Croft Ladies played Caldbeck Ladies Away Croft 44 Caldbeck 68
13th Second Leg and final game of the season, President v Vice President for the Penrice Trophy. With President winning 131-130 on the day and by 246 – 234 on aggregate.
FORTHCOMING EVENTS
20th Sep End of Season Coffee Morning 10.00-11.30am
31st Oct Presentation Night at Hundith Hill, please come along.
See winter programme for more events
Next "Croft News--------" will appear April 2015