Members' Quick Start Website Guide
Welcome to this members' guide for a Quick Start to using this Crofton Bowling Club website.
This guidance unapologetically assumes, on the part of the new reader, a low level of knowledge about browsing/using websites such as this one. More experienced readers will doubtless be familiar with some of these guidances and techniques. Whatever your experience level, please ensure that, as a minimum, you sign up to e-mail alerts, and that you are able to subsequently readily re-find our website.
For this initial activity described below, you are recommended to use the 'device with the largest screen-size' available to you - the larger the viewing device's screen-size, the better/easier it should be to navigate the website and perform the initial set-ups - so you may wish to select your device according to ease of use (for selecting and clicking/tapping) in combination with the following screen-size sequence:
Desktop computer, laptop computer, netbook, tablet/iPad, mini-tablet/iPad-mini, smartphone.
If you're reading this on a hand-held screen (tablet/iPad or smaller), you may wish to orient this to a 'landscape' rather than 'portrait' view (physically rotating the device through 90 degrees), particularly for this initial activity.
Club Members visiting this website (www.croftonbowling.org.uk) for the first-time should now follow this guidance to complete the three items described here :
be able to receive

set yourself up for e-mail 'alerts', so that an e-mail is sent to you whenever a news item or announcement of an event is published on this website.

be able to know

become familiar with the pages and content of this website.

be able to retrieve

select a preferred page on this website and 'bookmark' it, or 'mark/save it as a favourite', to provide a means of quickly re-locating this website when you want to revisit.
So, let's get started...
*** No 'sign-in', 'registration' or 'login' is required; you should not establish or request one ***
Firstly, you don't need any sign-in, registration or log-in to view this, or any other, page on this website - you are already viewing the website now.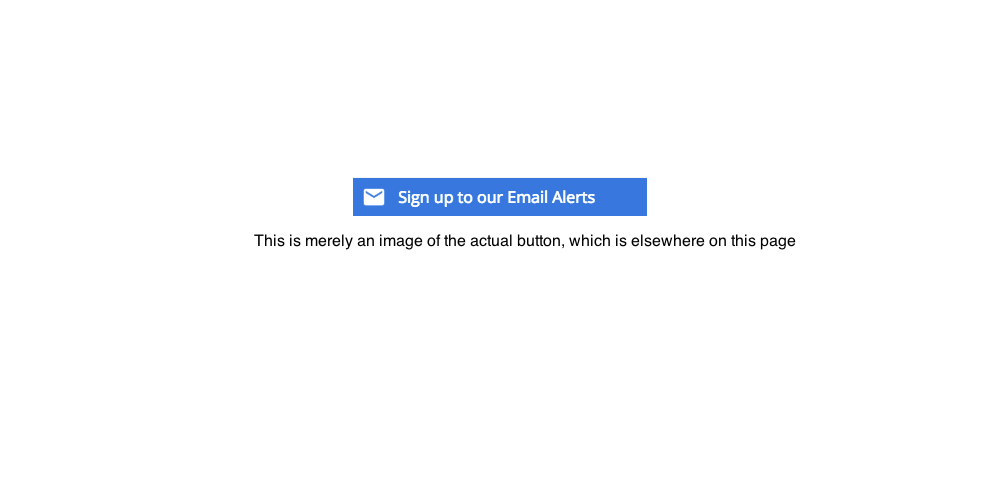 Setting e-mail alerts for yourself
This is done so that, following publication of a news item or of a forthcoming event announcement or reminder on our website, a notification e-mail (an 'alert') is sent to you, and which you can read in your regular e-mail in-box.
If you do navigate away from this page, remember that you can always return
by selecting the "Members' Area" page from the page menu (whose position on the screen may vary according to device-type being used, and its orientation) then selecting this 'QuickStart Website Guide for Members', or
by clicking/tapping the 'back-button' of your browser, or
by going back to the original e-mail which gave you the link to this page, and clicking/tapping again on that link
Please follow these instructions now to set-up such an e-mail alert, and then return to this page.
Find, on this page, the blue rectangular button marked 'Sign up to our Email Alerts' (not the button image immediately above this section). The position on the page of the actual button is dependent on your device-type and its orientation.
Click/tap the button, then
Enter the e-mail address to which you wish to have e-mail alerts sent, in the format 'Username@DomainName' (without apostrophes) e.g. janesmith@email.co.uk

If you have more than one e-mail address, and wish to receive e-mail alerts to each of them, you can repeat this procedure for each e-mail address.

Check (=click/tap/tick/fill) each of the 'radio' buttons in turn (there's four at the time of publication of this guidance, including the important ones 'News' and 'Events'), so that they are all checked (=clicked/tapped/ticked/filled).
Click/tap 'Create'.
A confirmation e-mail (test example image below) will then be generated and sent (typically within less than a minute) to the e-mail address that you entered.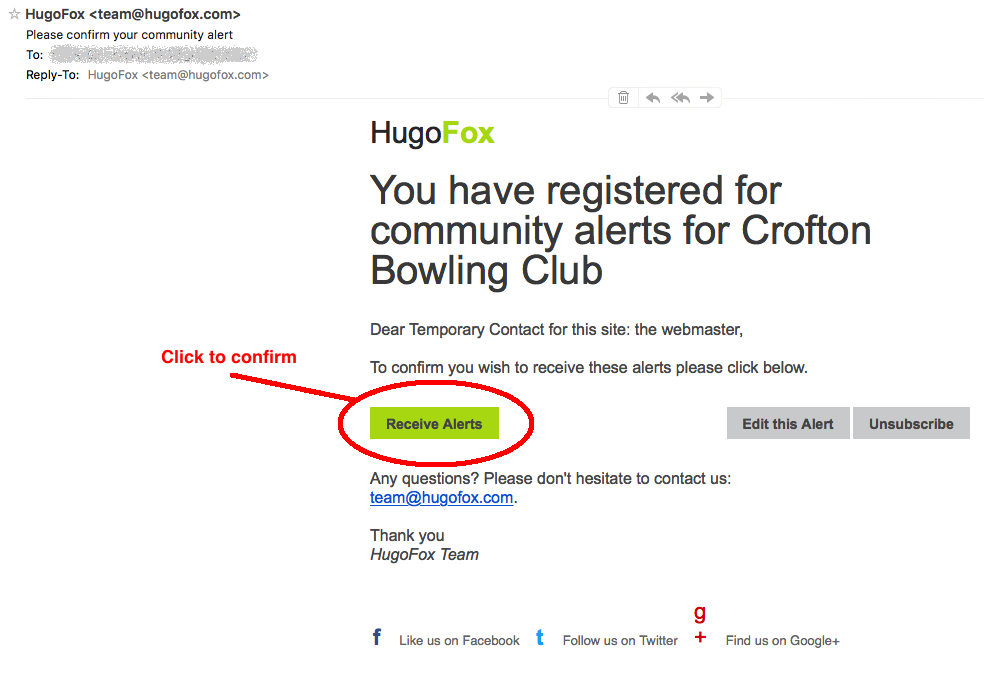 Open this e-mail and then validate/activate your request, by clicking/tapping on the appropriate button ("Receive Alerts') in the e-mail, before the request to receive e-mail alerts is effective.
Note that this 'registration validation request' e-mail and subsequent 'alert' e-mails will come from the e-mail address 'team@hugofox.com' ('Hugo Fox' is the name of the organisation hosting our website and notifications service). If you don't get the expected e-mail, check your 'junk' inbox, in case your e-mail service provider's filters have identified this as 'junk', perhaps because it's from an e-mail address you haven't previously accepted.
After you have done that, save/file the e-mail carefully - if you later wish to modify, or even cease receiving, these e-mail alerts, the other button options in that e-mail enable you to do this. If you cannot retrieve this e-mail, and you wish to unsubscribe, then take the following actions:
On any of our website's pages, click/tap the 'Sign-up to our E-mail Alerts' button, as above
At the foot of the resulting panel, click/tap 'E-mail me a summary of all my HugoFox E-mail Alerts'
In the next panel, enter the subject e-mail address to be unsubscribed (e.g. janesmith@email.co.uk) and click/tap 'Submit', for an e-mail to be sent to the entered e-mail address
Access the in-box of the e-mail address, and open the newly-received e-mail from Hugo Fox; for any item, click/tap the 'Unsubscribe' button, to be taken to a HugoFox panel for confirmation of the 'unsubscribe' action.
Becoming familiar with the pages of the website

In the image above of an earlier example, and highlighted within the red ellipse, you will see there are various page-name titles, some of which also have small 'down arrows' after the page name (as typically displayed on computers; page-name titles on tablets/pads/mini-tablets/mini-pads/smartphones may be displayed differently, such as via three horizontal white lines to tap to display and select from a pages menu opening alongside the website page).
You may see a message at the top of your browser screen regarding the use of 'cookies' from this website, and inviting acceptance (as is common with many websites). If so, it's suggested that you click OK to 'accept HugoFox cookies', but even if you elect not to, it does not affect the content of the website or these set-up/initialisation steps.
In a moment, feel free to click/tap on any of these page titles to move to that page, then, by clicking on other page titles/names, generally browse around the site. After you have done that, please return to this page, to move to the section 'Bookmarking / Favourites'.
For desktop/laptop computers, click/tap on the small 'down triangle' (known as a 'drop-down') alongside a page name, to reveal a 'submenu' (of further pages).
For tablets/iPads/smartphones, scroll down the menu of pages, which are listed hierarchically and therefore show sub-menu pages.
Click/tap on any submenu page title to view that page. You can return to this Quick Start Guide at any time.
Some pages contains some blue text (and, if you hover your pointing device over that text, the pointer symbol may turn to a 'hand'), which represents a link. If you 'select/click/tap' this link, it will automatically either:

open a document (some documents require a document-password).
take you to another page (which may be within this Crofton Bowling Club website, or may be any other website), or
open a pre-configured e-mail (i.e. already addressed and with filled 'subject') for you to write and send to the selected Club Official. After completing/sending/deleting the offered e-mail, you can re-access your browser to return to the website page you were viewing.
You should now scroll up (desktop/laptop computers) to the page name titles at the top of the page, or (tablets/iPads, smartphones) open the side menu of pages (three horizontal white lines), to start to explore other pages.
You may wish to browse all the pages, to become familiar with the range of content on our website.
'Bookmarking' or 'Saving as Favourite' a selected page
Decide which page you would like to make the standard page that you first see when you re-access the website by selecting a 'bookmarked' or 'favourite' page. If in doubt, you might wish to select this page, or our website's 'About Us' (or 'Home') page. In a moment, you should go to that page, then 'bookmark' it, or mark/save it as a 'Favourite' – actual steps to complete this are dependant on which browser type, device type and operating system are being used.
Then, when you want to access the website again, just select that bookmarked/favourite page. Members can also find the website address in the 'Programme and Fixtures List' booklet.
Your Webmaster