Cygnet Theatre
History of Cygnet Theatre
Do you have any memories of Cygnet Theatre, formerly Trinity Hall, Friars Gate, Exeter?
We would like to hear from anyone who has memories of Cygnet Theatre( formerly Trinity Hall) Friars Gate over the past 100 years.
Perhaps you attended the youth club, saw one of the boys boxing matches or remember roller skating in the hall?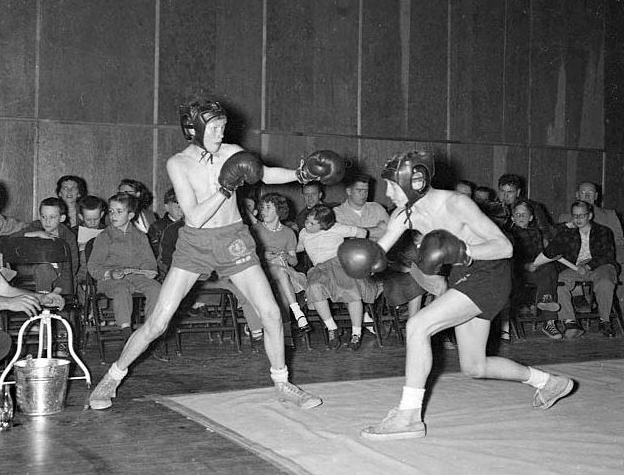 Cygnet Training Theatre will be celebrating the 100th year since the building of their Friars Gate home, the Cygnet New Theatre, this year. To do so they will be producing a large scale production exploring the building's long and varied history. Originally built as Trinity Hall, the hall for Holy Trinity Church South Street, the building has since been used as a Boxing Ring and Roller Disco before becoming the base for the Cygnet Training Theatre in 1985.
Cygnet is looking for Exeter residents to come forward with their memories of the building over the past 100 years to inform the development of the piece of theatre, which will be performed as part of this year's city-wide Exetreme Imagination festival. These will then be transformed by playwright Tom Nicholas into a celebration of the many incarnations of this historic building.
If you would like to contribute any stories, thoughts or memories of Trinity Hall email or telephone 01392 277189.
Please send in your stories, any photos you may have or your favourite Cygnet Company performance. We are preparing a dedicated page on our website to share everyone's stories and pictures.
"

I used to go to the Trinity Hall and roller skate with my sisters and brother. I would have been possibly between the age of 13 and 16, so 1959-62 sort of time. We thought it was the height of excitement, even with the very cumbersome skates you had then which somehow were extendable and fitted to the bottom of your shoes and strapped round your ankle and toe. Happy days!

"

Julie