Cygnet Theatre
Training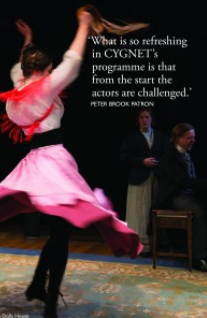 Cygnet Theatre is the only actor training centre in the South-West Peninsular, and the only one in the UK where students perform in front of the paying public from the first term of their training.
Our mission is to nurture and develop actors that have integrity, discipline and skill to create theatre that engages and empowers people to realise the value of our arts and culture.
Why choose to train with Cygnet Theatre?
There are many schools that can teach you to act, teach you technique and all the skills needed to perform. There are few that can also provide you with the understanding of acting as a life choice, and life-long support to continue a career in the Arts.
High calibre apprentice actor training
Cygnet offers the only training where students learn to act whilst performing as part of a small scale touring company. Rehearsals take place alongside regular classes and industry workshops allowing you to put your learning immediately into practice.
"It's another way of working – and, I think, a sensible option to investigate if you don't want university based training" Susan Elkin, The Stage
Regular contact with industry professionals
Students benefit from regular contact and residencies with industry professionals, casting directors and artists.
A high degree of personal investment
Cygnet has a small intake, guaranteeing the highest level of personal attention for each student, ensuring their continued success in the industry.
Courses offered
Three Year Professional Acting September 2015 – July 2018
Two Year Professional Acting September 2015 – July 2017
Foundation Course (One year) September 2015 – July 2016
"

An actor must be able to do, in an understanding, controlled and totally exceptional way, those things which other people do every day without the actor's awareness of quality: to stand, to walk, to sit etc. and in the process of this, to love, to hate, to laugh, to cry, and sometimes to kill or to die.

"

Monica Shalls, Founder of Cygnet Training Theatre