Ellesmere Society
Library Project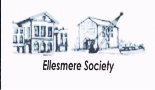 Update July.2014
A volunteer from the Ellesmere society kindly typed out the Local History Index, from the hand written rough sheets. A digital copy was given to the Library staff & a USB memory stick is in the ring binder.
______________________________________________
Project history
Indexing historic documents
In early 2012 the Library asked the Ellesmere Society if their members would help out with the indexing of Numerous books Documents & photographs. We were only too pleased to help.
In early 2012 the project took off in earnest with a number of keen volunteers going when time allows. There has been some press interest, and good publicity for the society, a photo of the Chairman beavering away in the Library was published in the Shropshire Star.
Throughout the winter, a small team continued to work on the Indexing project in the Library.
It is still very much a work in progress.
-------------------------------------------
Update Feb. 2014
The project has moved along well and we are just about finished.
We took some of the documents & maps to the county archives at the Library at Shrewsbury. This was for safekeeping as they are stored in a controlled atmosphere, they are in effect on loan to the County Library to be used for research etc, and can be retrieved at anytime. This has freed up space at our library, and now there is no fear of losing them if anything happened to the library in this uncertain financial climate.
__________________________________________________