Fernwood Neighbourhood Plan
Consultation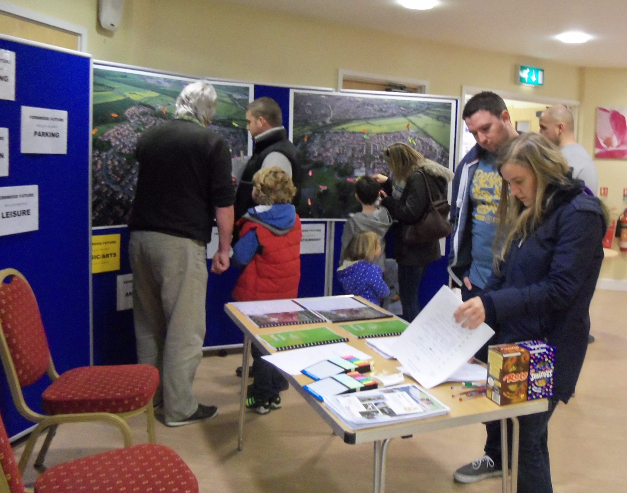 Friday 11th March 2016
Saturday 12th March 2016
On Friday 11th and Saturday 12th March 2016 a consultation event was held at the Fernwood Village Hall, where residents were able to review the Draft Neighbourhood Plan document as well as commented and suggest ideas to enhance the current and future development of Fernwood.
A report on the events as well as photographs taken are shown below.
Friday 11th March 2016
This event was a joint Neighbourhood Plan (NHP) and Fernwood Youth Initiative (FYI) consultation evening, where residents (young and old) where invited comment on the NHP as well as provide ideas on how Fernwood as a whole could better provide for the various age groups in the area.
Saturday 12th March 2016
This event was a joint Neighbourhood Plan (NHP) and Fernwood Information Event, where residents where invited to comment on the NHP as well as talk to representatives of First Port, the local maintenance company, development companies Persimmon Homes and Barratts David Wilson Homes, local businesses and clubs.
Other consultation meetings undertaken by the NP team
24th June Chuter Ede School - We met the school committee and their main concerns were drop off and collect outside the gates and they would like a zebra crossing and barriers. They are worried that any new build would mean that the school could be on a Main Road in the future.
8th July Lancaster Grange Care Home - They would like to see a speed limitation on the Great North Road and a safe crossing for their residents.
30th September Balderton Hall - James Derry (the owner) would like a relief road coming from Dale Way to the back of the hall in order to cut down traffic using Ruby's Avenue. In return he would be prepared to give scrubland, which he owns, for extra car parking. Together with this he would give the Nursery room for expansion and extra car parking space.
2nd October. Nursery - Spoken to them about the offer from James Derry and they agree that it would be a considerable advantage to them.
30th October. Tawny Owl - The Manager would like to see more businesses on the Business Park to increase his business. He would also like to be more involved in the Village and it's events.
Business Park - Spoken to several businesses and they have no objection to the Neighbourhood. We have also received a letter from the owners of the Business Park saying that they have no objections to the NP.
Summary: It is generally accepted that the NP would be of benefit to the area but the biggest concern is lack of transport which does affect anyone wishing to work in the area but living elsewhere.
---------------------------------------------------------------------------------------------------------------------------------------------------
Online Questionnaire Feedback Comments
Below are the comments made by residents during the Neighbourhood Plan Consultation.
The proposed car park and through road from the shops to Gilbert Way is a ridicules idea as it is providing a further location for young boy races and additional crime. The hot spots for parking are on the Goldstraw side of Fernwood and a carpark in the suggested location will not stop this. When we moved on to Fernwood a school was proposed at the back of Marron Close, then they built houses and now you are proposing a car park. The trees in this area are also protected and should be maintained, if planning is submitted for this we will be opposing it as I am sure may people will. The footpath past the walked garden is used daily by children walking to catch the school buses plus parents taking their children to the nursery, why should we lose this as the walk through the wood is something we all love. The road structure at the junction of Gilbert Way and Dale Way is not designed to take additional traffic as a thoroughfare from the shops etc. Lets keep as much of the greenery as possible. As another note the proposed carpark is likely to create a flooding risk for the houses backing onto the proposed carpark do to the nature of the natural drainage.
When I bought the house I was told the area would be left as is and green. I do not want extra parking in front of my house and a reduced green area where families can't play.

Have any of the people living there (the immediate area around that green) been consulted on this? If so when, if so why weren't all parties involved invited?
In light of Objective 7, why are you proposing changing the pedestrian walkway from Gilbert Way to the nursery into a road with additional parking facilities at the rear of Marron Close? This walkway is in constant use with walkers, dog walkers, all ages of children going to nursery, park, shop. It is currently a safe route to these facilities where children can happily ride their bikes. Turning this area into a road is beyond belief. Objective 7 is to encourage pedestrian areas not remove them and turn them into roads/car parks. Cars racing around the Old Hall car park is bad enough at night but to allow them to race along the proposed new road through to Gilbert Way doesn't bare thinking about. My property overlooks the wooded area and is one of the reasons why we brought our property. I will do everything possible to reject this proposal.
You are not taking into account people's safety. I live on camdale lane and for you to put car parking on the green would be a nightmare. Right opposite people's house with small children. . . Right opposite junctions so cars will be having to fight to get out....talk about more pollution also. We were sold our house and was not informed of any plans for this. You will devalue our homes. Also a road near the woods is disgusting!!!all the wild life will be gone and again more traffic near a nursery. It's obscene what fernwood is being made into and all money money money . You need to really look into this and hope you sleep well at night!!!
The proposed additional parking on camdale Lane /restfil way is inappropriate and should be withdrawn from planning for a number of reasoned objections. Firstly, there is not currently a problem with parking and access on this stretch of road, there is no problem driving through as there is on other areas such as Johnsons Rd. Creating spaces here to alleviate pressure on other roads will be ineffective as people will not Park at any additional distance from their houses (as we see in them not using their designated spaces all around Fernwood in favour of parking a few feet closer on the roads). It is therefore unfair to reduce this much used and loved public space which we were all advised was protected when we purchased our houses. We chose and paid the price for out houses based on this space being there and it is used by many people in the area. If it was smaller it would make it harder for so many diverse groups to use it without negatively competing for space (children playing, families, dog walkers,). There would also be increased safety concerns with more traffic and cars parking for children playing. On purchase we were all advised this space was not allowed to be built on or taken away from being a recreational area.
I would like to object to the proposed road and car park identified as points 15 and 16 on the Fernwood Parking Map. I believe this would make the area more dangerous while also undermining your stated Objective 7.



By linking Gilbert's Way with Rubys Avenue, you are creating a shorter route through Fernwood than Dale Way or Goldstraw Lane for the easternmost residents. I believe the original planners kept these roads disconnected intentionally to protect the park and nursery.



Linking these roads will increase traffic past the most sensitive location in Fernwood, the nursery and parkland where children play. With increased traffic comes an increased likelihood of accidents. It would be a horrific mistake to make this area more dangerous, particularly since the housing and walls in this area block line-of-sight around the corner by the nursery.



As a parent of a child who will be attending the nursery, I object in the strongest terms possible. Please do not make this area more dangerous for our most vulnerable residents.




I do not believe in uniformity so do not think it is necessary for the exact same designs to be used through out new development. I would not like to see more than three story properties though.
I am unhappy with the proposed car parking on the green area on Camdale Lane . I bought my house for its outlook not to look at parked cars and have noise and disturbance late at night .
I live on camdale Lane and myself and one other neighbour are the only ones who use the car park and we both only have one space. All other neighbours have 2 spaces and refuse to use them. Go out and look at the green that you want to destroy and turn into a car park at any point of any day and you will see it being used. It is used by many dog walkers as a safe place for their dog to run around. I have witnessed 3 children learn to ride their bike without stabilisers on the green, I have seen a little 4 year old boy in a wheelchair with a big smile whilst flying a kite with parents on the green. I have seen families including grandparents sat having picnics, the loyal older boys come for a kick around with their football keeping them away from mischief. My son and some of his friends are 9 and we're asking for more freedom, I could stand in my kitchen window and let them on the green to have freedom but still be safe and watchable. It is also the walkway which 80% of the school children seem to use even if they have driven and parked near gardiner avenue they walk around the fence to use the path way on the green. I have seen younger siblings on the school run zooming on their scooters on this path and parents being able to let them because there are no cars around, it's been lovely watching their scooter skills get better and better. As somebody who works, I will have only seen half of what people use the safe green space for. Please don't destroy it a day add the car park here when the whole of camdale Lane are that lazy they can't be bothered to walk to their door from the car park behind their house I don't know why you think they would walk from the car park even further away from their house on the green, you would have an empty car park just like the ones behind our houses is and the street still be clogged with cars. Yellow lines would be the perfect solution. I would hate to see all the people using the green stop doing so because it is no longer safe to right next to a car park and assuming this would bring 'no ball games' to ensure no damage to cars, where would the football lads go instead? Maybe prepare for more antisocial behaviour from bored teens.
I would like to see some content in relation to improvement in local services within the Fernwood area this report covers. This should include:

- Dr surgery / Medical Centre to support growth in the area

- Retail park to include supermarket with petrol station

- High school to support growth in the area



In relation to transport;

- Any further developments in the Ferwood area should have new access from the Great Northern Road. The existing Ferwood development could provide some access, but not be sole access to new developments.



In relation to recommendations for the current Ferwood development, I would like to see the following changes:

- No new car park or access road access adjacent to the wall garden destroying the woodland. Looking at parking currently, there is no evidence to suggest this is needed for those using Balderton Hall or community facilities. There is not a requirement for additional parking for local houses in that particular area.

- There should be road access to Dale Way via the back of Balderton Hall which should allow through traffic to the road servicing our community facilities. This would help generate through traffic supporting the local shops and reduce so much reliance on accessing shops from Goldstraw Lane.

- Posts or attractive fencing should be erected on pavements where inappropriate parking takes place on Goldstraw Lane to stop pavement parking (except where dropped paving has been suggested)
NP4 - The meadow is already a protected green space and doesn't need any additional work.
In relation to the reference to inadequate car parking - having lived on fernwood for two years now what we have witnessed is people parking directly outside their property on the roads and pavements rather than utilising their driveways/garages/parking spaces. The majority of homes have two cars (we are one of these households) but a garage and a driveway is sufficient to accommodate this number of vehicles (we have one car in the garage and the other on the drive - leaving the shared access route clear). It is unreasonable to expect that on a modern housing estate you will have space for more than two vehicles - if you have more you should plan for this before moving in. If people did not park in this manner it would allow better visibility on corners and prevent collisions on the straights.



It would be far better to add double yellow lines on corners to narrow the possible areas for road parking where this is a problem. People should also be encouraged to use their garages for cars rather than storage space if they are struggling to park rather than new parking areas being created which will not be utilised as people are choosing to park outside their homes and not away from them.



Where visitors are concerned we all have times when people come to our homes in their own cars and we have to accommodate an extra vehicle. However, this should be the exception and not the rule.
1. I fully support the community projects proposed in Appendix B, 2. I completely oppose the proposals for new roads and car parks (coloured purple) in Appendix C. It is unacceptable to remove any green space for new roads or car parks within the village. I also oppose the creation of the parking areas on the main village playing fields as well as on the Camdale Lane green/park. I am happy for parking areas to be created on existing pavements through creating dropped curbs but, as I have said previously, removing green space for car parking is unacceptable. I am also happy for double yellow lines to be added to the road system (why weren't these added when the roads were laid?) but would also recommend some sort of pedestrian crossing at the Chuter Ede School as it gets very busy at dropping off/picking up times.
I fully appreciate the reasoning behind the proposals of yellow lines and converting some of the green space to car parks. Unfortunately my house (6 Restfil Way) is right in front of one of the proposed car parks and I would object to having other cars right outside my house that aren't either my car or my neighbours (our allocated spaces are right at the back of our house, we can't see our own car from any window in our house so would at least want to see my car from my window, not other cars). I would also worry about the safety of the people who use restfil as a footpath as the cars would be very close to the path. Also would the right people use them? The houses round here have car spaces allocated to them-if this new car park is allocated parking, then the owners may have to walk some distance to their house, so it could be they won't use them anyway if they're allocated. I think a key issue will be anyone will use it for ease/laziness (people with spaces still park on the road now) and it won't solve any problems, in fact it might make neighbourhood relations worse with people arguing over spaces, parking there when they shouldn't, blocking people in etc. I think yellow lines should either be limited to junctions (even though cars shouldn't park there, they do), or just have yellow lines on one side of the road. Or not at all. Could we look at a system where houses can offer us there car parking spaces if they don't use them?
I have a few comments to make referring to the provision of additional car parking.

1 Where kerbs are going to be dropped will there be some lines painted on the pavement to indicate where cars are expected to park? This is important so that wheelchair users and those pushing prams do not have to do a slalom to pass the cars.

2 There doesn't appear to be a plan to put double yellow lines around the corners of the junction between Pach Way and Goldstraw Lane. This is an area where cars are regularly parked and where the views on both entering and leaving Pach Way are obscured.

3 I see no need for the extra parking leading from behind the nursery down the side of the woods. The spaces behind the nursery are nearly always empty. What is needed is clear signage to the route to take cars to the parking behind the nursery.

4 Will all the new car parks be for general use or designated parking for nearby residents?

5 Generally I am really impressed with the proposed plan.



Finally I would like to say a big thank you to all the people who have given a lot of time and energy to formulating this plan for improving our community.
Whilst I fully agree that car parking is an issue at Fernwood, I would not entirely agree with some of the proposals put together and highlighted within the plan. I do not understand the reasoning behind locating a through road and additional parking in the Village centre for several reasons:

1. The village centre car park (including the parking area behind the Nursery and in front of the office building) are rarely full even at peak times, and feel that parking problems are often caused in this area because people are inconsiderate of other road users and pedestrians, and drivers cannot be bothered to park in a marked bay.

2. I would fear for the safety of my children (and dog) when walking to and from the Nursery and village centre, if the additional car parking were to go ahead, given the current problems with speeding cars and parking in unmarked spaces, reducing visibility and increasing the likelihood and risk of an accident.

3. This proposal would not support NP5 - totally ruining a beautiful and tranquil green space and connecting footpaths.

4. I have fears that a car park in this location would also support an increase in antisocial behaviour, given its secluded nature and for that reason would have reservations about walking through that area at certain times of day should the current plan be enforced.



I also have some reservations about the Additional Parking Highlighted at both the end of Restfil Way and around the Green on Restfil Way/Camdale Lane. I struggle to understand the rationale behind adding additional parking in these locations, which in my view increase both the likelihood and risk of an accident occurring to child/pedestrian or pet. Who do you envisage would park in these spaces? We have seen (as highlighted in the plan) in other areas of the estate, that residents do not wish to park their cars in designated spaces because they are too far away from their homes, therefore why would they choose to park in the area earmarked around the green on Restfil Way/Camdale Lane?

One of the attractions of this area is that it is safe for children/pets to play and I feel that adding car parking in this location would change this. The access to and from this parking around the green is of concern to me, both for pedestrians and for oncoming traffic onto and off of Camdale Lane particularly on the bend from Gardiner Avenue. Also, When driving off Camdale Lane onto Gardiner Avenue to leave the estate, vision is obstructed at that junction if vehicles are parked to the right down Gardiner Avenue, making it particularly dangerous to pull out from this junction - this made even worse when there are other cars parked on the left at the top of the Camdale Lane/Gardiner Avenue Junction. Given that I drive down Johnsons Road/Gardiner Avenue/Camdale Lane to access my own home, I am well aware of the dangers the current parking arrangements pose and would support the introduction of Double Yellow Lines, however the introduction of these must be policed in order for them to be effective.



As highlighted in your report parking is a hugely emotive issue, and whilst I understand residents frustrations both for and against current parking arrangements and issues, my primary concern is for the safety of my family, friends and visitors. I place a huge amount of consideration when parking my own and visitors cars, for both my immediate neighbours and of other residents, road users and pedestrians on the estate, and in an ideal world others would have that same level of consideration and respect.



Finally, as a new mother living on the estate, I would fully support any plans to extend the Footpath Network and cycle ways in and around Fernwood Parish. I have found the lack of adequate Footpaths in the area extremely limiting as to where I am able to access with a baby in a pushchair. We have some beautiful countryside around us and it is frustrating that we are unable to enjoy it more, but rather have to access routes via busy access roads to the A1, compromising safety.



Thank you for giving us the opportunity to offer our feedback on these Neighbourhood plans. I realise the difficulty in trying to please everyone whilst coming up with a plan that is sustainable for a safe and happy community.
Shouldn't ALL the current green spaces and the woodland within Fernwood Central be designated as 'Local Green Space' to protect from further build?
Our suggestion is that where the pavements are already wider than a car's width (and in fact where cars are already often parked) these pavements should be altered to be a form of layby which means it would be safer for buggy's, children, dog walkers etc to use the footpaths as they are intended to be used and not have to dodge the parked cars. This would allow people who already park in these locations to continue to do so - safely. This would in no way impede on the width of the road as you would not be taking anything from the road itself.



With regards to the green areas - these have been added as part of the planning of the estate and are one of the main reasons people have bought homes in those locations. The green spaces are utilised by the children to play safely within view of these homes allowing parents to keep a watchful eye on their children and ensure they do not come to any harm.



The green on Restfil Way was specifically added to the plan for the phase where these homes between Camdale Lane and the school were built in 2014/2015 to allow a safe area for the children living on Camdale and Restfil and the surrounding areas as it is enclosed on all sides by a fence to ensure that the children can play safely. The nearest other play area is down by the pub (Earls) and therefore is not suitable for young children as they cannot walk to this due to the number of roads they would need to cross. We have spoken with all our neighbours - they all have children and bought their homes specifically because of the green and being able to have their doors open and keep an eye on their children playing on the green.



The green on Restfil Way was landscaped for these reasons - it has been covered with mature trees and planted areas - it was at no point during the purchase suggested that this area would be altered in any way in the future. In fact we raised this with DWH when purchasing and were assured that it was part of the agreement for building further on the estate that green areas were included to ensure a good quality of life for all residents and as such this area would remain as a green space.



The path which goes through the green (Restfil Way) leads up to the school and is walked twice a day by parents and children. If the plans go ahead to amend the green area to include parking areas all around the green (by reducing the size of the green) this will make it unsafe for them to walk and it will become blocked by cars twice a day for the school run creating a hazard for both parents and children. This is the danger which resulted in the double yellow lines being recently installed by the school. There should categorically not be any additional parking areas/spaces etc around a school area and the close vicinity to ensure the children are kept safe.



If this car parking is allowed it will mean that children can no longer play on the green as people will want ball games to be banned as they will be near to parked cars - something which currently causes no challenge as there are no cars parked on the green.



We purchased our home off plan as its aspect overlooks the green - it is the main reason we purchased this plot - we were offered a different plot with the same house but we selected this one based on the fact that we were promised the green would never be altered. Had we bought a house which overlooked a field we would of course have expected that in the future this may be utilised and the aspect could change. We were told this would never happen and we feel it is a dangerous and upsetting proposal to be put forward. We do not support it or any other changes to any of the green areas within fernwood for the exact same reasons above.



The car parking if it was included on Restfil green would mean we are all living in a carpark and everyone we have spoken to on Camdale Lane is opposed to this. We bought homes on a nice quiet area of Fernwood and want to ensure that this remains as such. The change to having a green outside your house to having a carpark would dramatically and detrimentally affect the value of all the homes overlooking the green - this is unacceptable when people have bought their homes in good faith less than 2 years ago.



I cannot even begin to imagine how people would even access the suggested car parking as people's homes go right up to the green - this planned suggestion seems to imply that parking would now be in people's front gardens/blocking the ends of their drives.



Fernwood is a family friendly, safe and beautiful area and should be protected as such.



We will be attending the meeting on Friday 29th to air our serious concerns and will then review any further action we will need to take.