Fleet and Crookham Local History Group
Sources
FLEET AND CROOKHAM LOCAL HISTORY GROUP HAS CREATED
RED BINDERS OF BASIC SOURCES AND COPIES OF ARCHIVE MATERIAL
These are held on open shelves on the first floor of Fleet Library
for anyone to look at
NO. TOPIC OUTLINE OF CONTENTS
1 Brief History Brief history. Timeline.
2. Census 1841 Transcript, article, map of Crookham Tithing
3. Census 1851 Transcript of Crookham Tithing
4. Census 1861 Transcript
5. Census 1871 Transcript of Fleet and Crookham
6. Census 1881 Transcript
7. Census 1891 Transcript
8. Census 1901 Transcript
9. Parish registers All Saints, Fleet, partial transcript of marriages and burials
10. Directories Images and transcripts of local directories 1859 - 1950
11. Brake Estates Introduction, map, notes on May and Keep families. Details of map collection showing the first development of Fleet. Photos
12. Railway Articles and photos.
13. Fleet Pond Article about Fleet Pond's history. Information leaflets from the Fleet Pond Society. Photos.
14. Basingstoke Canal Sale. Map. Photos. Information from the Canal Society.
15. Water Company Introduction about Fleet's water supply and the surviving ledger. Edited database of the 1911 - 1917 ledger.
16. Schools List of schools and dates. Extracts and copies of log books.
17. Plant nurseries Map. Adverts. Photos. Summary of known nurseries.
18. Enclosure Act of 1829. Map of 1834. Abstract of Enclosure Award. Background notes.
19. Photographs Thumbnail images of some of the local history group's collection.
20. Tobacco Farm Article about Mr Brandon's tobacco farm on the Redfields estate. Thumbnail photos of the business.
21. Large Estates Basingbourne, Courtmoor, Crookham Knoll, Dinorben, Dogmersfield, Elvetham, Fleet Farm and Mill, Minley, Redfields, Velmead - notes, sales, photos.
22. Churches Photos. History.
23. Brewery and pubs Database of sources. Photos.
24. Stones and Streams Notes and photos of war Department boundary stones and local streams.
25. Property Sales List from archive database.
26. Wars and Memorials Transcripts of names from local war memorials. Photos.
27. Sport List from archive database relating to sports clubs and activities.
28. Leisure List from archive database relating to clubs and societies.
29. Memories Some memories, oral history. Invitation to add to memories.
30. Cemeteries Memorials in All Saints, Fleet and Hope Baptist Cemetery, Fleet.
31. Electoral Roll Database of Fleet electoral roll 1930
32. Census 1911 Database in four binders.
33. Road Names Lists of road names and reason for the name.
34. Then and Now A few examples from an ongoing project to show how the area has changed.
35. Olympics Local Olympians and the 1948 events at Tweseldown.
36. Farms Notes and map of local farms, including Fleet Farm.
37. Poor Law Various notes and documents.
38. Businesses Technograph and Telegraph, and others
39. Christ Church MIs Surname index of memorial inscriptions in the graveyard of Christ Church, Gally Hill Road, Church Crookham.
40. Shops 1 Illustrated articles on the history of 24 local family-run businesses.
41. Shops 2 Illustrated articles on the history of 24 local family-run businesses.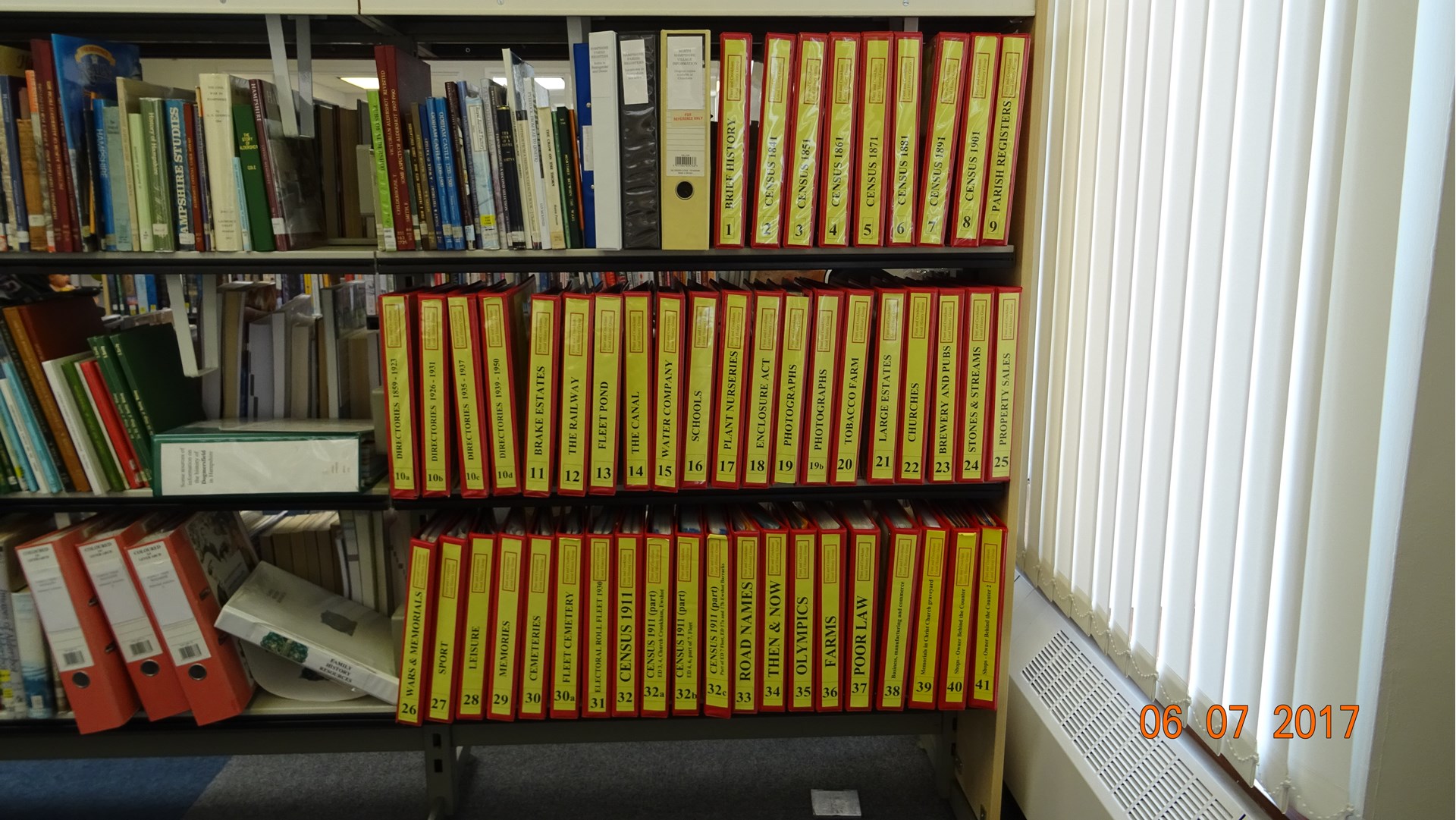 Fleet Library, 236 Fleet Road, Fleet, GU51 4BX. Tel: 0845 6035631
The library has many items relating to local history, including maps, electoral rolls, books and parish registers on microfiche.
Libraries in Aldershot, Farnborough and Basingstoke hold newspapers that may include references to the Fleet and Crookham area.
Contact them to check whether they have anything to help with your enquiry.