Friends of Meads Parks and Gardens
Events
Forthcoming Events:-
Members' Meeting - 18th November 2017
Meads Village Picnic
Sunday 10 September
12noon - 5.30pm
The Helen Garden
This was the main social event on the Friends Calendar. The day that the Helen Garden traditionally turns into a village green by the sea.
This year (2017) was unfortunately marred by some particularly miserable weather and in particular, heavy winds. However, this did not dampen the enthusiasm of those that did turn up and of course the many volunteers that helped make the best of the weather.
Marco the Magician presented a classic Punch & Judy show for the kids and then he entertained us all with some amazing magic.
Melissa was there at her Face Painting stall.
The Eastbourne Silver Band played two sets and the Pimm's bar was there as usual plus some delicious non-boozy fruit punch too.
We were treated treat to a slap-up cream tea with scones donated by the Black Cat Tea Rooms in Meads (thanks a million Jane) and teas were served by the Meads Community Association and St John's Bowling Club.
As usual there was a raffle with some great prizes including afternoon tea for two at the Hydro Hotel, a £25.00 voucher from Xing Fu, the new Chinese restaurant in Meads and a flagon of wine from the good folk at The PIlot Inn.
There was a chance to taste some fine wine donated by Artisvin of Meads Street plus some beautiful French cheeses to bring out the flavour.
Great shame that the weather affected the number of people who attended this event but good fun was had by those that did.
Most recent events:-
10th September 2017 - Meads Village Picnic
25th July - 5th August 2017 Shakespere in the Italian Gardens
Saturday 6th May 2017 - Annual General Meeting
Good Friday 14th April 2017 - Easter Egg Hunt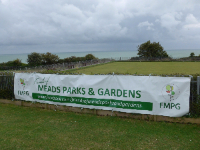 Previous events
11th September 2016 - Meads Village Picnic
14th August 2016 - Picnic in the Helen Garden to watch Airbourne
27th July - 6th August 2016 - EODS Productions of William Shakespeare's comedy... As You Like It!
12th June 2016 - Street Party in Meads to celebrate the Queen's 90th birthday