Fulmer Village
History and Archiving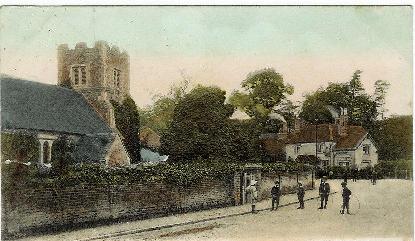 Featuring Fulmer
Michael Saxby has updated his original history of the Parish. The sub-title says it all - an account of people and places in the Parish of Fulmer over the years. Famous and infamous people, and many others who have contributed to Fulmer's well-being. The new updated and enlarged second edition of "Featuring Fulmer" is now available, price £10.
To receive a copy and be kept informed of all that has been going on in the Parish contact:
Michael Saxby 01753 662020 - michaelccsaxby@aol.co.uk
Archiving
Creating the Fulmer Archive
Thank you to everyone who has already contacted the Fulmer Archiving Team to tell us about photographs and other memorabilia available for the Archive. We welcome offers of material from anyone - from a single photograph to an album, a logbook or a bundle of letters.
What has been achieved?
A considerable quantity of archive material about Fulmer Village, its inhabitants, its great houses, St James Church, the village school and voluntary organisations has so far been collected and forwarded to the County Archivist at the Centre for Buckinghamshire Studies in Aylesbury. The first collection was passed over in 1997. The further accumulation of village records, memorabilia, photographs back to 1900, and both Parch and Church records was begun in 2005. As a result, in June 2006 as significant amount of extra material, comprising hundreds of items, was delivered to the County Archivist. All this material was new, in so far as archives can be so described.
The next undertaking was concentrated on research concerned specifically with the men from the village who fell in the two world wars. This proved to be a more demanding task than anticipated and took nearly three years to complete. The findings were published during 2009 in a 150-page book. Fulmer's Fallen. It contains a detailed description of Fulmer as it was, pre-1914, before going on to give an individual account of each of the Fulmer men killed in the Great War of 1914-18 and World War II, 1939-45. These accounts provide further information about the background from which each man came and thus more about village life.
Coincidentally, another book about the village, of similar size, was published by a different author from the village in 2007. Featuring Fulmer provides both a historical and contemporary account of Fulmer and its inhabitants.
Both of these books contain many pictures of the village and its occupants.
While being accustomed to reading or viewing accounts of life as it was lived prior to present times, the Fulmer Village Archive brings the people and events of Fulmer back to one's attention in clear focus. Items such as photographs of the village at the turn of the 19th and 20th centuries, Minutes of significant decisions by the Parish Council, letters between members of the gentry, pictures of village personalities, programmes of occasions marking both local and national events which touched the village all serve to bring times past to one's immediate attention.
What is happening next?
The work is on-going. Already a further collection of archive material is being recorded item by item preparatory to it being delivered to the County Archivist and so it will continue, for to-day's happening in Fulmer is archive material to-morrow.
An Appeal
Not for money, but for more archive material. That ancient photograph of Aunt Mabel cutting her 90th Birthday cake in 1950 or one of Great-Uncle Fred sitting outside his cottage enjoying the sunshine in 1908, a receipt from the village shop; this is the stuff of village archives quite apart from official records and so is a picture of young Thomas setting off to school in Alderbourne Lane during 2007. Any such items are valuable archive material, especially if they bear a name and a date.
The Fulmer Village Archive includes:
Minutes of meetings and important correspondence
Membership rolls
Tables of club fixtures and records of achievements
Pictures and photographs of people and places around Fulmer
Programmes, admission tickets, commemorative items
Logbooks, registers and albums
A complete set of Fulmer Newsletters
Personal accounts of events and experiences
Anything else which helps to trace the physical or social history of Fulmer
Where will the archive be kept?
We compile a reference index as we prepare each item for conservation. As the task of collating, compiling, cataloguing and conserving progress, all the items will be carefully stored in the Centre for Buckinghamshire Studies at County Hall. Any member of the public can go there and ask to see any item of the collection.
What about microfilm or computer (digital) storage?
The Centre for Buckinghamshire Studies has microfilm readers but currently has no facility for recording material onto microfilm. However, both microfilm and computer storage have the advantage of storing a lot of data in a small space and space will be an important consideration. It is possible that we could scan photographs and documents into a computer and save the information on CDs or DVDs, which will be held in the archive. If anyone knows of a microfilm or microfiche camera which might be made available to the Archiving Team, please contact any member of the team.
I don't want to give you my documents.
Some people are simply telling us about items they have, so we can make a record of what is in existence and where it is currently held. Quite often such material is temporarily made available for photocopying. The original matter is returned to its owner, the photocopy indexed and they sent to the County Archivist. If in the future, you or your family no longer wish to keep it, it can then be added to the archive.
Whom do I contact?
We are looking to add to our team - for now please contact
Francesca Hall-Drinkwater - 01753 662295
If you have any materials which could be added to the archive, or if you could share your memories of Fulmer life and past events, please contact us now.
Should you wish to make enquiries of the County Archivist, the contact is;
Centre for Buckinghamshire Studies
County Hall, Aylesbury, Buckinghamshire HP20 1UU
www.buckscc.gov.uk/archives
Direct Line: 01296 382587 (archives) 01296 382250 (local studies)
Fax: 01296 382771
Email: archives@buckscc.gov.uk or localstudies@buckscc.gov.uk