Gentle Touch Healing
About Us
Gentle Touch Healing Centre is based at the Enterprise House, Wrest Park, Silsoe, Beds. MK45 4HS - Free healing (donations accepted) is available By Appointment Monday/Friday from 10 am to 4 pm and Saturday mornings. Drop in Times (No appointment) on Tuesday evenings from 7:30 pm to 9:00 pm and Sunday afternoons 2 pm to 4 pm.
Our Objectives
1. Free Healing
To give Spiritual Healing Free of Charge to both People and Animals
2. Support Healers
To create an organisation that fully supports healers. Support to include volunteer, part time and full time healers - where healers incur no cost to themselves.
To create an organisation that maintains very high healing standards.
To create an organisation that encourages healers to use their natural healing gifts.

3. Holistic Approach
To bring together healers, therapists, doctors, nurses and other health care workers to work as a time sharing their knowledge and skills to give an holistic approach to healing and health care.
To create a working environment that enhances a holistic approach to healthcare.
4. Sharing Knowledge

To share knowledge keeping people informed about the health options available to them.
To freely share Gentle Touch Healing knowledge with others.
5. Self-Help and Healing
To encourage Self-Help
To encourage Self Healing.
6. Holistic Pyramid Healing Centre
To build a purpose built Holistic Pyramid based Healing Centre which will be designed to promote the organisation's objectives.
To inspire others to create similar projects.
7. Leave Healing Legacy
To leave a good legacy for the future generations of healers with a well organised, structured and funded organisation.
8. Organisation Funded by The Public
For the funding of the organisation to be funded by The Public and not be The Healers or Members of the organisation.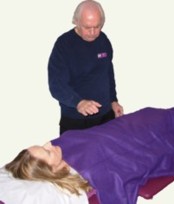 Gentle Touch Healing Centre, Enterprise House