Home
Greasley Miners Welfare Bowls club was formed in 1984 by welfare members John Syson. Brian Griffin, and welfare steward Cyril Chambers ,it continues to enjoy support from the Miners Welfare social club.
Our clubs AGMs are held at the Welfare .
We play our home matches at Coronation Park off Plumptre Way Eastwood. The green is maintained by Broxtowe council. The park is open daily with a park attendant present.. The recently refurbished pavilion has male /female changing with showers toilets ,a kitchen and large seating area. The green and pavilion comply with disabled access.
The pavilion has provision for light refreshments and is a popular meeting place for players and friends.
Throughout the season we play in four Federation and Bowls Nottingham leagues. We also compete in the Steel and Glover trophies.
Our club knockout competitions run all season culminating in a grand finals day. We also have friendly matches against other clubs giving a chance to introduce new players and socialise. .
The club offers coaching to beginners wanting to join the club and recently ran the Bowls England .Bowls development Alliance package .The bowls England coach can be contacted using our contact details.
The club is optimistic about its future and hopes to attract more local people into this wonderful game .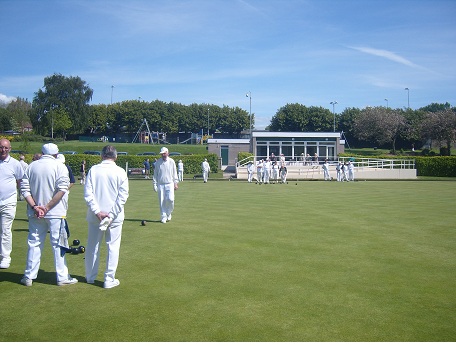 Coronation park Plumptre Way eastwood