Lighthouse Furniture Project LTD
Deliveries
We offer a delivery service for which we have to make a charge.
Our delivery charges are set by post code.
Despite the ever rising cost of running our vans we have kept our delivery charges unchanged for over 4 years.
For other areas please ask.
Delivery charges are per delivery of up to 1 van load, regardless of the number of items.
For more information of when we are in your area or for any other query please give us a call.
Please be aware that we will deliver to those in need further afield. Exceptionally we will collect items in demand or items we are out of stock of from further afield.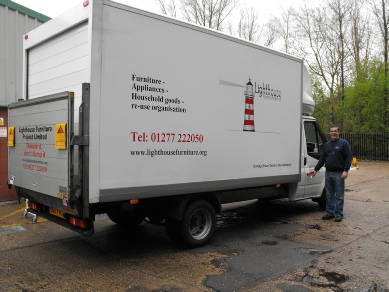 Delivery Charges
| Post Code | Charge | Post Code 2 | Charge 2 | Post Code 3 | Charge 3 |
| --- | --- | --- | --- | --- | --- |
| CM1 | £20 | IG7 | £24 | RM12 | £18 |
| CM2 | £20 | IG9 | £24 | RM13 | £24 |
| CM3* | £24 | IG10 | £24 | RM14 | £18 |
| CM4 | £12 | RM1 | £18 | SS6 | £24 |
| CM5 | £20 | RM2 | £18 | SS7 | £30 |
| CM11 | £15 | RM3 | £18 | SS8 | £30 |
| CM12 | £15 | RM4 | £20 | SS11 | £18 |
| CM13 | £12 | RM5 | £18 | SS12 | £18 |
| CM14 | £12 | RM6 | £24 | SS13 | £24 |
| CM15 | £12 | RM7 | £28 | SS14 | £18 |
| CM16 | £20 | RM8 | £28 | SS15 | £18 |
| CM17 | £20 | RM9 | £28 | SS16 (W) | £18 |
| CM18 | £20 | RM10 | £28 | SS16 (E) | £24 |
| EN9 | £20 | RM11 | £18 | | |
* Excluding Maldon which is £30 Whitham - £24 Braintree - £36
Woodlands Avenue and connected roads £6