Home
NOT JUST FURNITURE
Initially it was just about the furniture. But as we have grown we have spread our wings and are able to help many other charities and groups.
We help the local food bank by providing cabinets to store their food donations and some food that was donated to us.
Sewing machines are passed to Hope International and shipped abroad to help micro enterprises.
Excess furniture is given to other charities, for example Homestore in Stratford.
We provide food parcels at Christmas in co-operation with local churches (35 in 2013) to in need families.
We tested and supplied 30+ fridges over the Christmas period to 'Crisis at Christmas'.
We provide volunteering opportunities for everyone. Working with a range of local agencies, including Essex Community Care, Mencap, Seetec, Ingenico to provide support for individuals that have been marginalised, through ill health, long term unemployment or life experiences. Those that have been marginalised start for half a day (some more) and work their way up in days as they feel they can. We help them to rebuild self esteem and all find it rewarding. Five of our current employees have gone on to find work with the Lighthouse after volunteering and others have found work elsewhere.
We rely on volunteers and without them we would not be able to deliver the service we do.
Also at Christmas we provide food parcels to those in need (in co-operation with local churches) and throughout the year, starter packs for those in need.

August 2012 saw the annual V festival where thousands of revelers spent a weekend being entertained to great music. Come the end of the weekend, everyone goes home and it would appear that many of the attendees forget that they had taken tents etc to sleep in. The Rotary Club of Kelvedon & District organised the clear up and sale of items for charity this year and the Lighthouse Furniture Project sent 2 vans and 9 staff to help.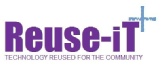 Reuse-iT Plus was born out of a project initially run in Leytonstone. This project re-furbished over 1000 computers in 3 years, donated by businesses and private individuals. Unfortunately it was part of a project that did not aim for the self-sufficiency of its sub projects and when the funding dried up the project closed. The Lighthouse Furniture Project employed the administrator from this project and then took on one of the former volunteers to start the computer refurbishment project up, acting as an incubator for the project in a more focused way. 3 years on that volunteer is now employed 3 days a week, volunteers 2 days and has 3 more volunteers working on the project. To date we have re-used over 200 PCs and have 250+ waiting to be refurbished.
The biggest issue with refurbishing the computers is the speed of our Internet connection supplied by BT. On a good day we may get 500k download speed. We recently refurbished 50 computers for a school and found it was faster to put the PCs in volunteer's cars, drive to their homes, do the updates and then drive back. BT have said that it is uneconomical to update the Hutton industrial estate even though the two adjacent roads to us have Infinity.