Bench 8: Lady Ash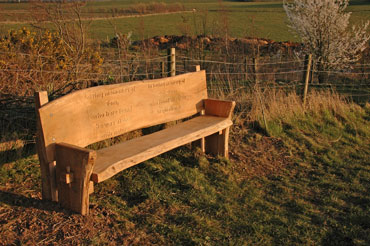 Seek the protection of the Lady Ash to take in the fullness and tranquillity of the Shropshire Vale and its all surrounding Blue Remembered Hills from your very own window on the world as you journey down the ancient prehistoric trackway to Buildwas.
Close your eyes and picture the generations of travellers passing you on the main medieval link from Wenlock Priory over the bridge run by the monks of Buildwas Abbey and up Braggers Hill to its mineral-rich sister community on the hill.
The Tom Pickering benchwalks seek to build on Little Wenlock's strong sense of 'place', providing opportunities for all to sit and savour the wonderful surroundings of the Shropshire Hills Area of Outstanding Natural Beauty (AONB).
Inspired by and dedicated to a true country boy from Dawley, they have been made possible by the hard work of many of his friends and the generous support of the Shropshire Hills AONB and E.ON UK.
Linger and enjoy everything Little Wenlock's outlook on the Area of Outstanding Natural Beauty offers your every sense; discover more about the individual benchwalk places.
Please add your own views and knowledge by e-mail to editor@littlewenlock.org.