Bench 1: Witchwell Lane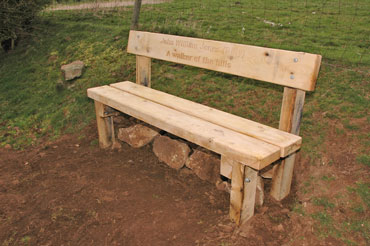 Under the gaze of old man Wrekin, the full stretch of the Severn Vale spreads tranquil before you, framed by Blue Remembered Hills as far as the eye can see – from wooded Wenlock Edge running away to the Welsh mountains in the east, across the Long Myndd and Stiperstones to the mass of Breidden and beyond.
Breathe in the breath-taking Area of Outstanding Natural Beauty, casting your eye down the very grain of the well-wooded landscape as you share your vantage point on an ancient boundary near one of Shropshire's long-lost holy wells with hunting buzzards and kestrels.
Linger and enjoy everything Little Wenlock's outlook on the Area of Outstanding Natural Beauty offers your every sense; discover more about the individual benchwalk places, and do please add your own views and knowledge by e-mail to editor@littlewenlock.org.