Lockswood Bowling Club
External Competitions

Welcome to the external competitions page.
As well as competing internally at club level and entering teams in the Gosport and Fareham and Southampton and District Leagues, Lockswood also participate as a club and as individuals, in external competitions, run by Bowls England, Bowls Hampshire, Southampton and District and The Palmerston Indoor Bowls Club.
The progress of our Club will be updated as and when available, courtesy of the organisers.
Southampton and District Ladies
Southampton and District Men's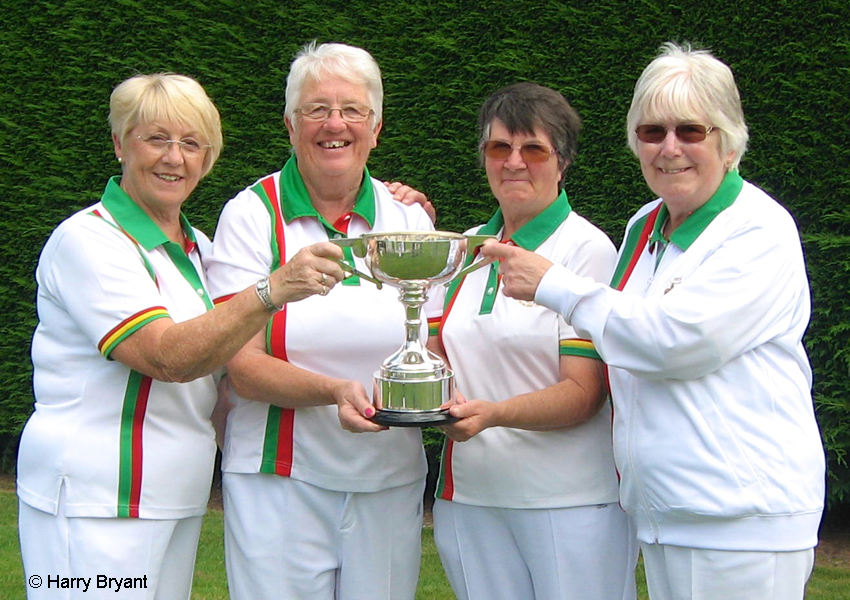 Special report
On the 30th July 2016 at Banister Park, Jan Collins, Sheena Mack, Ann Wilkinson and Maxeen Fletcher beat Milton Park to become the Hampshire County Fours Champions. It is about 18 years since any member from the club became Hampshire Champion. The ladies were presented with their Hampshire badges.
The following week the same ladies represented Hampshire in the Fours at the National Finals in Leamington Spa. Playing Oxfordshire they were narrowly in the lead for most of the match but unfortunately were beaten on the last end. They were cheered on throughout by an enthusiastic group of approximately 30 Lockswood supporters who made the journey by car and coach to Leamington. This level of support sums up the great friendly spirit in this club which is the envy of many a club in Hampshire.
Congratulations to the four ladies for their outstanding achievement. They have put Lockswood Bowling Club on the map.
Jan Collins - Lady Captain