Lockswood Bowling Club
News
18th April 2018
Brand new website
Lockswood has a new website.
If all goes well this will be the last update posted on this website. As users you shouldn't need to do anything, the new site will use the same website address as this one. It may take a few days for the transfer to complete and we may lose the site during the process.
16th April 2018
Spring triples Week 8
The sun shone today for the first time since we started in february.
With still one week to go, team Cedars are still unbeaten and unbeatable in the competition.
Well done also to teams Hollys, Elms, Willows (who are not weeping tonight) Oaks and Pines who all won today.
Thank you all who played today.
Derek Legge
15th April 2018
Skills Day Goes To Two Legges
Another Skills Day fantastically organised by Maxeen and Neil Fletcher. Congratulations to Carol Windust and John Beaumont, who tied for third place, but the real drama came when Neil announced that two players had tied for first position........Gill & Derek Legge. The winner was decided by a one wood roll off, closest to the ditch. Lets just say, Gill got a winners trophy and Derek, possibly got his tea! Well done to both of them and thanks to all those who turned up and supported the event.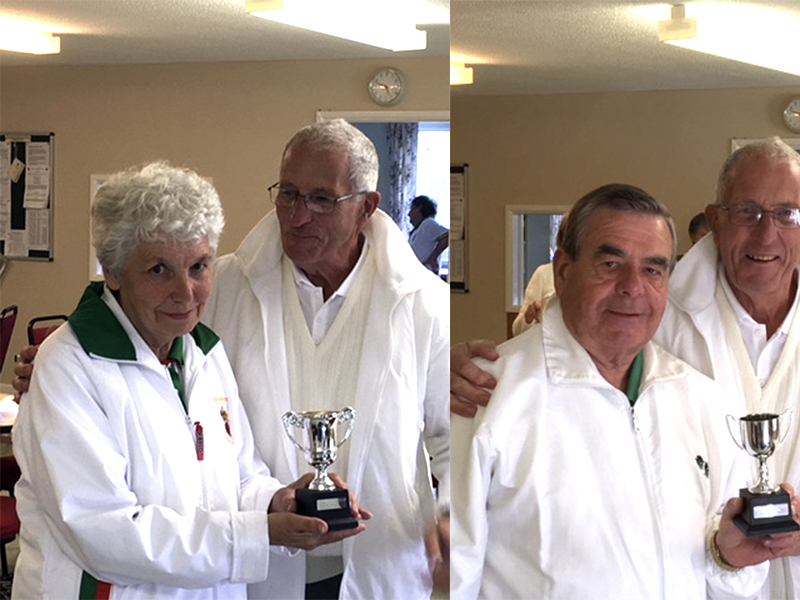 9th April 2018
Spring Triples Week 7
The rain stopped for us to play again this week. Can our luck hold out until the end of the competition?

Team Cedars won again today and are still unbeaten with just two weeks to go. Can they go through the whole competition without losing? We shall see. Sycamores had a good win that puts them in second place.

The Pines have slipped to fourth place behind the Poplars.

Thank you to everybody who took part today.

Derek Legge.
7th April 2018
Winter Finals Day
Many congratulations to Carol Windust who retains her Winter Singles title, by defeating John Windust 21 - 9 in this years final.
Congratulations also to Murray Gorman and Rob White, who won 22-11 against Vi Oliver and Jim Jupe.
Thanks to Harry Bryant for organising the Competition, to all those who competed and all those that turned up to offer their support to the players.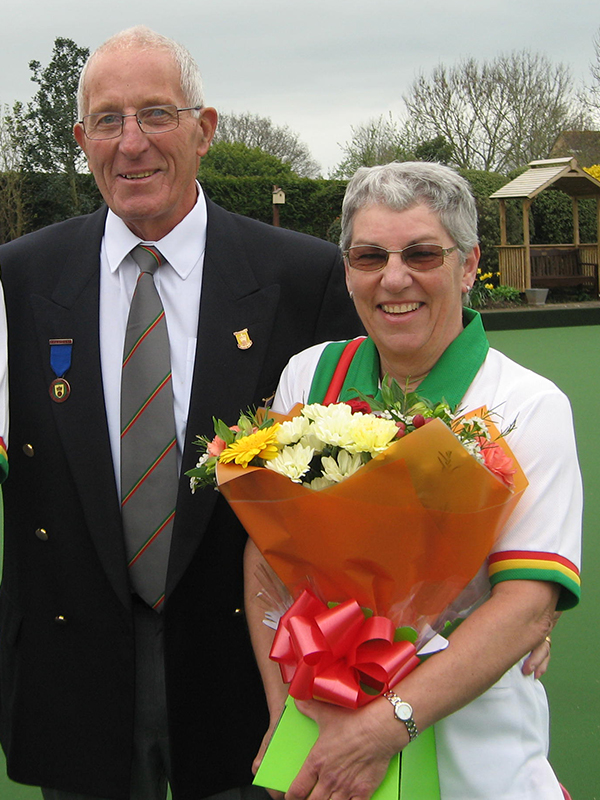 Please support the Margaret Grant Trophy Competition.
​In recent years the Margaret Grant Trophy has been poorly supported and is in danger of disappearing from our calendar.
This would be a great shame and in an attempt to revive it's fortunes, the Club have decided to go back to the origins of the Trophy, which had always been a charity day. The bowls competition has been reverted to a drawn, three woods mixed pairs event.
As well as the bowling there will be, a book, DVD and plant sale, to browse. The bar will be open to quench your thirst and there will be a Spider Competition during the lunch interval.
In order to encourage you along and to make the day a success, the Club will be providing a FREE LUNCH, including a hot dog or burger, apple pie & cream, finished off with tea or coffee.
In order to support the day, please sign up in the Clubhouse. Entry is just £3 a head. All proceeds including, entrance fee, spider and takings from the stalls, will go to our two nominated charities; Bardet - Biedl Syndrome and The Brain Tumour Charity.
Please save the Margaret Grant Competition and help these worthy charities.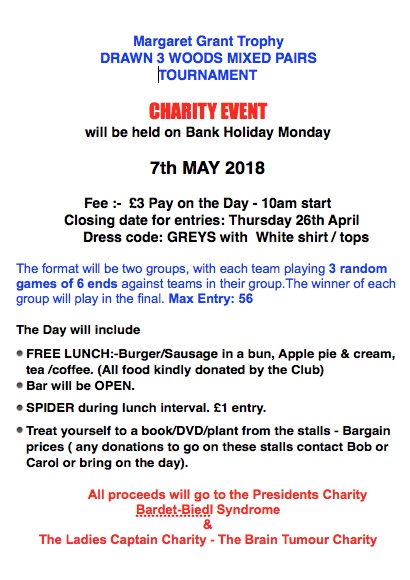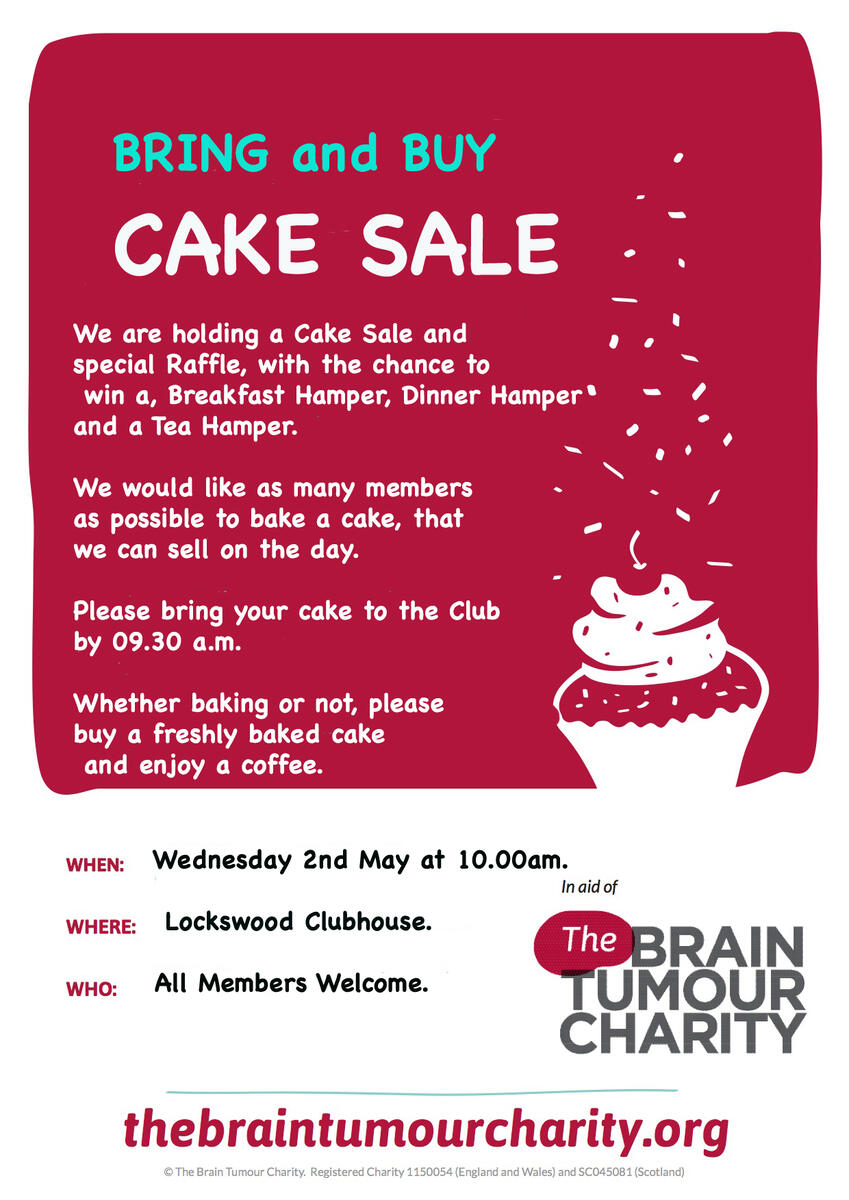 Monday 2nd April 2018
Stewarding 2018
The Stewarding for the 2018 summer season starts on April 16th and runs until 9th September. Each Member has been allocated just 7 duties throughout the summer.
The sheets for the first three weeks are now on display in the club house for all Members to check the dates and times of their stewarding duties.
If you are unable to attend a stewarding duty, please arrange with another Member to swap with you. The easiest way to do this is to contact somebody who Stewards at the same time as you on another week.
Please remember when you carry out your stewarding duty that you sign the wall sheet. If the sheet is not signed it will be assumed that that duty has not been carried out. It is a condition of membership that we all attend our Stewarding duties.
Any new Members who are unsure of Stewarding please feel free to contact me and I will be happy to help. Stewarding duties are also explained in your handbooks and on the website.
Thank you.
Derek Legge.
Chief Steward.
Spring Triples
Despite the weather forecast for rain we managed to get through the afternoon in the dry.

Team Cedars are unbeaten in the competition so far and are top of the league with 10 points. The Pines and the Sycamores are only 2 points adrift on 8 points,but can anybody beat the Cedars?

Thanks to everybody who took part today.
Link to Tables and Results

Derek Legge.
31st March 2018
Winter Finals & Accumulator
The Winter Finals take place next Saturday the 7th April 2018.
Full details of the Quarter and Semi Finals can be found here for the Singles and here for the pairs
The Winter Spoon will take place as normal on finals day, it will be the last Winter Spoon before it is replaced by the Accumulator which starts on Saturday 14th April 2018. Full details of Accumulator here.