Melrose Hall Cycle Club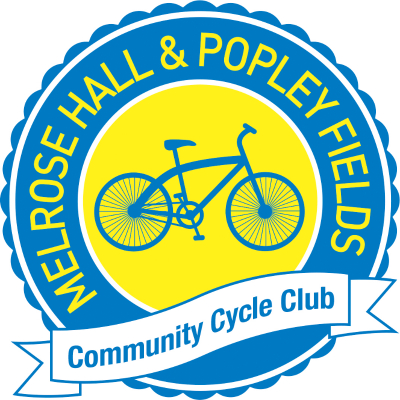 Up Date: Unfortunately, our cycle club has been postponed due to a lack of ride leaders. If you would like to become a volunteer ride leader please drop us an e-mail or give Vicki a call in the office.
Melrose Hall and Popley Fields Cycle club was launched in July 2015.
We offer free group rides (all ages) and 1-1 sessions for the Adult learner or returning rider. Our ride leaders are fully trained by Cycling UK and have had DBS checks.
Our rides are aimed at the novice or returning rider, are mainly off-road on shared footpaths, and approx 5 miles (with a pit stop).
Don't have your own bike??? - No Worries! We have a fleet of 10 adult bikes and 2 baby trailers for you to borrow free of charge!! Including Helmets.
Children and babies are welcome to join us either in one of our trailers, or on their own bikes (but must be able to ride safely without stabalisers) All under 16's must be accompanied by an adult.
Contact the Vicki in the Office for ride times 01256 420676 or follow our face book page https://www.facebook.com/groups/443134879206201/