Montford Countryside
M-Ford Countryside Group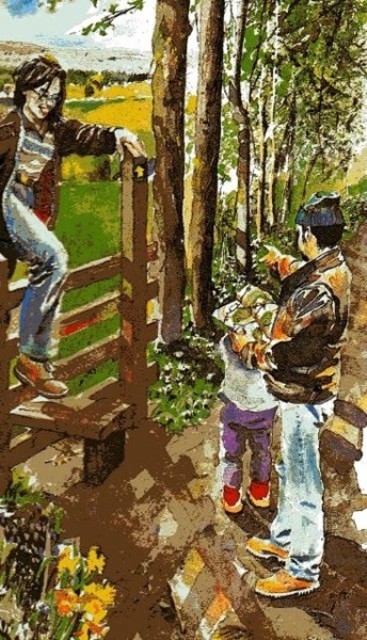 The group attempts to keep open, Bridleways, Footpaths on behalf of Shropshire County council. They also undertake other voluntary duties. Maintaining pool area's, grass cutting and general maintenance work.
Please note hedges facing into Bridleways plus footpaths, should not cause an obstruction. All cross field paths cleared of crops or obstructions.
2018 WORK ALREADY UNDER WAY. LOPPING TREES ON THE BRIDLEWAYS ALSO CLEARING WINTER STORM DAMAGE, PLUS GRASS CUTTING. WE ALSO HAVE A INCREASED DEMAND FOR KISSING GATES ON FOOTPATHS. THESE WE ARE DOING WITH LANDOWNERS OR TENANTS PERMISSION WHEN STILES BECOME TO DANGEROUS TO USE. WE DO REQUIRE A SMALL GROUP OF PEOPLE TO WAY MARK FOOTPATHS ETC'.
Free footpaths maps are available, contact this web site. We do have a small problem for during the winter period the definitive map on two big routes have been changed. New maps not yet covering the changes.
There are 5.500 km of rights of way in Shropshire, so it does mean to get help is a case of waiting. Nine people are full time for the council, plus like me unpaid volunteers never have a lot of spare time. In my case I carry out work on well used rights of way. Others are looked at once a year. If you find a stile or gate requires clearing, do not grumble or phone Shropshire c.c, take a pair of cutters and clear it.
FLY TIPPING IS A PROBLEM THAT INCREASED IN 2017. THE USE OF PEOPLE USING RURAL AREA'S TO DUMP RUBBISH ON THE ROADSIDE ALONG WITH SMASHED GLASS IS ONE OF THEM. WE ALL PAY FOR IT IS IMPORTANT TO KEEP THE AREA CLEAN. THE COUNTY COUNCIL DO COLLECT FLY TIPPING RUBBISH. WE ALL PAY THROUGH THE RATES.
A recent pick up of litter of our local roadsides produced a large amount of rubbish.
Please stop and think of the damage you are doing to our environment.
The Bridleways are being used by a increasing number of riders, I find this rewarding for the amount of effort required keep them open. But with ground conditions so wet, the the surface is cutting up. This we will pay attention to when conditions have improved.