Overton Parish
Refuse and Recycling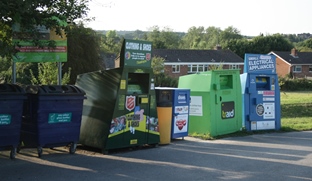 Refuse is collected by Basingstoke and Deane Borough Council (BDBC) on a Friday in Overton, black bins are collected weekly and green bins and glass boxes are collected fortnightly – see timetable 2014. .
BDBC also collect Garden Waste between February and November each year.; this collection is on Wednesday. In 2014, the cost for the service for the whole year was £30.00 for two bags and £13.90 for each additional bag. See Garden Waste timetable 2014.
BDBC can also arrange to collect bulky items such as furniture and white goods. If these items could be used by someone else, contact the Community Furniture Project (telephone 01256 320700). Alternatively you can take bulky items to the Household Waste Recycling Centre at either Wade Road, Basingstoke or Scott Close, Walworth Industrial Estate, Andover – opening times April – September – 8.00am – 7.00pm, October – February 8.00am – 4.00pm and March 8.00am – 5.00pm. Click here to see what can be recycled.
Click here for further information on BDBC refuse and recycling services or telephone 01256 844844.
Overton also has a recycling centre which is situated in the Overton Hill car park where there are banks for glass, card, shoes, clothing, small electrical appliances and plastics.
Litter picking
Overton Parish Council employs a litter picker under an Agency arrangement with Basingstoke and Deane Borough Council. Our litter picker, Stuart empties the bins and picks the litter around the village on Monday, Tuesday, Thursday and Friday mornings. The parish council works in conjunction with Basingstoke and Deane Borough Council who provides the village's other litter picker, Steve, who also carries out some grounds maintenance duties and empties the bins on the outskirts of the village.
If you have any comments about litter, contact the Clerk or speak to Stuart who will pass the message on.