Penarth Windsor Bowling Club
History of the club - In the beginning
The first written record pertaining to The Windsor Bowling Club contained in the original minute book is dated November 2nd 1911. The entry is headed
"Proposed Bowling Club, Penarth, Glamorganshire, Minutes of the first General Meeting"
The venue was All Saints Church, Penarth.
Twenty-one men were present and John Chellow was elected to the Chair. He began by describing the proceedings to date, but unfortunately no record was made of these proceedings.
T. Heywood proposed and Doctor Robinson seconded the first resolution that a bowling club should be formed and the name should either be "The Windor Bowling Club" or "The Plymouth Bowling Club" as the Estate may desire an interest in acknowledgement. It was next resolved that Lord Windsor be the first President, John Chellow the Chairman and Llewellyn Jenkins undertake the combined duties of Secretary and Treasurer.
The minutes of the next Committee meeting dated 20th November 1911 are headed "Windsor Bowling Club. Penarth", clearly the decision on the title had been taken quickly.
9 December 1911 a tender by Mr G Chappell had been accepted for the laying of the green. By January 22 1912 the timber for the fencing was at Penarth railway station and by March of the same year some turf had been laid, the turf had been secured from the Toll gate on Penarth Road.
In May 1912 a groundsmen was appointed at a wage of 30 shillings per week in the summer and 15 shillings per week in winter. Twelve sets of bowls were ordered for use in the club. Lord Windsor was invited to open the green and be presented with a silver jack on an ebony stand.
By June 1912 the pavilion had been erected and at the Committee meeting it was decided that the Opening Ceremony would be held on the balcony of the pavilion and the silver jack inscribed "Presented to the Right Honourable Lord Windsor on the Opening of the Ground on the 15th June 1912". Afterwards Lord Windsor would bowl the first bowl.
The opening was featured in the "South Wales Daily News" on Monday 17 June 1912.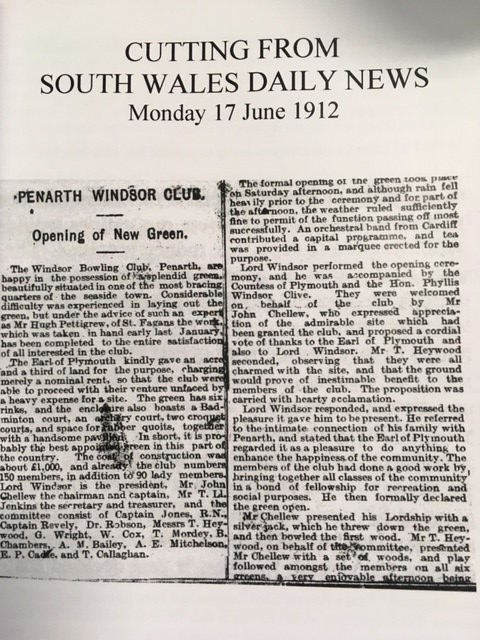 By the time the green was laid and the pavilion was opened a membership of 150 had been amassed including 90 lady members.