Platt Parish Council
Neighbourhood Watch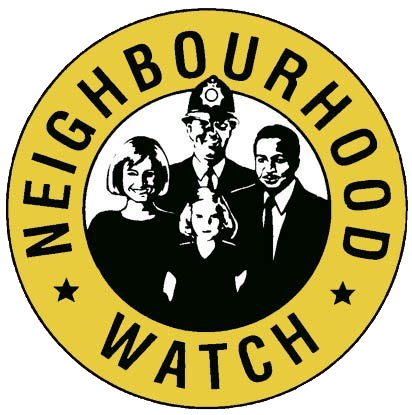 The Parish is covered by a very comprehensive Neighbourhood Watch network with local contacts for reporting of incidents or suspicious behaviour as listed below.
The over- all Co-ordinator for the Parish is:
Ray Tillett on 01732 884817

There are current shortages of local contacts for four areas shown below.
It is not an onerous role but it is important to have full coverage of the Parish so if you live in one of those areas and feel able to help please contact Ray.
Your Local Contact List
Location Primary Contact Deputy Contact:
Minters Orchard Howard Clarke 01732 674387
Platt Mill & houses opposite Steve Fuller 01732 885622
Maidstone Road to west of Platt Mill Gerry Hunt 01732 882245
Maidstone Rd (Long Mill Lane to Grange Rd)
Including The Ferns & Brickmakers Meadow CONTACT REQUIRED
Maidstone Road (Grange Rd to Askew Bridge) CONTACT REQUIRED
Long Mill Lane Platt (Church to A25 Maidstone Road)Mark Diamond 01732 884001
Greenlands Alwyn Hart 01732 882930
St Mary's Close & Grange Road Alison Vallance 01732 883422
Platt Common CONTACT REQUIRED
Comp Lane (Church to Windmill Hill)
Long Mill Lane Platt (Church to Kettle Cottage)
Paddock Close & Potash Lane Pat Darby 01732 885934 Marion Cox 01732 883329 Windmill Hill (North)
(Maidstone Rd to Ladylees) Jill Eagelton 01732 882343
Windmill Hill (South)
(Comp Lane to Valley Cottages) Rachel Edwards 01732 884694
Windmill Park Sue Boam 01732 883618
Great Comp Tim Balkwill 01732 883480
Long Mill Lane
(Beechinwood Lane to Crouch Lane)John Dickinson 01732 883434
Long Mill Lane Crouch Hilbre Johnson 01732 669340
Basted Lane Roy Risley 01732 883327
Basted Mill & houses opposite Linda Reid-Smith 01732 882842
Crouch Lane Ray Tillett 01732 884817

Be Aware of the following.
Beware paper on the rear window of your car
Senario: You are reversing out of a car park space. As you back out you look into the rear-view mirror and notice a piece of paper stuck to the rear window. You stop, jump out of your car to remove it but as you reach the back carjackers appear out of nowhere, jump in and take off. There is a good chance that purses or wallets are still in the car so the thief now has your car, your home address, your money and your keys.
If you do see paper stuck to your back window just lock your doors, drive away and remove it later.
Distraction Theft
Kent Police has received reports of theft in this area.
People are being targeted near cash points and in shops where they have paid by card.
The offender may produce a map and ask for directions. This is to distract the person once they have withdrawn money, or their pin number has been observed. A second offender will then steal cash or a wallet/purse containing bank cards, while the member of the public remains unaware.
Protect your property
Always keep your belongings where you can see them
Don't feel compelled to stop and speak to someone you don't know
When using a cash point or paying by card, always keep your pin hidden.
Help prevent crime?
If you see anything which you think is dubious the police would rather you called rather them than miss the chance of preventing a crime.
The general Police switchboard number is 101.
To give any information about any crime (anonymously if you wish) you can call Kent Crimestoppers on 0800 555 111
For Trading Standard issues call Consumer Direct on 08454 04 05 06.
However, always call 999 in an emergency.