Win10 Anniversary Update
Windows 10 'Anniversary Update' due 2nd August
On 2nd August 2016, Microsoft released a major update to Windows 10 (known as the 'Windows 10 Anniversary Update').
Beware:
Like all Windows 10 updates, this update may be downloaded and installed automatically, but it is being released gradually over time to different users.
There have been a number of reports of difficulties and issues arising after installation of the update, but our experience so far has been essentially trouble-free.
It makes some significant changes to both the Start Screen and the Start Menu.
The articles below all pre-date the public release of the update.
---------------------------------------------------------------------
Click on the blue headings to go to the original article,
or on any other blue text to go to the respective link.
---------------------------------------------------------------------
01 Apr 2016
Windows 10 is changing, dramatically. …
'Windows 10 Anniversary Update' ... will land this summer on all Windows 10 systems, including phones, tablets and even the Xbox One and (as with all Windows 10 updates) it will be free and mandatory.
Here are the headline features:
Major Touch Improvements
Voice Control Overhaul
Microsoft Edge Comes Of Age
Linux Comes To Windows 10
Massive Universal Windows Platform Expansion
​---------------------------------------------------------------------
Start
... the new Start menu is set to reduce clicking and scrolling, and the changes will also expand to the Start screen.
Start menu
In the new Start menu, Microsoft is updating the design to match the rest of the modern design language we see today on the Universal Windows Platform app. In the Anniversary Update, the Start menu will feature a navigation pane with a hamburger button on the top-left corner, and the user profile button has been relocated to the bottom of the pan above the Power and Settings buttons.
Then the "All apps" button and list have been deprecated for a single list view that includes the "Most used" and "All apps" items.

Start screen
On the Start screen (tablet mode and fullscreen mode), the company is planning a similar design with the left navigation pane. However, unlike the regular menu, the Start screen will feature two extra buttons below the hamburger menu button to switch between Live Tiles and the unified app listing with the "Most used" and all your apps.

Live tiles - to open an app directly on your chosen content

Action Centre (far right of screen) - improved interfact; more information; "Notification Mirroring" syncing across Windows devices

Task Bar - with notification badges to indicate new notifications more clearly

Cortana - significant improvements, including being able to use it before logging in

Microsoft Edge (the replacement for Internet Explorer) - improved, and now supports some browser extensions.
"on compatible devices, you'll be able to sign-in to websites using your thumbprint or your face. ... Microsoft says that it's the "first and only" browser to include native support for biometric authentication."

Windows Ink, and more ...
---------------------------------------------------------------------
This article has a lot of information about the changes to be included with the Anniversary Update. The following details are just a few extracts from the full article:
Cortana Becomes a Whole Lot Smarter
Arguably the biggest update is Cortana. Microsoft continues to expand on what Cortana can do, clearly trying to make it the most powerful assistant in an increasingly growing pool of competition (Siri, Google Now, Alexa, and the whole gang). This time around, Cortana comes to the Windows 10 lock screen, so you can invoke her at any time. And, she can push stuff to and from your mobile device, including notifications and text messages. (And remember, since Cortana is available on Android too, that doesn't mean you need a Windows Phone to take advantage.)
Cortana can also make proactive suggestions for you. If you receive email confirmation of flight details, it'll add them to your calendar. If you promised Chuck you'd send him that PowerPoint in an email, Cortana will know, and remind you to fulfill that commitment later on.
Windows 10 Interacts with Your Android Phone (or Windows Phone)
Cortana can mirror all your Android phone's notifications to your PC, giving you all your notifications in Windows 10's Action Center. You'll also see a notification on your PC when your smartphone has low battery power, so you'll know when to charge it. Cortana will offer a "find my phone" feature that can remotely geolocate your phone on a map or ring it if you lose it in nearby. Ask Cortana for "directions to [place]" on your PC, and you'll see those same directions on your phone. These are just the current features, too, so you can expect Microsoft to add more.
Cortana will also support something called "Messaging Everywhere," ... . Receive an SMS message on your phone and it'll pop up on your Windows 10 PC. You can respond from your computer and the message will be sent through your phone. The various features are already integrated into the Messaging app on Windows 10.
More Desktop Apps and Games Come to the Windows Store
Microsoft Edge Finally Supports Browser Extensions
Edge Gets Click-to-Play Flash, Pinned Tabs, Web Notifications, and Swipe Navigation
Windows Hello Brings Fingerprint Authentication to Apps and Websites
Fingerprint sensors have been a huge convenience on phones and tablets, and Windows currently supports it for logging into your laptop too via Windows Hello–provided it has the necessary hardware. But in the Windows 10 Anniversary Update, Windows Hello will support Windows apps and Microsoft Edge, so you can securely log into apps and web sites using your fingerprint as well–not just Windows itself.
Windows Ink Improves Digital Drawing and Annotation in Lots of Apps
Windows Defender Can Provide Additional Protection If You Use Another Antivirus
New PCs Will Include More Advertisements in the Start Menu
Cortana Gets More Useful Features
Cortana also includes new reminder features, including "photo reminders". For example, you could take a photo of a product you want to buy the next time you go shopping and tell Cortana to remind you with the photo the next time you're at the grocery story,
If you have the Groove Music Pass (that's Microsoft's version of an unlimited music streaming service like Spotify, Apple Music, or Google Play Music All Access) Cortana can now play music you request. Just say "Hey Cortana, play [song name]", "Hey Cortana, play [artist name]", "Hey Cortana, play [Groove Music playlist]", and "Hey Cortana, pause" to control this. This only works if you're using the US English region at the moment.
Cortana can also now set and control timers, which is convenient. Say things like "Hey Cortana, set a timer", "Hey Cortana, set a timer for 10 minutes", "Hey Cortana, how much time is left?" and "Hey Cortana, cancel my timer" to work with timers.
Despite all these powerful features that require Microsoft accounts and personalization, Cortana is becoming more friendly to people who haven't set it up yet. You'll be able to ask Cortana simple questions and get answers without actually setting up and personalizing Cortana first.
The Combined Skype Universal App is Back
Microsoft has changed its mind about Skype…again.
With Windows 8 and 8.1, Microsoft offered both "Skype for Windows" and "Skype for Windows desktop" applications. The "Modern" Skype for Windows application ran in the full-screen interface and was pretty flaky [but] Microsoft abruptly discontinued [it] a month before Windows 10 was released, ... Windows 10 launched with a Get Skype application ... to download the desktop application. Windows 10's first big update, the November update, added ... separate applications for text messages, audio calls, and video calls.
Microsoft has now changed its mind again and will discontinue those three separate Skype applications on the desktop. Instead, Microsoft will create a new universal Windows app version of Skype that will eventually replace the traditional desktop application when it has enough features. The Skype Preview application is now available.
Windows Gets Its Own Linux Command Line
The Start Menu Has Been Redesigned
Microsoft has changed the way Windows 10's Start menu works. The "All Apps" option is now gone–you'll just see a full list of installed applications at the left side of your Start menu. Your most frequently used and recently added applications will appear at the top of this list. It'll show the three most recently added applications instead of a single one, and you can expand this list to see more applications sorted by when you installed them.
Important buttons like the File Explorer, Settings, and Shut Down buttons are now always located at the left side of the Start menu.
OneDrive users will be happy to know that they can now search all their files–both files on the PC and files stored online in OneDrive–from the Start menu.
Task View Gets Some Improvements
Tablet Mode is More Like Windows 8
Tablet Mode sees some helpful improvements that will make Windows 10's Tablet Mode function more like Windows 8's full-screen "Metro" interface.
When your system is in Tablet Mode, the All Apps list will now appear in full-screen mode–just like on Windows 8. You can toggle between the tiles view and list of apps with options at the left side of the screen.
You can also choose to automatically hide the taskbar while in tablet mode. These options are available under System > Tablet Mode in the Settings app. With auto-hide enabled, you can swipe up from the bottom of the screen to show or hide the taskbar. The entire screen will be reserved for the app you're currently using.
The Taskbar Gets Calendar Integration and More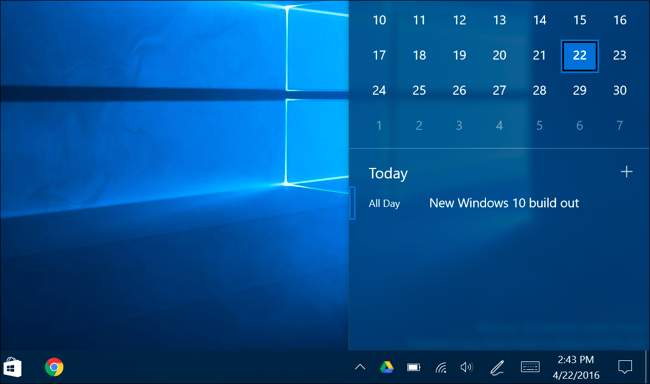 The Windows taskbar sees some important improvements, too. The taskbar clock is now integrated with your calendar, so you can click or tap the time and see a list of the calendar events you have scheduled for today. Tap an event–or tap the "+" button to add an event–and the Calendar app will open.
The sound panel is also more useful. You can click or tap the speaker icon and switch between multiple output devices–like speakers and headphones–if you have more than one connected.
Taskbar settings are now integrated into the new Settings app, and you can access them at Settings > Personalization > Taskbar. You can also just right-click the taskbar and select "Settings" to open this new screen.
The Lock Screen is Improved, Too
The lock screen now features built-in media controls, which appear at the bottom-right corner of the screen along with album art for any playing music. You can control music playback without unlocking your PC.
Cortana can now be used on your lock screen, too. Head to Cortana's Settings, find the "Lock screen options" section, and activate the "Let me use Cortana even when my device is locked" option. With "Hey Cortana" enabled, you can talk to your computer even while it's locked. For sensitive tasks, you'll be asked to unlock your PC first.
Battery Options Become More Powerful
Windows Update Is More Respectful of Your Time
The Action Center is More Convenient and Customizable
Apps Can Now Take Over When You Visit a Website
Connect Improves on Windows Phones with Continuum
Other Changes and New Features ...
---------------------------------------------------------------------
04 Apr 2016
Windows 10 itself is fast improving and massive 'Anniversary Update' makes numerous important upgrades. It also has three great secret features…
So what are they are? Interestingly two involve an increasingly important Windows 10 partner – Android!
#1. A Smart Windows 10 User Interface Change
Microsoft [has] confirmed that following the 'Anniversary Update' ... Windows 10 would be able to receive Android notifications in its Action Center. [Also] ... it would change the taskbar to better accommodate this and all programs and universal Windows apps as well. [The] taskbar icons [will] support badge notifications to show the number of new alerts on each app, website or program. In practice this looks very similar to the system iOS has used for years – imagine the Outlook taskbar icon with '11' on it signifying unread messages, or '3' on a Facebook pp illustrating new notifications.
#2 Notifications Become Smart
As handy as the Windows 10 notification center is in theory, in practice it has been something of a letdown, but this all looks set to change with the Anniversary Update – and again it is tied to Android. ... Windows 10 will not only be able to receive Android notifications, but also interact with them. For example: replying to SMS messages, dismissing reminders and more. It isn't yet clear if more advanced functionality – such as replying to phone calls (possible with 'Continuity' between iOS and OS X) – will also be coming.
#3 Universal Notification Syncing
Microsoft says universal notification synchronisation (dismissing alerts from all devices once they have been seen) will be automated in Windows 10. This ... saves ... considerable irritation to end users who would otherwise be left continually clicking away at old notifications across multiple devices just to clear them.
Windows 10's Key To Success: Android
Of course there's a certain irony to all of this: arguably the best Windows 10 differentiator for mainstream customers using Windows 7 and Windows 8 could well end up being how well it interacts with a rival platform.
---------------------------------------------------------------------
More details: