Windows 10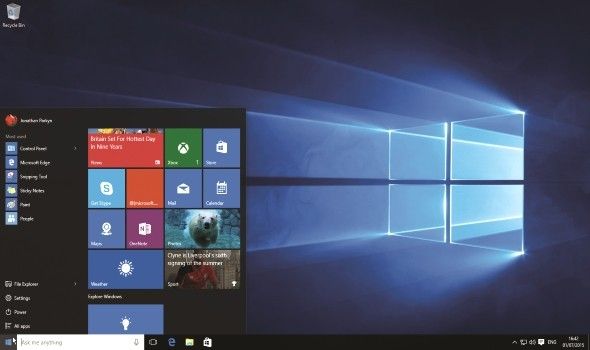 Recent news about Windows 10
Windows 10 'Anniversary Update' released 2nd August
On 2nd August 2016, Microsoft released a major update to Windows 10 (known as the 'Windows 10 Anniversary Update').
Beware:
Like all Windows 10 updates, this update is mandatory (not optional), and will be downloaded and installed automatically.
It makes some significant changes to both the Start Screen and the Start Menu.
---------------------------------------------------------------------
Microsoft Corporate Vice President Yusuf Mehdi just published a lengthy blog stating that the Windows10 Anniversary Update -- the version that will supplant the current build 1511 -- will start rolling out on Aug. 2. While the announcement shouldn't shock anyone who's been following InfoWorld's Windows10 beta coverage, the timing is a bit surprising.
According to Mehdi:
With over 350 million devices now running Windows 10, customer satisfaction is higher than any previous version of Windows and customer engagement is also incredible with more than 135 billion hours of use on Windows 10 since launch.
Microsoft has traditionally reported Win10 usage in terms of "millions of active devices per month." It isn't clear if the same metric is being used here. Two months ago, Mehdi reported that Win10 was on 300 million active devices. We likely have Microsoft's super-aggressive push to upgrade Win7 and 8.1 users to thank for the increase.
Mehdi makes it clear that Microsoft's free upgrade offer won't extend beyond July 29:
Our free Windows 10 upgrade offer is available until July 29, …
Upgrade today before the free offer ends July 29 or take advantage of one of the amazing new deals on a new Surface or PC so you're all set to enjoy it this summer!
He goes on to detail six "areas of innovation" for Win10: Security, Windows Ink (for pen-enabled PCs), Cortana (which no longer has a global off switch), Edge (which still doesn't have a functional multi-page back button), Gaming, and New Innovations for the Modern Classroom.
Source: InfoWorld | Jun 29, 2016
---------------------------------------------------------------------
Further details about Windows 10 are available on the following pages of this site: