Southampton (Old) Bowling Green
About Us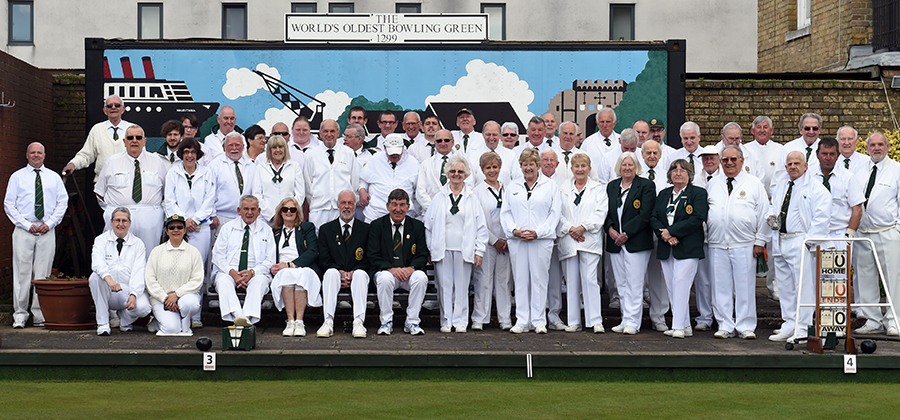 The Story of Southampton (Old) Bowling Green
The Southampton (Old) Bowling Green is the oldest bowling green in the world. It was old even when Sir Francis Drake, the inspiration of romance and adventure to the boys of many generations, is reputed to have played the famous game on Plymouth Hoe in July 1588, before he sailed to meet the Spanish Armada.

This Old Green was in existence when Edward I was on the throne. The first surviving
mention of this was in the year 1299. Records shows that bowls, an ancient game, was
played here even on this date.

The Green is situated in the oldest part of the ancient town, on a site which was originally a part of what was termed in mediaeval times the Saltmarsh. This comprised the land bounded on the South and East by the sea, on the North by Marsh Lane, and on the West by some gardens, which were known as "Three Fields", and belonged to the Warden of the Hospital. In the course of time this area of land was protected from the sea by a bank, but the repair of this was a constant source of feud. Moreover, there were many attempts at enclosures, and these led to frequent disputes until, finally, in 1503, when the authorities of God's House laid claim to Saltmarsh and to several lands adjoining, the matter was referred to arbitration, and Saltmarsh was declared to be common land.

The Green itself has been cared for since 1187, when the lawns were laid as a close for the Warden of God's House Hospital. The "Domus Dei" infirmary was founded in that year by Gervaise Le Riche, a wealthy Anglo-Norman Merchant. It is doubtful whether the game of bowls itself was played during the early years but it is thought that by 1220 a game using large wooden balls was occasionally played by Hospital officials and their guests. Documentary evidence confirms the close was regularly used as a Bowling Green in 1299 when a Master of the Close (Green)was appointed.

Edward II, 1343, granted custody of God's House with all its possessions to the newly founded Queen's College, Oxford in whose care it has been ever since.

In 1541, "Inferior people" were prohibited from playing of bowls at this time. The Act under which the townsman was brought to book was passed in 1541, and under it "no manner of Artificer or Craftsman of any Handicraft or occupation, Husbandman, Apprentice, Labourer, Servant at Husbandry, Journeyman or Servant of Artificer, Mariners, Fishermen, Watermen or any Servingman" were allowed to play bowls out of Christmas under the pain of 20 shillings to be forfeit for every time; and in Christmas to play at any of the said games (others were prohibited) in their Master's Houses or in their Master's Presence. It was also decreed that "no manner of person shall at any time play at any Bowl or Bowls in open places out of his Garden or Orchard upon the pain for every time so offending to forfeit 6/8d".

It was provided, however, that "every Nobleman and other having Manors, Lands, Tenements or other yearly profits for term of life in his own Right or in his Wife's Right to the yearly value of a Hundred Pounds might play bowls without penalty within the Precinct of his or their Houses, Gardens or Orchards".

Magistrates were enjoined to visit places and alleys to ascertain whether forbidden games were secretly pursued, and to arrest and imprison players and keepers alike until they paid bail for their good behaviour. Mayors and other officials were required to search for all such places weekly, "or at the farthest at all times hereafter once every month", and there was a 40/- fine for every month of default. Truly, here is full and sound reason why the history of the "Old Green" was never fully recorded!

The bowling green, it should here be mentioned, was distressing for at least one person. It is recorded in 1550, in which year a townsman, the lessee of the King's Orchard, was presented for Keeping 'common playinge with bowles, tab ylles and other unlawfull games agaynst the Kings statute'.

The King's Orchard, called in Elizabeth's time the 'Queen's', was close to this spot.

The act which prohibited "inferior people" from playing at bowls and other games had been passed in 1541, and such persons were constantly being fined for infringing the statute. The bowling green, was, in short, as described in 1637, and has continued to be, a ground "where many gentlemen, with the gentile merchants of this town, take their recreation".