Tittensor Village Hall
FURNITURE and HALL SIZES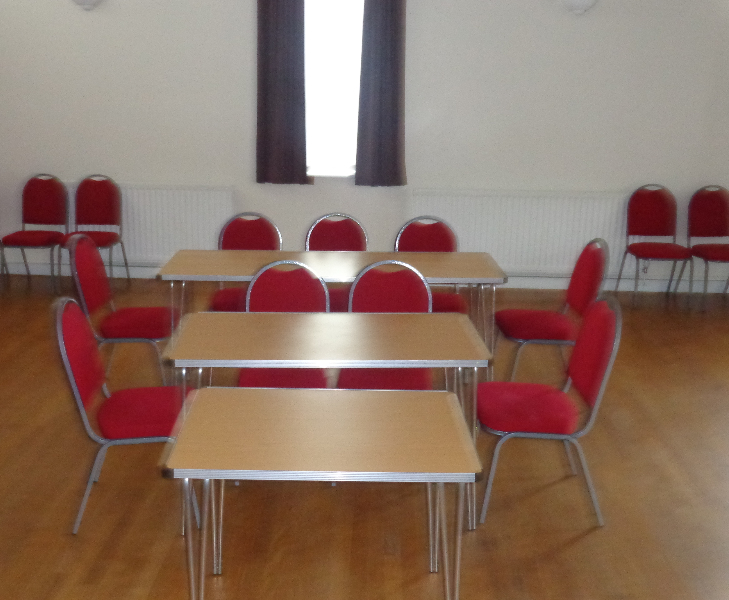 THE HALL
The Hall dimensions are 23 feet x 42 feet plus the Alcove 10 feet x 42 feet.
The HEIGHT of the Hall is 11 foot 6 inches [ Should you be thinking of hiring a BOUNCY CASTLE ]
Please ask the Bouncy Castle Hirer to see their insurance certificate
TABLES and CHAIRS [look at the pic]
We have three different size FOLDING Tables
[ H&S -Please use the Folding Table Tool ]
9 tables - 6 ft long by 2 ft wide
17 tables - 4 ft long by 2 ft wide
6 tables - 3 foot long by 2 foot wide [ these are a lower table suitable for young children ]
CHAIRS There are 115 upholstered comfy Stacking chairs

[H&S] - Please use the Chair Trolley to move]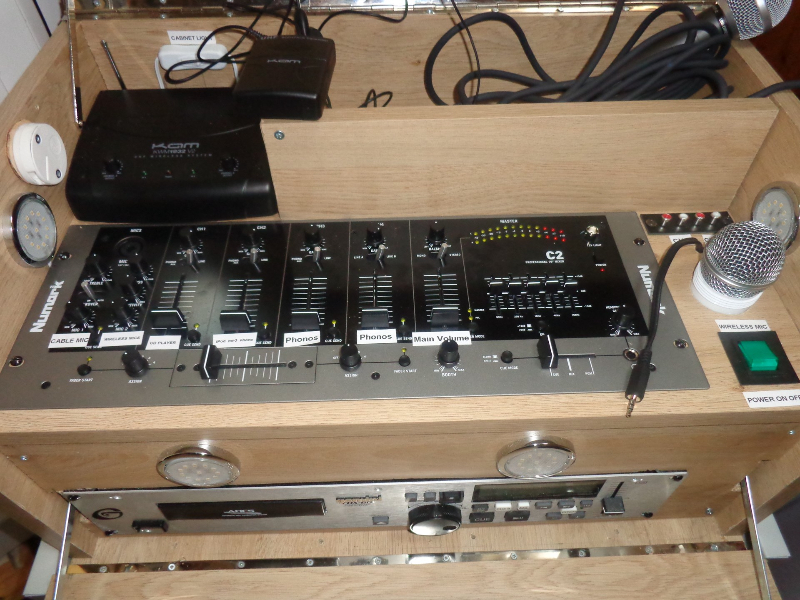 The Hall's PA / Sound system is all you need for a party.
Your own playlist can be played from your smart phone, tablet, laptop computer or MP3
The latest iPhones can be used
Simply plug in and get lots of sound from the 2 large Speakers at each side of the stage.
PARTY Style - DANCE / DISCO COLOURED LIGHTS
Your party is complete with our two set of multi coloured lights each side of the stage displaying colours ion the ceiling and on the walls. The Light patterns change to the sound of the music through two loud Speakers each side of the Stage.
Both coloured and clear spot lights now installed
FACILITIES FOR DISABLED PEOPLE
All areas of the Hall are on the Same Level with NO STEPS.
A WHEELCHAIR is available for anyone for needing help from the car into the hall.
A RAMP with a HANDRAIL gives easy safe access in to the hall.
A toilet for disabled is to the left of the foyer.
[We also have a BABY CHANGING - wall mounted Table in this toilet]
A SOUND LOOP induction system is operated with the Sound System to help for those with Hearing Difficulties
There is a new Childs Play Area just behind the Village Hall You access it along the path to the School which is next to the entrance to the hall
The play area is leased by the Village Hall to the Swynnerton Parish Council who maintain and insure it.
​Closed Circuit Television CAMERAS are sited outside and inside the halll for SECURITY PURPOSES.
​Only the Chairman or a person he authorises [ie The Police] is allowed to view the 24hour recordings.
The lights outside the hall are switched on by sensors and switch them selves off after a short period.
​Any one passing the camera style sensors during darkness automatically switch on the Lights.