Tittensor Village Hall
About The Hall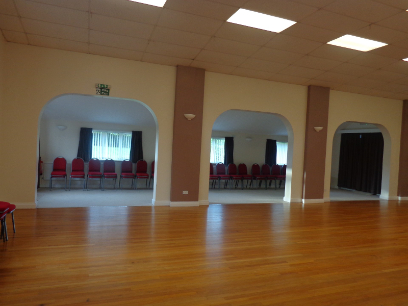 THE HALL
As you can see from the above pic's Tittensor Villiage Hall is beautiful hall.
You will have to go a long way to find a venue with everything needed for a special occasion or family event
The sprung Dance Floor is loved by the many regular users at our Saturday dances, Tea dances and Scottish dancing,
Recent refurbishment included new ceiling tiles with LED daylight panels, tasteful decoration including 'rag mop' paint design to the columns. The new alcove and passage has high quality Amtico floors- built to last and keep their pristine looks, spillages are no problem. The window have blinds and curtains.
For parties and dances the Alcove has low uplighting is ideal for serving food and drinks on different size tables.
The Disco /Dance style Coloured lighting onto the ceiling and walls creates a party feeling together with the wall uprights.
Our Stage has coloured spot lights and two sets of curtains. Access is by the side passage which also leads to the Cloakroom and Toilets.
You can play your own music playlist through the PA /Sound system using a laptop, smart phone or MP3 or using CD's you simply plug in your smart phone [etc] and play through the big load speakers.
KITCHEN
Our Kitchen is equipped with everything you might need to prepare food and drinks.
The New auto-fill hot water boiler provides constant hot water all the time you need it.
A NEW double electric Oven with five gas rings, cooker hood and light is sufficient for most catering.
There is a Microwave oven, Fridge-freezer and electric kettles if needed.
Lots of worktop space together with Boards are a blessing when preparing your food.
China Cups and saucers, new china mugs tea spoons and plates are plentiful as well as large Jugs.
Knives, Forks and Spoons are available on request
Open the large Serving Hatch and you have a counter into the hall to serve your food and drinks.
SMALL MEETING ROOM
The Small Meeting Room is situated down the passage at the side of the stage.
There are four tables and as many comfy chairs as needed.
It is very bright and looks out onto the bowling green.
A Projector screen and a Flip chart are available for use at meetings.
The room can be a useful addition when hiring the hall for Display purposes or for the Artists on stage.
LADIES and GENTS TOILETS
Our modern toilets are equipped with basin taps that self -switch off.
The ladies cubicles each have Hygienic waste dispensers serviced by Initial Washrooms Ltd
Each have electric Hand Dryers