United Reformed Church, Andover
Past Events
The FUNd raising committee organises the fund raising at our church, with the emphasis on the FUN. Please have a look at some of the past events run by the FUNd raising Committee.
Dowlais Choir
In 2000 we had a very enjoyable and well supported music evening featuring the Dowlais Choir from Wales. St Mary's, across the road, kindly gave us the use of their church, which is bigger than ours and has very good acoustics, for a Saturday night. The music and location were both excellent. Due to popular demand both from the choir and the audience we are going to hold this again next year.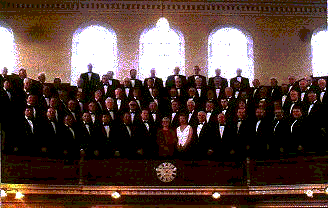 Cycle Race
In 1999 we held a sponsored cycle race round Thruxton race track. Here are some pictures from the event.
Flower Festival
In 1999 we held a flower festival in the church in association with Andover Flower Club. Here are some pictures of the church and arrangements.