Platinum Jubilee Event
ANNA VALLEY, RED RICE AND UPPER CLATFORD JUBILEE CELEBRATIONS
The Parish Council is supporting the Jubilee Committee to plan, organise, implement and fund a Village event to celebrate the Queen's Platinum Jubilee.
Sunday 5th June 2022.
Register your family for the day's activities here:
UPDATE 20th May 2022
PLEASE NOTE THAT WE HAVE REACHED THE MAXIMUM THAT WE CAN COMMIT TO PROVIDING ON THE NIGHT. THERE MAY BE NO SHOWS AND THERE IS STILL A GOOD POSSIBILITY THAT YOU WILL BE SERVED, BUT PLEASE NOTE WE WILL SERVE THOSE THAT HAVE ALREADY BOOKED AS A PRIORITY.

IF YOU WOULD STILL LIKE YOUR NAME TO STILL BE ON THE LIST, PLEASE REGISTER YOUR NEEDS AND WE WILL DO OUR BEST!
The Programme
Morning programme
Sports event – Clatford Sports Field

Children/Youth Football Matches - 2-3 age groups
Parents Football Match
Tug Of War
Afternoon Programme
Children's Fancy Dress competition, Tea party and The Bake Off final

Assemble in Anna Valley Play-Ground for Fancy Dress judging
Test Valley Brass to lead everyone to The Street opposite the Crook and Shears
Children's Tea Party and Activities centred around the Pub
Judging Bake Off and the Prize Giving for this and Children's Fancy Dress
Evening Programme
National Anthem
Greenfield Hog Roast and Crook and Shears Bar
Live Music outside the Crook and Shears
It is hoped that as many residents as possible will participate from all three villages. If your family want to join the fun, register for the following events using this form https://forms.office.com/r/8HHSvfFa9Y: :
Football Matches – children and adults
Bake Off event
Fancy Dress competition
Hog Roast in the evening - please read the note above re the current booking level and our inability to guaratntee you a meal if you had not booked before 20th May 2022
Jubilee Mug to add to the great designs produced at both the Millennium and the Queens Golden Jubilee - see picture below!
Keep up with developments!
To keep up with the plans, subscribe to Events (https://www.upperclatford.com/community/upper-clatford-15048/events/) or check the website regularly. You can also follow the action and preparations at https://www.facebook.com/groups/285560173555747/ which is the dedicated FB page run by Julia Shah.
Lets make this an event to remember!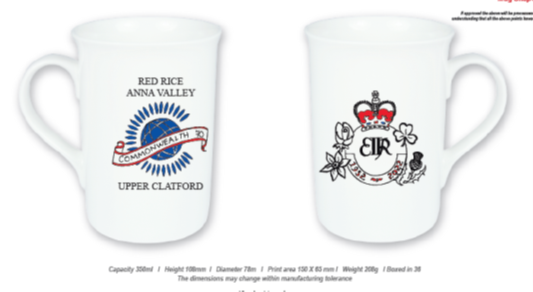 The Organising Committee representatives:
Chairman and Finance – Charlie Barlow
Ops Planning Team - Lionel Nierop; Mike Wilmot
Tea Party and Catering - Demelza Shrimpton and Trudy Elison
Fancy Dress / Parade – Jodie Lynn
Music and entertainment – Jo Fry
Communications – Julia Shah
Grants Funding – Charles Eyre
More volunteers will be needed nearer the date and anyone willing to help please contact the team at: ops@upperclatfordjubilee.co.uk