Home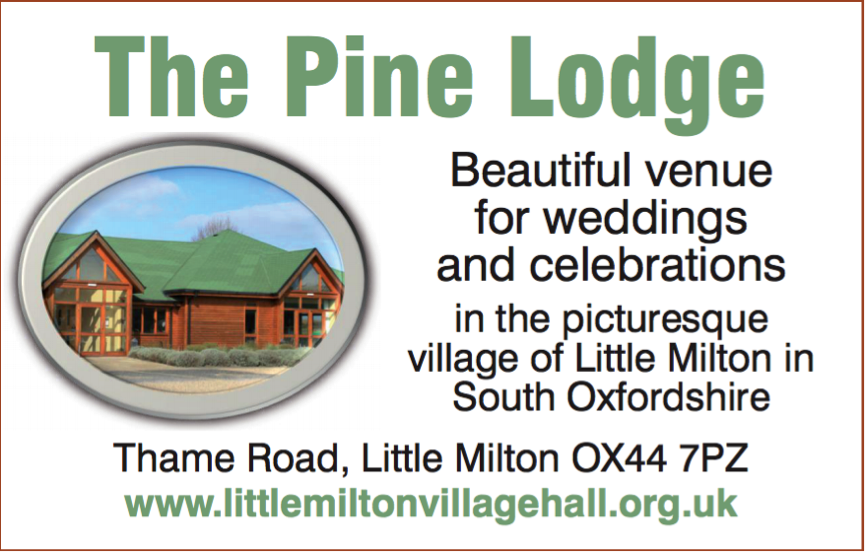 A beautiful venue for weddings, parties, reunions, family gatherings & meetings. The Hall is a hub for Little Milton village life, from exercise classes, children's clubs, crafts, events, quiz nights to theatre and concerts.
At the north end of the picturesque village of Little Milton on the A329, The Pine Lodge sits in open country with beautiful views across traditional rolling farm landscape of South Oxfordshire. Conveniently located a few minutes south of Junction 7 of the M40, with easy access from London and Oxford.
The large main room can accommodate up to 300 guests standing, or 120 seated at tables. The Hall is approximately 128 square metres with large picture windows offering plenty of natural light while the use of wood inside, provides a warm feel to the interior. This impressive building completed in September 2005, is a traditional timber frame, lodge style with a vaulted ceiling to the main hall giving it a light and airy feel.
Facilities include a modern fully equipped kitchen with serving hatch into the Hall. There are also changing rooms and toilets. The hall also has a PA system if required. There is plenty of parking and full disabled access. The hall has access at the rear to an outstanding children's playground, plus tennis & football courts on the recreation ground.
The Hall is co-located with the village Shop/Cafe/Post Office which has an outside terrace and generous parking.
We are located a few minutes drive from Junction 7 of the M40 if approaching from the south. The Pine Lodge is the first entrance on the right hand side of the A329 when entering Little Milton from the northern (M40) direction. https://goo.gl/maps/AMHGhG4HYwNEM1FcA
Regular activities in the Hall include:
Mondays at 10.30 am Yoga & Fitness with Yvonne (y.cartwright@btinternet.com)
Tuesdays at 9:30 am and Thursdays at 18.00 Keep Fit with Alyce (alycefwf@gmail.com)
Wednesday 9:30 am Advanced Textile on workshop with Amargeet (amarjeetnandhra@virginmedia.com)
Friday 9:30 am Pilates with Lee (lee@grahamcaulfield.co.uk)
WI meet on 2nd Thursday of each month at 19:30 contact Kath Stacey (kathstacey@yahoo.co.uk)
Crafts meet on 3rd Wednesday of the month at 19:00 contact Kath Stacey (kathstacey@yahoo.co.uk)
Parish Council meet on 2nd Wednesday of the month. For further details contact clerk@littlemilton.org.uk
To view the current BOOKINGS CALENDAR for all Activities and Events at the Hall please click on the link below.
https://outlook.live.com/owa/calendar/ff792108-b886-42c4-8145-6d15ea504f61/acfa3e3d-3b2c-4c3f-9fba-b12b34a78e11/cid-3F4020BA6B123E90/index.html
We have space in the diary to welcome you this year. Contact Linda Lovegrove on 01844 279535 or email for more information and book a celebration to remember.