Whitchurch Silk Mill
More...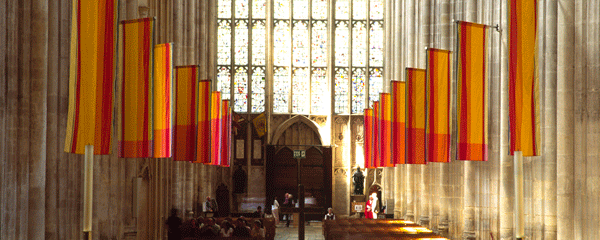 Silk for churches and more...
Whitchurch Silk Mill has been producing silk for 200 years and its talented weavers still hand weave cloth on Victorian looms. This level of skill and tradition is appreciated by those who require the finest silk for ceremonial and public purposes.
Ecclesiastical
We can create the best quality, glowing silks for vestments, dalmatics, copes and stoles or altar frontals and banners. We weave to your requirements, and can print, embroider and make up the pieces. We are proud to have produced work for Rochester and Winchester Cathedrals, and St George's, Oakdale, Poole.
Scarves and ties
Celebrate your organisation with something to treasure – let us create a custom-made scarf or tie in colours that reflect your identity.
Our products
We produce:
pure silk
silk and linen
silk and worsted wool
silk and metallic yarn
taffetas
twills
herringbones
ottomans
satins
satin striped fabrics
organzas
ribbons
MINIMUM LENGTH: 25M MAXIMUM WIDTH: 128CM
All yarns are dyed to match your colour samples and finishing may include fireproofing, waterproofing, calendaring, embroidery and printing, as required.
Because of our care and traditional processes, we're not fast – production and delivery of a new product could take up to 16 weeks for a 150m order – but time spent in the making is well worth it for the beauty and timelessness of the result!