Whitchurch Silk Mill
Shop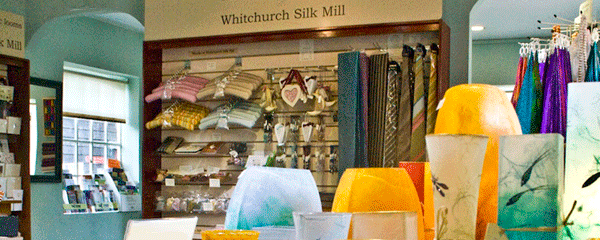 What could be nicer after a fascinating tour of the Silk Mill than a chance to browse and buy for yourself a gift to take home made from the exclusive silks produced on the Mill's historic looms? Our shop is easy to access and disabled-friendly, and the loos and baby-changing facilities are nearby.
Among the many tempting items on our shelves, we offer:
ladies' and men's silk scarves;
men's silk ties;
silk-covered hangers and cushions;
silk bags, bookmarks, notebooks, lavender bags, fans;
educational toys;
books relevant to the Mill and to the surrounding area;
glassware, soap, candles.
There's something to suit every pocket!
We also offer gift vouchers - A useful and thoughtful present for anyone.