Whitchurch Silk Mill
Volunteering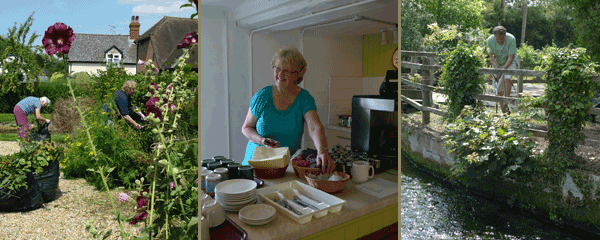 Many Hands – weaving a network of community support for Whitchurch Silk Mill
Whitchurch Silk Mill is looking for people who have some spare time to help improve the experience of every visitor and give them a great memory to treasure.
After the "Have your say" vote in February, the Friends of Whitchurch Silk Mill were awarded £1000 to build a network of volunteers and the recruitment drive has started. Marion Brinton, Chair of the Friends of Whitchurch Silk Mill says, "Visitors often appreciate talking to real people to learn more about what they are seeing , helping them to understand the Mill and all that goes on there. The Friends are now looking for cheerful, friendly people to help with many aspects of Mill life."
Volunteer roles, which do not replace any of the paid team, include:
Café assistant - serving refreshments to customers and clearing away after them.
Mill steward – being available to visitors to help them find their way around and to answer their questions about the Mill and its work.
Guide – showing groups around the Mill and telling its story.
Weaving interpreter – working under the guidance of our weaver, operating the handloom and explaining the weaving process to visitors.
Maintenance Monday – all manner of Mill maintenance, including cleaning and taking care of our machinery.
These roles will suit people who want to help keep alive a part of our industrial heritage, housed in a beautiful building in an idyllic setting. They will provide an interest for people who are interested in giving something back to society or who are looking to broaden their cv for a change of career direction. Full training will be given.
Sue Tapliss, manager at the Mill says, "The Mill's future depends on the goodwill of all who use it and if you can help in any way, we would be immeasurably grateful."
If you can spare some time, please contact the Mill on 01256 892065 or info@whitchurchsilkmill.org.uk