Walks in Winchfield
Enjoy our beautiful village via its footpaths and tracks. Discover the diverse wildlife this countryside supports. Kites and buzzards are regularly seen as well as roe deer, foxes, and if you are lucky, kingfishers and badgers.
The canal has been designated a Site of Special Scientific Interest (SSSI) for its unique water chemistry, range of aquatic plants and variety of dragonflies and damselflies as well as a broad selection of wildlife.
You can also explore the fascinating history of Winchfield. Visit St Mary's Church. This beautiful Grade 1 listed church has played its part in Winchfield life for over 850 years and is the oldest listed building in the whole of Hart District. Find and explore the World War Two Pillboxes; these were an important back-up plan to the Battle of Britain.
Click the map below to open a larger version.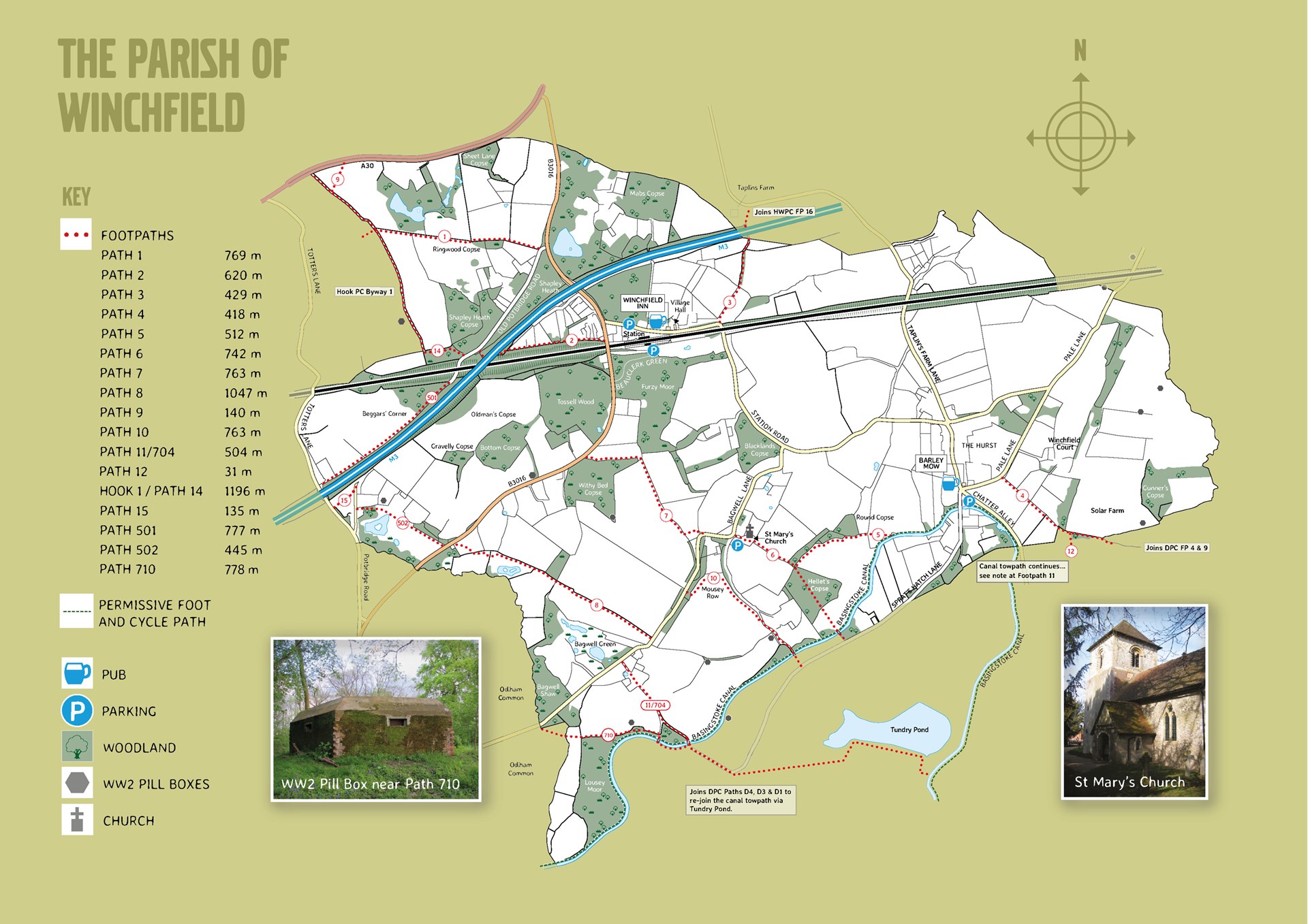 A walk around the proposed site of Shapley Heath Garden Community.
The walk starts at the Basingstoke Canal car park opposite the Barley Mow pub. The walk goes along the canal (see map and detailed walk route below) passing St Mary's Church, then along Bagwell Lane and beside Odiham Common. After crossing the B3016, the walk continues to Totters Lane, up to the old railway bridge high over Winchfield cutting, then down the bridleway towards Murrell Green. It turns off through fields and woodlands back to the B3016, then on to Winchfield Station. The route then completes by going down Station Road to the footpath up to Taplins Farm, then along Taplins Farm Lane to Winchfield Hurst to complete the circuit at the Barley Mow. Most of the route is on footpaths, but there are a few stretches on quiet roads without pavements. The circular walk will take up to three hours and stout walking shoes are recommended.