Wrockwardine Wood and Trench Parish Council
Methodist Chapel & Sunday School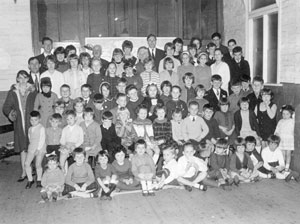 Trench Methodist Chapel
Our second local history page features Trench Methodist Chapel. We would like to thank Mr. Ken Fryer very much for the following article and for loaning the photographs to us.
"When Trench Methodist Chapel was built in 1866 the local population totalled approximately 500 people and the area was classed as a straggling hamlet until 1941when alterations were made to the area. The Chapel was surrounded by fields which were part of Bromleys Farm. The photograph below is of scholars and officials of the Trench Methodist Sunday School, taken in the early 1960's. Many of the scholars are now married with children of their own, but should have no difficulty in identifying themselves.
The Sunday School at Trench like all others played a very important part in the life for the community; Apart from providing Christian teaching, it gave children the opportunity to take part in and enjoy social activities and entertainment. Concerts, plays, tea parties and outings being regular events.
The Sunday School Anniversary Services were important days at Trench, held on the last two Sundays in June, when the scholars with an augmented choir gathered to sing special hymns and choruses. From a raised stage or platform they rendered solos, duets and recitations, and the large congregations joined whole heartedly in the singing of well known hymns.
Not all the boys and girls joined in the Anniversary, but one event they attended was the annual outing or 'treat' as it was often called.This was indeed a memorable day, when taken free of charge by bus the children enjoyed a visit to a country beauty spot, or town; games and tea often being included.
Shortly before the outbreak of war in 1939, the new style coaches enabled the Welsh and Lancashire coast towns to be reached quite easily, and for many children and adults such an outing was the first time that they had visited a seaside resort. The Sunday School ceased in 1978.
After its closure in October 1997, the Chapel and schoolroom were sold and converted into flats.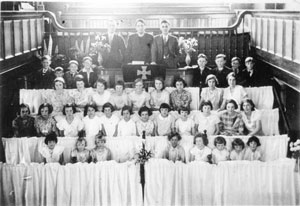 Sunday School c 1930
Our picture is of the Wrockwardine Wood Methodist Church Sunday School Anniversary, which it is believed was held in 1930.
We would be very interested to know if anyone recognises themselves or parents/grandparents.