Wrockwardine Wood and Trench Parish Council
Rona Harris - My Story Part 4
September 2011
Moving on from last time, and my dancing nights, also the difficulties I had with my parents, but when I reached 21 years of age life did improve just a little, although still working in the Civil Service, with I suppose not a bad wage for those times
I was allowed to keep all of my wages which then made me feel just like a millionaire (not) but just a minute, No! I did not have all of them, I had to give my Mum "two pounds and ten shillings" (now £2.50) each week, which out of my weekly wage of around five pounds, did not leave very much for all the normal expenses that a girl of my age would want, like stockings, make-up, very occasionally clothes and I could not afford to indulge in too many clothes but in general other things that are "personal" also.
Anyway, I recall telling you of my sister Sheila and myself going for walks and the pictures mainly in Oakengates, while we were living in that area, and yes! as I said there were at that time some lovely places to walk, sadly most of the ones I recall now are "a thing of the past"
But I do remember working with the then Ministry of National Insurance in Oakengates the people I worked with were very friendly, one girl was our typist, and she was ' Barbara Bailey', (Now Mrs Barbara Corbett) who together with her family lived in Dark Lane, this was Stonerow Cottages, some people may recall it and I am attaching a photo showing the cottages, the little Chapel, and the Ever Ready factory all of which sadly, have disappeared never to be seen again and underneath the Town Centre, so much for so-called progress, you know it breaks my heart to think of all this and the lovely busy little town that Oakengates was in my youth, and I still think that whoever is responsible for the Town Centre have a lot to answer for, the destruction of all these places is totally deplorable in my book.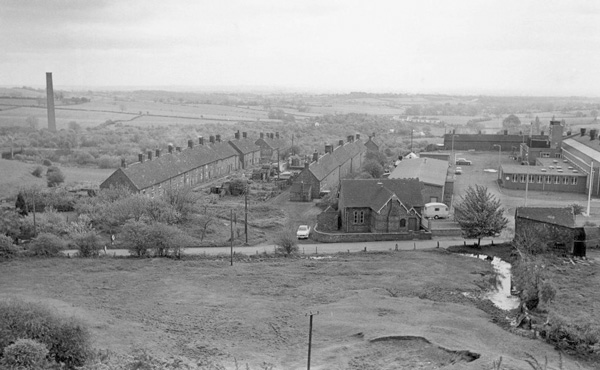 Now I am sorry about that little outburst but I am certain that people whose memories are like mine will agree.
So back to me at 21 years of age. I did enjoy my office job on Stafford Road in Oakengates which is perhaps as well, because as it turned out I was still doing my Civil Service job, almost thirty years down the line.
Although the age of 21 was the "age of consent" and I suppose as I saw it "to please myself" with everything in my life, but my Dad made it perfectly clear that this was not going to happen, but I did have a key to the door at last, which meant that in turn I was more free to go out and stay out a little later, so the time was extended to 10.30pm and I HAD to be in by that time or before, but let it be two minutes later, and all hell broke loose.
I am adding a photograph of 'yours truly' around the age of 20/21 taken outside the gates of the park on Hartshill in Oakengates, maybe someone remembers me and some of my memories from way back.
Oh Yes! a long, long way back now.
I will continue next time with a dance at Sankey's and my eventual meeting with my husband to be, and all the happenings from then.