Wrockwardine Wood and Trench Parish Council
Rona Harris - My Story Part 5
November 2011
Hello Everyone, As promised, I will continue with my story, taking it up from one particular dance I attended at Sankey's ballroom in Hadley. This was a Saturday night dance, and as usual with most of the girls in my day and around my age, I was all dressed up with, as was then, a lovely dress and Oh yes! on some occasions, matching satin very high heel shoes (they were not called 'stiletto' heels way back then in the 1940s/1950s).
Nevertheless I used to feel like, as they say 'a million dollars', I recall that halfway through the evening I was aware of someone tapping my shoulder, as I turned I got this vision of a tall, broad, good looking lad, he said, "would you like to dance"? and of course I gasped "Yes", but I must say that with all those things going for him his dancing left a lot to be desired, which to me, was a little disappointing as I absolutely loved dancing, so much so if there had been dances held every night I would have been there. However, on this particular night we had quite a few dances, but most of the time he did the talking. His name was Dennis Dorricott, and he owned an MG Sports Car, it was British Racing Green, with spoke wheels, knock-on hub caps and a ten gallon petrol 'slab tank' on the back. I can still recall and see this car so clearly, but can you imagine my surprise when after the last waltz, he offered to take me to the bus-stop, and I went home on the late dance transport, but in actual fact, he really did have this lovely little sports car.
However, as time went on, we were really getting on well together, and yes of course, I eventually took him home to meet my parents, and then my life (and his) started going downhill all the way. My parents decided that they did not like him, so I think you can probably imagine just what our lives were like from then on.
I will however explain how my life changed completely for good, and as time went on Dennis would ride his bicycle to my home on the A5 in Oakengates (his car was off the road being, in his words 'done up') and really considering that he lived at Teagues Bridge, it was quite a distance to do almost every night.
Once he arrived at my home, we would then walk down into Oakengates to the Grosvenor Cinema, now that was such a cosy, lovely little cinema, and especially so if you were sitting on the back-row in the 'best seats'. (I am showing you a photograph of the cinema) Yes OK! We all know how good that was don't we folks?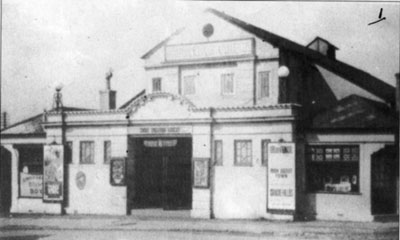 The other nights apart from dance nights we would go for a walk, it was so obvious that we were definitely not welcome in my home.
But the time came when I was taken to his home in Teagues Bridge in Trench, and I did wonder where on earth we were going, it was a sunny summer night, he came to collect me and then we walked to Teagues Bridge, I am so sad to say, all the little cottages apart from the photographs I am showing to you, have all been demolished, even the little original Bridge Pub has vanished, and would you believe, replaced by Wombridge Road and its surrounds, I think it is sacrilege, and breaks my heart to think of all that demolition, and a little bit of history has gone with them, the photo of the little red brick cottage was where my in-laws Norman and Elizabeth Dorricott lived and Norman was actually born in that cottage too.
It was a Friday night when Dennis took me there to meet his parents, and because his Mum had a full-time job, Friday night was always her 'cleaning night' and when we entered this house my first recollection was the smell of the furniture polish, all the furniture was gleaming and all the brassware was shining brilliantly too
It was all so inviting as were his parents, they made me feel so very welcome and were very kind to me too, that after a few weeks, I used to go straight to their home from my office in Wellington rather than my own home.
But then there was always the walk home later, from there to the A5 in Oakengates, bearing in mind that as I have told you at some previous time I had to be in by 10.30 pm, so we would walk with Dennis pushing his bike which again was uphill all the way from Trench, but there was one consolation, that at least he could ride it all the way back home to Teagues Bridge, and it was downhill all the way back too. But life moves on, and I will tell you more of the ups and downs, but really mainly happiness despite everything in the next part of my story.